---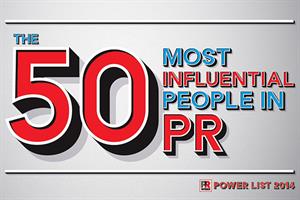 In an evolving comms landscape, these 50 power players have the blueprint for effective global strategies as companies expand into new markets to increase growth and agencies promote their integrated business models. PRWeek enlisted mentors, colleagues, and friends to best describe what puts these influential PR pros in a class by themselves.

The 2014 Power List differs from previous years in that we enlisted various powerful people to write the profiles of some of the most influential people in communications.

Seven years may not seem like a long time, but in terms of what is being accomplished by those at the leading edge of the industry, it is light years.
Number ones:
2014: Martin Sorrell, WPP
2013: Richard Edelman, Edelman
2012: Jon Iwata, IBM
2011: Leslie Dach, Walmart
2010: Katie Cotton and Steve Jobs, Apple
2009: Harris Diamond, Weber Shandwick
2008: Richard Edelman
2007: Richard Edelman
Power List veterans:
Richard Edelman and Jon Iwata have made it on every list since 2007.
Power List first-timers:
Caryn Marooney, Facebook
Charlene Wheeless, Bechtel
Corey duBrowa, Starbucks
Fred Cook, Golin
James Mahoney, Bank of America
Jim Wilkinson, Alibaba
Kelli Parsons, Fannie Mae
Marian Salzman, Havas PR
Martin Sorrell, WPP
Oscar Zhao, BlueFocus
Tony Cervone, GM
| | | | | |
| --- | --- | --- | --- | --- |
| 1. Martin Sorrell, WPP | 2. Richard Edelman, Edelman | 3. Gary Sheffer, GE | 4. D'Arcy Rudnay, Comcast | 5. Jon Iwata, IBM |
| 6. Ray Day, Ford | 7. Dave Samson, Chevron | 8. Bridget Coffing, McDonald's | 9. Bonin Bough, Mondelez | 10. Marc Pritchard, Procter & Gamble |
| 11. Caryn Marooney, Facebook | 12. Andy Polansky, Weber Shandwick | 13. Jeff Jones, Target | 14. Dan Bartlett, Walmart | 15. Dave Senay, FleishmanHillard |
| 16. Corey duBrowa, Starbucks | 17. Suzy DeFrancis, American Red Cross | 18. Shannon Stubo, LinkedIn | 19. Zenia Mucha, Walt Disney | 20. Tony Cervone, General Motors |
| 21. James Mahoney, Bank of America | 22. Charlene Wheeless, Bechtel | 23. Larry Solomon, AT&T | 24. Rob Flaherty, Ketchum | 25. Julie Hamp, Toyota |
| 26. Jim Wilkinson, Alibaba | 27. Oscar Zhao, BlueFocus | 28. Maggie FitzPatrick, Johnson & Johnson | 29. Frank Shaw, Microsoft | 30. Mike Fernandez, Cargill |
| 31. Kelli Parsons, Fannie Mae | 32. Oscar Suris, Wells Fargo | 33. Don Baer, Burson-Marsteller | 34. Ginger Hardage, Southwest Airlines | 35. Torod Neptune, Verizon Wireless |
| 36. Christopher Graves, Ogilvy PR | 37. Paul Gennaro, AECOM | 38. Kim Hunter, Lagrant Communications | 39. Jack Martin, Hill+Knowlton Strategies | 40. Fred Cook, Golin |
| 41. Donna Imperato, Cohn & Wolfe | 42. Karen van Bergen, Porter Novelli | 43. Adele Ambrose, Merck | 44. Margery Kraus, APCO Worldwide | 45. Marian Salzman, Havas PR |
| 46. Olivier Fleurot, MSLGroup | 47. Simon Sproule, Tesla | 48. Jim Weiss, W2O Group | 49. Barby Siegel, Zeno Group | 50. Aedhmar Hynes |