---
Wonderful Workplaces in PR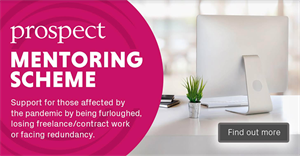 Has the pandemic adversely affected your career? A great mentor could be just what you need to get back on track.
What is it like to work at...?
RECRUITMENT EXPERTS' INSIGHTS
What does a PR associate director do? Find out about the typical responsibilities, hours, salary and career opportunities.
Public sector public relations may not promise the highest financial rewards but does offer opportunities for alignment to the causes and objectives it aims to serve. Find out what the challenges are and how to land a job.
Jess Toole, PR recruitment specialist at Adam Recruitment, outlines what an account executive role typically entails
Do you know how PR professionals perceive your organisation as an employer? Get top tips to help you build your employer brand.
Key takeaways from the PR360 roundtable hosted by employer branding agency, Wonderful Workplaces.
Haymarket Business Media launches dedicated website to showcase extended recruitment services across its entire job site portfolio.

PR firm Porter Novelli has partnered up with girl-focused charity BelEve UK to offer young women a taste of agency life by working together on a new campaign.

Wannabe PR pros need a whole new range of expertise to prosper in the modern world, allied with legacy skills that never go out of fashion.

Powered by
Wonderful Workplaces in PR is your hub of insider insight into what it's like to work for various employers in the PR and communications industry.
Find out about the company culture, career development opportunities and job vacancies with some of the sector's exciting places to work. Get a range of career advice and learn from recruitment experts in your sector.
#WonderfulWorkplaces
Browse the latest PR jobs on PRWeek Jobs
Set up an email alert now.
TALK TO US
To discuss working with PRWeek Jobs to support your recruitment campaign, please call Jayne Larch on 020 8267 8320 or email jayne.larch@haymarket.com