From Alesha to Jedward, Strictly Come Dancing and The X Factor have become major media talking points.
These two shows dominate Saturday night prime-time viewing in the long run-up to Christmas, as the public tunes in for week after week of dancing, singing, shouting and slanging matches. The two shows are guaranteed blanket coverage in the tabloids, thanks to the irresistible combination of celebrity, reality and high drama.
'Both shows are commanding huge audience figures and Saturday night TV is enjoying a popularity not seen for many years,' says Andrew Bloch, MD of Frank PR. 'Both The X Factor and Strictly understand the importance of getting their shows talked about and both do an excellent job of it.'
The X Factor is winning the ratings war. 'It feels like the bigger show,' says Colin Robertson, deputy TV editor at The Sun. 'The people who appear on Strictly Come Dancing have already been exposed to the press. You are dealing with celebrities, even though they may be minor. With The X Factor, you are starting with 12 fresh, unknown individuals. There is a richer source of stories.'
If there is one thing the Saturday night 'wars' prove, it is that entertainment PR, far from being fluff, is very big business. Here, PRWeek takes a look at what goes on behind the scenes at each show.
STRICTLY COME DANCING
Channel BBC One
Viewers Peaked at 8.7 million viewers on Saturday, 7 November
PR Players
- The BBC handles all PR in-house. The team comprises Kate Toft, head of comms for entertainment and comedy, and publicists Indy Vidyalankara, Rick Behari and Katy Shelton.
- Cassandra Power is comms manager; Charlotte Steeples and Mel Stungo deal with picture publicity; and Guy Levy is unit photographer.
- Presenters Bruce Forsyth and Tess Daly have their own PR support, as do judge Alesha Dixon and some of the celebrity contestants, but PR is co-ordinated through the BBC.
- Contestants are chosen by the production team and programme makers.
KEY STORIES
- Scandal erupted before Strictly had even begun this year, when it was revealed that Alesha Dixon, a 31-year-old pop star and former Strictly winner, would replace 66-year-old Arlene Phillips on the judging panel. The BBC was accused of ageism. Dixon was heavily criticised in the first few shows, particularly for lacking Phillips' choreography experience.
- The scheduling of the show, which clashed with The X Factor, attracted criticism from Simon Cowell, who said the BBC was wrong to force viewers to choose between the two programmes.
- Racism reared its head when dancer Anton Du Beke told his partner, actress Laila Rouass, she looked like a 'Paki' after she had a spray-tan. He subsequently apologised unreservedly. Then Forsyth waded into the mix, telling TalkSport radio that people needed a 'sense of humour' about it all. He later issued a statement saying he did not condone or excuse the use of racially offensive language.
- Other key stories have centred on potential romances between celebrities and dance partners, notably boxer Joe Calzaghe and Kristina Rihanoff, Hollyoaks star Ali Bastian and Brian Fortuna, and Hollyoaks star Ricky Whittle and Natalie Lowe.
- The Daily Mail ran picture stories focusing on former EastEnders actress Natalie Cassidy's clothing and weight.
Careers launched: None
Careers Revived
- The show has boosted the profiles of presenters Bruce Forsyth and Tess Daly, and judges Len Goodman, Craig Revel Horwood, Bruno Tonioli and Arlene Phillips.
- Strictly also boosted the career of Alesha Dixon. Her victory as a contestant helped revitalise her music career, and her inclusion as a judge raised her profile further.
- All the celebrity contestants enjoy a PR boost for the duration of the show. Last year, journalist John Sergeant attracted publicity for his bumbling routines.
- Many of the professional dancers have also become household names.
The PR effort
Work on Strictly begins in July and the show is launched with an event featuring the celebrities and their dance partners. 'From that point on, the team is flat out,' says Toft. 'Everyone wants a piece of the show, and trying to service everyone's needs is the hardest thing.' On an average day, she says, requests can number in the hundreds.
PR decisions, says Toft, 'are taken in the best interests of the show'. The BBC co- ordinates PR and works collaboratively with other publicists and agents representing the celebrities and presenters.
'Nothing on Strictly is managed,' says Toft. 'The focus is on making the best show for the viewers, and everything else, including marketing and PR, comes afterwards.'
In response to Cowell's criticism of the BBC's scheduling of Strictly, Toft says: 'If you look back over the past five years, the shows have traditionally gone out together on a Saturday night. This is nothing new. We have a lot to fit in on a Saturday night and not a lot of room to manoeuvre.'
But, despite its impressive PR effort, Strictly Come Dancing does not attract as many viewers as The X Factor. PR guru Max Clifford, who represents Cowell and is heavily involved with The X Factor, says Strictly has made two PR gaffes this year. First, he criticises the replacement of Phillips with Dixon. 'Arlene Phillips was well known and respected, so to take her off was a real affront to a lot of viewers,' he says.
The show appeals to an older age group than The X Factor and Clifford maintains Dixon is simply too young to directly replace Phillips. 'The powers that be should have run a season with both Alesha and Arlene on the panel; then if they wanted to take Arlene off, Alesha wouldn't have been replacing her directly, because she would have already been there.'
Clifford's second concern is the attention paid to the romance between Rihanoff and the recently separated Calzaghe: 'This would have been an affront to a lot of the family viewers.' Clifford says the BBC's PR effort could be improved by allowing the PR team more involvement in key decisions such as choosing the contestants.
THE X FACTOR
Channel ITV1
Viewers Averaged 11.8 million viewers on Saturday, 7 November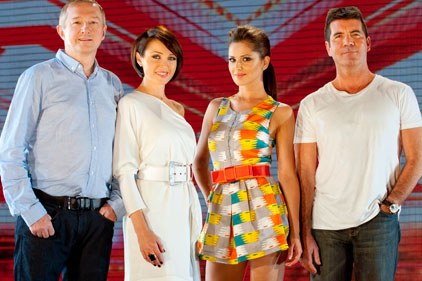 KEY STORIES
- The Sun's Colin Robertson calls The X Factor 'a PR dream'. The combination of young unknowns seeking stardom, high-profile judges, successful previous winners and stars who perform each week - this year including Robbie Williams, Whitney Houston and Bon Jovi - provides an abundance of stories.
- After the auditions, the focus turns to in-fighting between the judges, and between judges and contestants, as well as controversial judging and voting decisions.
- This year, headlines have been dominated by Irish twins John and Edward Grimes, whose apparent lack of singing ability did not stop them winning public support, until they were finally voted off the show last Sunday. The two have been dubbed by the tabloids as 'Jedward'.
- Simon Cowell has been criticised for an apparent U-turn on the twins, first saying he would 'leave the country' if they won, then choosing not to vote them off when they first landed in the bottom two.
Instead, he went back to the public vote, resulting in the axing of Lucie Jones.
Careers launched
- Previous winners of The X Factor enjoyed 15 minutes of fame at best - until Leona Lewis, arguably the most talented singer to emerge from the show, won in 2007. Lewis now enjoys international success.
- Last year's winner Alexandra Burke and runner-up JLS have both had number one singles and albums.
- Judge Cheryl Cole also used this year's show as a platform to launch her solo career - and her debut single and album shot straight to number one.
Careers revived
- The X Factor has catapulted Cheryl Cole, who was already successful as a member of girl band Girls Aloud, to the status of national treasure.
- Singer Dannii Minogue's profile has also been boosted since her inclusion as a judge on the show.
- The X Factor and its predecessors (Pop Idol and Pop Stars) have made Simon Cowell and Louis Walsh household names.
- Cowell is the linchpin of the show and has repeated the format with American Idol, America's Got Talent and Britain's Got Talent.
The PR effort
The myriad PR players within The X Factor team work as a 'well-oiled machine', says Anne Marie Thomson, head of media at Cowell's label SyCo. 'Everyone helps each other out and we are on the phone to each other all the time,' she says.
Robertson says: 'Members of the PR team do not need to sit around and generate story ideas. They work on managing the controversy that comes out of the show.' For example, Minogue caused a stir when she commented on the sexuality of one-time hot favourite Danyl Johnson. 'They took that very seriously,' says Robertson, and Minogue issued a full apology.
Media coverage of The X Factor also focuses on the back-stories of contestants. Zoe McIntyre, director of ITV programme publicity, says: 'There are always people trying to sell stories, some of which have a flicker of truth in them. The team spends most weekends dealing with these stories and, in some cases, taking legal advice.'
Ultimately, the PR machine centres on Cowell, and all his PR is handled by Clifford. 'This has been very carefully managed over the years,' says Clifford. 'Initially the strategy was maximum coverage and Simon's Mr Nasty image, but now it is more about keeping the image in the right way. Simon's image is very much at the heart of The X Factor. What he says is what he sees; if you ask anyone who has auditioned for him, they will tell you that is what he is really like.'
Clifford says one thing that keeps The X Factor ahead of Strictly in the ratings is the 'tweaks' made to it every year. Original judge Sharon Osbourne was dropped to make way for Minogue and Cole. The format has also evolved. Auditions and performances now take place in front of a live audience, and the show runs over two nights, with the acts on Saturday followed by results on Sunday.