Describe the magazine
Wallpaper* is much more than a magazine. It is a brand, a voice, an essential tool that informs and inspires. It is a provocateur of a life less ordinary. And it has some lovely photos in it too.

Who reads it?
Intelligent, well-travelled, high-earning, visually literate, cultured, urban, sophisticated men and women.

Who are your rivals?
Editorially we are kind of unrivalled – very few are crazy enough to attempt what we do. Those who try tend to fail.

Describe the '11 covers' issue
Wallpaper* is sold in more than 70 countries, and this issue highlights the 40 best things from ten of our favourite territories. Each territory has its own dedicated cover, so it is ten covers really – with one extra generic one.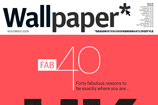 Of which story are you most proud?
Peter Saville and Nick Knight's recent 'Erotic House' story in our Sex and Art issue was truly memorable. Fashion, furniture and fetishism – what a cocktail!

Do you feature celebrities?
Good Lord no! That's a golden rule. Though I do miss them so I satisfy that craving with our October guest editors issue. You will get a smattering of design divas such as Karl Lagerfeld, Philippe Starck and Marc Newson, mixed in with A-listers such as Kanye West. But they contribute, they're not just passive lens candy.

What is Wallpaper*'s relationship with PROs like?
We have a fair amount of contact, but we avoid PR-driven stories like the plague.

PR pet peeves
When we know more about their clients than they do.

Media must-haves
The New York Times wipes the floor with any UK equivalent. Paradis magazine is one of the finest contemporary marriages of style and content. BBC Radio 4's Today programme has woken me up for 20 years and From Our Own Correspondent is the finest journalistic package.

Circulation 108,050
Contact PA apphia_michael@wallpaper.com