When self-help guru Dale Carnegie wrote his bestselling book How to Win Friends and Influence People in 1936, he did not have the internet in mind. Yet 70-odd years since its publication, the tome's core message resonates ever more loudly in a digitised world where influence can often mean the difference between communications success or failure.
Consider the example set by beleagured energy giant Trafigura. Earlier this month, its lawyers Carter Ruck slapped an injunction on The Guardian to prevent the newspaper reporting a question asked in Parliament about legislation to protect whistleblowers. The question related to an earlier injunction that Trafigura and Carter Ruck had obtained on the alleged dumping of toxic waste in the Ivory Coast.
Social media sway
The Guardian could not report the question, and could only reveal Carter Ruck was the law firm in question. Within hours, Trafigura and Carter Ruck became the highest-trending topics on Twitter. Prominent bloggers such as Iain Dale and Guido Fawkes wrote pieces, and questions were again raised in Parliament. Carter Ruck had no choice but to withdraw its opposition to The Guardian's report. The scenario demonstrated the power of online influence: traditional outlets used social media to mobilise users, with key opinion leaders in the blogosphere and on Twitter proving critical to success.
In the Trafigura case, the online influence of specific voices proved undeniable. Finding the right influencers in other situations can prove more tricky. Yet, increasingly, it is this area - loosely termed 'influencer mapping' - that is becoming a critical component of digital PR strategy.
According to Flemming Madsen, founder of online research firm Onalytica, the main reason for measuring the influence of online voices is to find out the key people with which an organisation should be engaging. The key, he points out, is to ensure influence is not mistaken for popularity. 'Popularity is a measure of how well known someone is,' says Madsen. 'Influence is a measure of their ability to move market share.'
Delib director Andy Parkhouse notes that that by analysing sentiment of influencers can offer further insight into what people are saying about your brand online. 'This is going to be awesome for brand managers.'
Not a popularity test
Madsen uses Jamie Oliver's presence in the childhood obesity debate as an example. When it comes to online popularity, only the NHS is mentioned more times in this debate than Oliver. 'However, Jamie is just outside the top 20 when it comes to influence,' points out Madsen. 'The National Obesity Forum is twice as influential.
'I am not saying those who are popular or well known are not influential,' he explains. 'But they almost always have less influence than we think.'
Influencers also differ according to the type of brand interaction at play, according to We Are Social MD Robin Grant. 'It's essential to understand who the people are online that influence the ongoing conversation about a brand, and quite separately, understand those influencers that are relevant at a campaign level - that sweet spot of those that reach the target audience and have the propensity to be interested and talk about your creative idea,' says Grant.
'What most PR agencies don't seem to have realised yet is that these are most often completely different sets of people.'
Complicating matters further, says Madsen, is the fact that the cost of engaging a stakeholder increases according to their popularity. Finding blogs or Twitter users who are highly influential, but less popular, offers better return on investment. Understanding what they are saying about a brand, he adds, can provide invaluable clues as to the eventual outcome of the debate.
PRWeek put this theory to the test by joining forces with several agencies to analyse online sentiment around six key debates from the past year - to uncover key influencers, and find out what they were saying.
Strictly controversy Alesha Dixon
Six Consulting analysed online conversations from 8 September to 8 October around Alesha Dixon's appointment to the Strictly Come Dancing judging panel.
Using its Radian6 platform, Six found conversation was taking place on blogs and forums. In terms of influence, traditional media played a crucial role. The Guardian's comment site led the way ahead of Strictly's own site. MediaGuardian and its Observer site also ranked in a top five that featured gossip sites DigitalSpy and Eleven. Analysing sentiment, Six found conversation was split between positive and negative.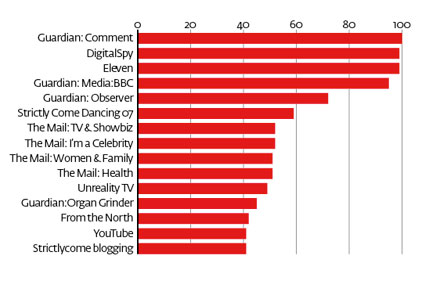 Battle of the consoles PS3 v Wii
Tracking the debate for online favourability between Sony's PlayStation 3 and the Nintendo Wii, Onalytica found a neck-and-neck race between the two in the UK.
PS3 'won' nine out of the 13 months that were analysed. The results differ slightly from the global findings, where PS3 has had the upper hand in terms of positive sentiment since this June.
'We typically observe that change in sentiment distribution plays a smaller role in explaining business outcome, such as market share, than a change in share-in-influence,' explains Onalytica founder Flemming Madsen.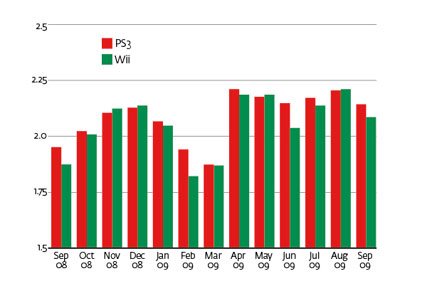 Linking up Booker Prize
The Booker Prize managed to overcome its reputation for controversy this year by naming overwhelming favourite Wolf Hall, by Hilary Mantel, as its winner on 6 October.
Porter Novelli's analysis of the online debate, conducted in conjunction with M/Buzz and Crimson Hexagon, uses a common depiction of influencer mapping, plotting sites according to how they link to and influence other online media outlets.
According to Porter Novelli head of digital Mat Morrison, the size of a site's footprint on the map is an indication of its link popularity, while colour denotes what he calls 'betweenness'.
'This gives us an idea of how information spreads and flows through the network; if you remove sites with high betweenness what you get is a series of little islands, cliques and villages. Imagine that you removed a few main London roads and Tube stations; the city would quickly shut down.'
Online reaction to Booker Prize

Date Positive Neutral Negative
01/10/2009 5 42 0
02/10/2009 2 52 0
03/10/2009 4 27 0
04/10/2009 2 86 1
05/10/2009 11 92 0
06/10/2009 74 458 1
07/10/2009 12 565 1
08/10/2009 12 159 0
09/10/2009 17 175 0
10/10/2009 9 130 0
11/10/2009 7 66 0
12/10/2009 15 173 0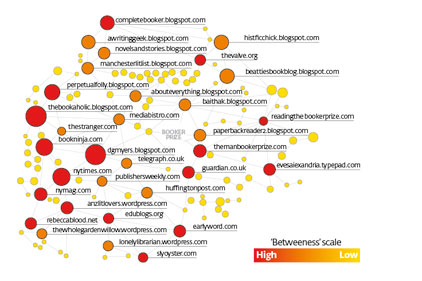 Launch reaction Google Wave
Described as a 'real-time comms platform', Google Wave launched its beta version last month for a select group of users to test the new platform.
Opinions about the product, and its launch strategy, have been divided. Weber Shandwick measured the influence of online voices based on seven criteria: visibility, activity, engagement, community, connectivity, affiliation and influence.
Unsurprisingly, says Weber Shandwick chief digital strategist James Warren, the most influential online site where Google Wave is concerned is Google itself, which scores maximum points on all of the six metrics.
It is closely followed by four key tech blogs. The BBC, in sixth place, scores particularly highly for connectivity, thanks to the strength of its inbound links and popularity.
In terms of sentiment, the findings reveal the mixed feelings that have greeted Google Wave's launch.
'Much of the negative coverage has been down to the "invite" process (to test the platform), with concerns about the number available and the time they took to arrive - something within Google's immediate control,' says Warren.
'The influence of sites such as Mashable and Techcrunch drove a predictably large volume of interest, overall creating negative sentiment.'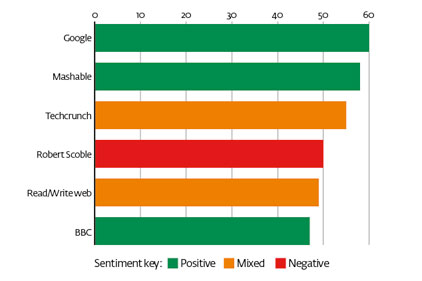 Health matters Bird flu
Onalytica's findings for the bid flu debate earlier this year reveal the key influence of public sector bodies that address healthcare.
The WHO - source of regular updates about the virus - is the key influencer, followed by bodies such as the FAO, the European Union and the Department of Health.
Key media sites are Science Magazine and Nature. A 'mainstream' site does not appear until CNN and BBC with low single-digit scores. Bloggers rate even lower. 'Almost all our studies show the blogosphere has a combined influence of about five per cent,' says Onalytica founder Flemming Madsen.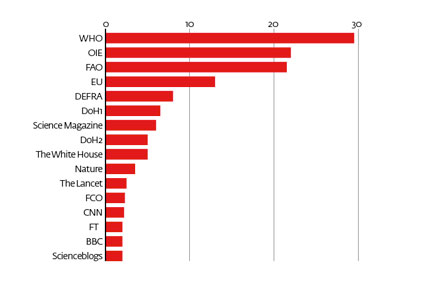 The US debate NHS
It was a debate that ruffled plenty of feathers. But Market Sentinel's analysis of comparisons between President Obama's proposals and the UK's NHS service throws up some surprising findings.
Chief among these is that Obama lost the online argument. Instead, the highly negative Fox News was one of the key online influencers on the issue, behind Twitter, which ranked neutral.
The Conservative Party, which positively supported the NHS as a model worth following, was the third highest influencer, ahead of YouTube and Organizing for America. The Daily Telegraph's negative-slanted blogs rounded out the top six.