Describe the magazine
Deen is a new lifestyle magazine for men and women. We cover beauty, fashion, fitness, gadgets and motoring.
Who will read it?
Our subscribers are varied. They do not want a magazine just for women or just for men. We provide something everyone will be able to read and enjoy.
It launched last week. Why now?
I believe there is space for Deen in the current market. The response we are getting tells us that people needed this a long time ago.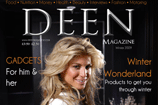 Where will it be available?
From many retailers as well as our website. It will also be distributed to the UK's top hotels, salons, race courses and airport lounges.
Do you think it is wise to launch in a recession?
It is not unwise. This magazine has been in the making for 15 months and we believe this is the perfect time. The economy is showing signs of recovery.
Of which feature are you most proud?
I am very proud of our first cover shoot with model Hofit Golan. It was an 18-hour shoot and the results speak for themselves.
Will you have any rivals and what will differentiate Deen from them?
We do not see any rivals. We cater for a different market. As well as being more content rich, we involve the readers.
What is your relationship with PROs like?
So far, we have had lots of PR contacts. We ask them to keep us informed with new products.
PR pet peeves
It takes a lot to piss us off here at Deen. However, it is annoying when we receive dozens of emails that aren't relevant to our magazine.
Media must-haves
The first thing I do when I wake up is switch on GMTV. My favourite papers are The Guardian and Daily Mail. I love Look, Heat and Grazia for my weekly showbiz updates.
Contact PA Nadia Aly nadia@deenmagazine.com
Website deenmagazine.com