Describe your magazine
Esquire is the modern man's manual for a stylish life, whether that is culture, gadgets, fashion or fun.

Who reads it?
Men in their mid-thirties who are sophisticated, discerning, ambitious and busy. Professional men are proud to have Esquire on their desks.

Who are your rivals and what differentiates Esquire?
GQ is our main rival, but it is more mass market, whereas we are upmarket. GQ is the magazine for wannabes and we are for people who are already there.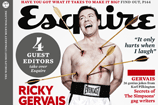 Explain the hardback September issue and gold October cover
Most people have battened down the hatches, but I wanted to do something exciting. We collaborated with Ralph Lauren for the hardback Quentin Tarantino cover and Gucci for the gold Mark Ronson issue.

How did this issue's four guest editors come about?
I told a white lie in my leader saying I got the guests in so I could go on holiday. It was simply men we admired. Ricky Gervais took over entertainment, Evan Davis did business, Nick Hornby was art and cultural editor and Rankin was in charge of visuals.

Which celebrities work well for Esquire?
They have to be strong characters who have achieved something, such as Barack Obama, Keith Richards and Tarantino.

Your products carry an aspirational price tag. Is this deliberate?
Some readers can afford the items and some can't, but we are trying to mix high street with high end.

PR pet peeves
The PROs I work with are pretty extraordinary. But the pitches that do not excite me are ubiquitous anniversaries and limited editions.

Media must haves
I like newspaper supplements, particularly US ones, London Review of Books, online culture magazine Slate and BBC Radio 4's Today programme. TV shows are great at the moment – Mad Men, True Blood, Gossip Girl.

Contact Langmead's PA Iona.Willis@esquire.co.uk
Circulation 52,705 (ABCs, January-June 2009)