These include posters on the London Underground and a selection of front covers – including one featuring Mayor of London Boris Johnson.
'We are the pivotal fashion magazine for London,' proclaims editor-in-chief Lorraine Candy, who moved to Elle from Cosmopolitan in 2004 and set about showcasing less eye-wateringly expensive pieces. 'We are more modern and less designer-led than Vogue and Harper's Bazaar.'
In the UK Vogue still outstrips Elle, selling 210,435 in the latest round of ABCs, compared with Elle's 195,192. But Candy says worldwide, Elle's 41 editions sell 6.2 million, more than Vogue's.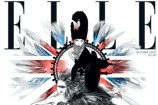 Candy claims the magazine has a more attainable app­roach to fashion than its rivals. 'Elle aims to be the magazine you can shop from. It inspires you to wear high street with des­igner.' Julian Vogel, MD of
fashion agency Modus, says: 'We target it for clients from Calvin Klein to Uniqlo.'
Joss Rankin, account director at consumer agency MCG PR, says Elle has an edge on the newsstand: 'It allows itself to app­ear risqué, but still maintains its A-list heritage.' While she feels it would take a lot
for Elle to steal Vogue's crown, she adds: 'It stands out in its own way.'
The magazine aims to ref­lect the British approach to fashion, which is more democratic than in other countries and incorporates a fair degree of high street. But Candy feels the craze for cheap designer knock-offs has passed: 'Women want to spend their money thoughtfully.' The title will consider pieces from Primark if they fit with the theme of a shoot, but it has a strict no-fur policy.
Cover stars tend to be A-list celebrities. A recent cover featuring troubled Hollywood star Lindsay Lohan and shot by legendary photographer Rankin proved particularly popular. Candy says readers enjoy the re-invention of a star.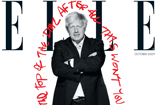 With the Johnson cover, Candy is breaking new ground. This is the first time a man has appeared alone on the front cover of Elle and Candy feels the magazine has the gravitas to pull off the unusual move. 'If Cosmopolitan tried to do this, it would have to put him on it naked,' she says.
The size zero debate that has dogged the fashion world in recent years has not escaped Elle. The magazine will not inc­lude models who look ill. 'Nobody wants to see clothes on girls who are too thin,' asserts Candy.
The magazine does, how­ever, continue to airbrush photographs. 'No matter what people on the street say, they would not buy the magazine if the cover star was not airbrushed,' says Candy.
Circulation 195,192 (ABCs, January-July 2009)
Website Elleuk.com
Unique users 340,000

Contacts
Fashion/accessories Bonnie Rakhit, Amy Bannerman, Natasha Wray, Donna Wallace
Beauty Susannah Edwards
Features Lucy Thackray
Email firstname.surname@hf-uk.com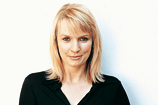 A minute with... Lorraine Candy, editor-in-chief, Elle
Who are your readers?
They are aged 18 to 34, but the average age is 28. An Elle reader is obsessed with fashion, but also wants something to read. She has a thirst for knowledge.
How can PROs get involved?
The really brilliant PR agencies we work with use lateral thinking to come up with ideas. Offer us something on which we can build. Have a constant dialogue – make a phone call, follow it up with an email, and then follow up the phone call. I don't care if people phone me 20 times. It shows they are persistent.
PR pet peeves
I tell you what PROs absolutely cannot do, is ask me for the forthcoming features list. Why the hell would I give you that? 'Yes ok, I'll fax it to you, and I'll fax it to Condé Nast and IPC, shall I?' The worst thing is being in front of a PRO who has clearly not read the magazine. I can't tell you how many people say: 'Well, you can put that on your cooking page.' What cooking page? We've never had a cooking page.