Describe the magazine
We produce 68 pages devoted to football every week and aim to celebrate the top games and stars, and react to breaking news and results. When Ronaldo signed for Real Madrid, we had just one day to devote most of the issue to the story – and we did it, which gave us a real boost ahead of our competition.

Who reads it?
Our main demographic is aged eight to 16. We pitch somewhere in the middle, at 11-year-old boys. The biggest percentage of our readership will be Manchester United fans.

What is your competition and how do you tackle it?
Bauer Media's Match magazine was the clear market leader when we launched. We focus more on results to reflect the highlights nature of Match of the Day. Our research also showed readers wanted to improve their own game, so we get skills advice from players themselves.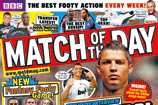 What makes an ideal Match of the Day feature?
It would incorporate heroes such as Wayne Rooney, Cristiano Ronaldo or Michael Owen, who will become popular again now he is at Manchester United. It would need to contain as many facts as possible and give readers new information so they can go into school and boast that they learned it themselves.

How does the magazine link up with the Match of the Day programme?
Lots of our readers watch the programme with their dads. Our new fantasy league game has a Dads v Lads element so our readers can take on their dads and see who scores the most each week. Gary Lineker also writes for us.

What are your PR pet peeves?
We deal with PR professionals every day and have a great relationship with them. My bugbear would be if people don't know what the magazine is, and pitch us something 'adult' such as football hooliganism or a film with an over-15 certificate, which we will not cover.

Media must-haves
I read FourFourTwo, The Sunday Times, Lonely Planet and Empire.

Circulation 80,040 (Source: ABC July-December 2008)
Frequency Weekly
Contact ian.foster@bbc.com