Describe the magazine
ELLE Decoration is the world's biggest-selling homes magazine – it is read by anyone who loves their home and has an interest in contemporary design.
Who are your main rivals?
I don't believe we have rivals as such; other magazines in our sector do a great job for different audiences. We talk to a style-conscious, smart crowd who know their own minds or want to learn how to get to that point.
Of which feature are you most proud?
Our features are a mix of inspiration, information and ideas. Our annual hosting of the British Design Awards is the jewel in our crown.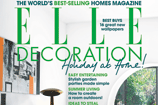 What is your approach to celebrities?
Celebrity does not automatically connote talent. Just because someone is famous, it does not mean they have class or style, and that is what excites us. We are only interested in featuring authentic, passionate people with something unique or special to say.
What are your plans for the next 12 months?
We'll be refining the design and layout of the magazine, bettering our editorial and honing our offer. We will also be working on boosting our online profile.
Describe your relationship with PROs
The ones I love know what it is like, and the ones I don't, don't!
Any PR pet peeves?
I wish PROs would get into the habit of spell and grammar checking their press releases, get to the point in the first paragraph, always send an image sheet with any CD, stop sending me rubbish peddled as 'hot new design', desist sending me emails written in a chatty, over-familiar format, and never email me high-res shots as they crash my computer.
What are your media must-haves?
The Financial Times, the New York Times, all the foreign issues of ELLE Decoration, The Observer magazine, The Saturday Telegraph magazine, The Sunday Times Style, Italia! magazine, Grazia, Facebook and YouTube.
Circulation 62,027 (ABC July-December 08)
Contact elledecoration@hf-uk.com