Chandler Chicco Companies kept the top spot in 2009's healthcare league table. The agency managed to achieve an impressive 31 per cent growth, opening up a gap of more than £3m over nearest rival Edelman.
Edelman retained second place in the table and saw a five per cent increase in fee income compared with the previous year. The agency secured new business with Wyeth and Novo Nordisk and grew business with existing clients Pfizer and Merck Serono.
New entrant FD Sante stole third place in the league and is hot on Edelman's heels with a healthcare fee income of more than £6m. Although Financial Dynamics claims to be restricted by the 2002 Sarbanes Oxley Act and does not provide figures for the overall Top 150, this year it has taken the decision to provide its figures in full for inclusion in the healthcare table.
Axon Communications also made its first foray into the league table this year, debuting at number eight. Managing partner Ralph Sutton says the agency's success is down to a mixture of new business wins and organic growth with existing clients.
Another new entry was PRWeek's One To Watch, Reynolds-MacKenzie, which debuted at number 17. Co-founder Eva Reynolds says 2008 was the agency's best year since its launch in 2004. It was cited as one of the fastest growing consultancies in this year's Top 150. Forecasts for 2009 already have Reynolds-MacKenzie showing a predicted growth of at least 20 per cent.
Brighton-based consumer healthcare shop Pegasus jumped three places to number 11. Pegasus director Simon Hackett says the agency picked up new accounts and made senior hires in 2008. Just Health also moved up three places to number 13.
But the table was not all good news. Munro & Forster, Citigate Dewe Rogerson, Kindred and Waggener Edstrom all saw healthcare fee income reduce in 2008.
Munro & Forster director Sarah Hart attributes the drop to the loss of some long-standing business with AstraZeneca. 'We have replaced a significant part of that loss through new business wins with clients including Eli Lilly, Sanofi-aventis and ViroPharma,' says Hart.
Growth in health fee income at Chandler Chicco Companies - 31%
Growth in health fee income at Huntsworth Health - 23%
Growth in health fee income at Pegasus Public Relations - 50%
Growth in health fee income at Say Communications - 64%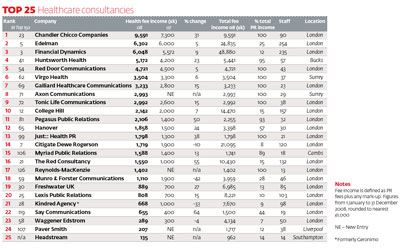 TRENDS - THREE KEY CHALLENGES FOR 2009
1. Digital
While other industries have been embracing digital communications for years, the pharmaceutical sector has been slow to adopt it as part of PR strategies.
The strict marketing restrictions moderating the industry mean it has been hesitant to make changes to its tried and tested strategies for fear of breaking the ABPI Code of Practice.
2008 saw a glimmer of light for healthcare communications agencies eager to encourage pharma firms to use social media to communicate with diverse audiences.
'There is a far greater appetite now to talk about digital strategies for communicating messages for our clients across PR and medical communications,' says Axon Communications managing partner Ralph Sutton. 'Social media is something our clients are interested in learning about - but they are cautious.' Axon has acquired a digital marketing agency in Toronto, called Sonic Boom, to increase its capabilities in the digital sphere.
Tonic Life Communications CEO Scott Clark warns the desire to incorporate digital elements into a campaign may not suit every client: 'Agencies need to think first if it is the right thing to do for their clients.'
2. Market access
Healthcare agencies reported seeing an increase in clients asking about the role they can play in the area of market access and stakeholder engagement.
Chandler Chicco Companies created a specialist healthcare consultancy offering support for clients trying to overcome 'market access' challenges in May 2008. At the time of launch, CCC director of operations for the EU Fiona Hall said the agency aimed to provide a broader range of integrated services to support commercialisation of products. The offering has also recently been launched in the US. 'The EU team has been sharing its market access expertise with our US-based colleagues in preparation for the anticipated healthcare reforms,' says Hall.
3. Internal comms
Internal communications are playing a greater role in healthcare comms. Steve Spurr, MD of Edelman's UK healthcare practice, says he has increasingly been helping pharma companies communicate to staff: 'There have been more pharmaceutical company mergers over the past few years. This has meant pharma companies are putting a lot more effort into how they communicate with a greater staff base.'
NEWS HEALTHCARE IN THE NEWS THROUGHOUT 2008
Even before swine flu, healthcare issues topped the news agenda in 2008 as a debate around access to drugs hit national headlines.
The Government's drug rationing body, the National Institute for Health and Clinical Excellence, was criticised in the press following its decision to reject four kidney cancer drugs. The story brought about huge political and public controversy. Pfizer, the pharma firm behind one of the drugs called Sutent, used retained agency Reynolds-MacKenzie to spearhead a media campaign protesting against the decision.
'The resulting public pressure via the media went some way to ensuring a NICE U-turn on its decision to fund Sutent,' says Reynolds MacKenzie co-founder Eva Reynolds. 'We achieved more than 440 pieces of news coverage.'
Munro & Forster director Sarah Hart agrees: 'This pushed cancer drugs into the limelight and made us think about important social and ethical issues.'
Alzheimer's also topped the news agenda when author Terry Pratchett revealed he was diagnosed with early onset Alzheimer's in March 2008. The author of the Discworld series also announced he had donated £500,000 to fund research into the disease, which affects 700,000 people in the UK.
His move produced acres of column inches and news items for many broadcasters. Pratchett pledged the money to UK charity, the Alzheimer's Research Trust, which used the announcement to renew its call for the Government to do more to find a cure. The statement was important because it is rare for anyone well-known to admit to the condition and it has acted as a lightning conductor for other stakeholders' comms efforts.
One of the biggest consumer healthcare stories appeared in November 2008 when Johnson & Johnson's 'Take a Benylin Day' campaign was launched to mixed reaction in the press.
The £100,000 campaign, handled by Munro & Forster, ran with the line that the best way to overcome a cold was to stay at home and rest. The story was picked up by Sky News, BBC News at Ten and channel Five and was covered in most of the nationals. The phrase 'taking a Benylin day' has since become a familiar term within the consumer media.
For more information on the agencies featured in the league table please click; PRWeek Healthcare Consultancies 2009.