Describe the magazine
A monthly magazine that features a wide range of stories about motor racing from the past and present. Breaking news is not our priority, but we are good at reviewing current motor racing affairs from a fresh and outspoken perspective. We like to be different and to break traditional publishing rules – as an independently owned title, we can do that.

Who reads the magazine?
Men aged over 40 who have a high level of knowledge about motor racing. We are working hard to attract younger readers by running content about the present.

Who are your main rivals?
I keep an eye on Octane for the historical stuff and F1 Racing for the modern stuff. Autosport, which is a weekly, is less of a direct rival but as its former editor I take a keen interest.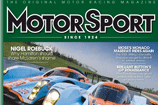 Of which story are you most proud?
Our tough stance on the Max Mosley sex scandal last year. We believed then, and we believe now, that he should have resigned and we were not afraid to say so. Unlike our rivals.

How much contact do you have with PROs?
A lot. Motor racing is a small world and they are everywhere. In F1 access to drivers and team personnel has become much more difficult in the PR era, which is frustrating. They also tend to sit in on interviews, which is just plain wrong.

What can PR professionals do to make your life easier?
Piss off when my journalist is doing an interview!

What constitutes an ideal PR pitch?
A short phone call followed by an email. Offering to pay for flights and hotels – and then not expecting dreaded copy approval – helps. I don't ask for much.

What are your media must-haves?
The BBC and The Guardian websites and – I hate to admit it – autosport.com. It is always interesting to
see what Vanity Fair and Esquire are doing. I am also heavily influenced by my favourite magazine, Mojo.

Contact Damien.smith@motorsportmagazine.co.uk
Circulation 33,000 (Latest ABC was up 12.6 per cent, the biggest growth in the car magazine sector)