As newspapers have transformed themselves from print publications into multi-platform content providers, media monitoring has become progressively more of a challenge. At the same time, media owners themselves have sought new revenue models to generate a return on their content investment in areas such as online publishing.
Web distribution has brought both threats and opportunities to newspapers, with media owners keen to protect their copyright given the ease of copying digital material. Meanwhile, press cuttings agencies (PCAs) have had to work exceedingly hard to keep pace with the proliferation of news content while ensuring they continue to add value for their clients.
Responsibility for protecting newspaper copyright rests with the Newspaper Licensing Agency (NLA), which was set up by the UK's national newspapers in 1996 to manage copyright collection. It authorises copying of press cuttings on behalf of national, regional and international newspapers, and currently licenses more than 180,000 businesses and organisations ranging from large government organisations to SMEs and PR agencies.
Although the need to protect copyright is accepted and understood, there has been some resentment among PR people regarding some of the work of the NLA. In particular, there is confusion over the charging structure for copying of content. Organisations large and small are keen to keep their costs in check.
Squaring the needs of newspaper groups with those of firms seeking to monitor stories about themselves was at the centre of a recent round table event hosted by PRWeek, the NLA and Vocus, a provider of on-demand software for PR. Highlights of the debate, attended by industry specialists, touched on licensing developments and addressed concerns harboured by PCAs and the PR community at large.

Cost of cuttings
BAA Group head of media Damon Hunt thinks the NLA provides a good service but is uneasy about the price. 'We have 100 registered licensees and we are in the news quite a lot so it is an expensive proposition for us to get the full bells and whistles. Add to that broadcast media monitoring and online and you come up with a pretty hefty budget.'
The NLA says it is simply trying to find pricing structures that are fair and equitable while giving the right value back to its publishers. It explains it is proactively investing in new services that are beneficial to the marketplace.
NLA chairman Dominic Young says: 'The most significant thing that has happened in the past few years, and sets the direction in which the NLA will go in future, is that it has turned from a pure permission company that sells people licences and gives them the permission to do things – which is honourable and essential but in the end quite passive – into being much more in the business of services, facilitating things and taking advantage of relationships with publishers.'
A prime example of this is the eClips electronic database of press cuttings in PDF format that was launched in 2006. There are now 100 titles on the database and by this time next year it is expected to double, including international titles. There is no upward limit on numbers.

Digital possibilities
The NLA launched digital licences this summer to offer customers greater flexibility in how they use and pay for digital newspaper content. The NLA licences about 800 new companies a year.
Last month, the NLA launched another product, ClipSearch, which is an archive research tool enabling businesses to go back into the NLA archive and freely research topics of interest. ClipSearch has initially been launched through PCAs but a wider launch in the new year will see it made available to smaller businesses.
'Is there a question of competing with the press cuttings agencies?' wonders Vocus Europe managing director Andrew Muir. NLA managing director David Pugh dismisses such fears, pointing to what has happened with eClips – which, he says, has actually helped media monitoring companies grow their businesses because the database is superior quality to scanned-in content, providing good quality colour PDFs and higher search yields for clients.
Pugh continues that the ClipSearch database was actually brought to market as a result of a collaboration between the NLA and PCAs and that the latter will be the NLA's agents in selling the product. There will be a three-day embargo on acc¬essing the archive, illustrating that this is not a move to compete against the PCAs.
But what of PROs' experiences with the NLA? University of London external system head of media and PR Binda Rai says that four months into her job she was working on a tight deadline and the last thing she wanted to think about was an NLA licence. With no time to anticipate projected media coverage and the titles in which it could happen, Rai did not have time to complete the forms and sort out the agreement. She describes herself as 'delighted' with the service she received from the NLA – her contact even filled in the form so that all she had to do was sign.

Certainty of print
Despite the burgeoning influence of new media, Rai feels strongly that print still has a role: 'Nothing could ever replace the feeling that you get from having a personal copy of a newspaper. Reading it when and where you wish could never be substituted by an electronic version. E-versions are great for quick references rather than in-depth reading. Newspapers in hard and electronic copies must sit side by side
because there is room for both.'
Nevertheless, the internet has made newspaper publishers take a long hard look at their business models. The Financial Times, for instance, has adopted a two-pronged approach with its FT.com website, seeking both content and ad revenue.
'Advertising isn't enough,' says FT director of content syndication Alison Parker. 'We cannot just be free to air. We think key dec¬ision-makers will pay for content, which has led to our frequency model. It is based on demand so if you are a small user wanting up to four articles a month you can roam around FT.com without us knowing.'
However, Parker is quick to stress it is essential for the FT to work closely with 'third party providers' of content such as the NLA, PCAs and aggregators such as Factiva and LexisNexis. 'We don't want to do this on our own,' she says.

Future for PCAs
Easy access to tools such as Google Alerts means some basic media monitoring can now be undertaken without the need of expert agencies. But PCAs are confident they will continue to thrive because they are skilled at meeting client briefs and separating the wheat from the chaff.
Content delivery is an area changing fast and it is dangerous to assume that anything is a permanent fixture. The NLA, for instance, is exploring the viability of a host of new services, among them a 'web feed' to PCAs. There is also the possibility of closer co-operation with the Copyright Licensing Agency – which licenses copying from magazines, books and journals.
Earlier this year the NLA launched a republishing website, providing advice on reproducing articles for commercial purposes. At present this is simply a referral service but Pugh says the NLA is looking into the viability of managing the process on behalf of its members. Things are changing come what may and it makes sense for PR practitioners to shape the future as best they can.


The Panellists (pictured left to right)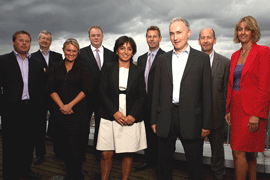 Damon Hunt
Group head of media, BAA
Previously press secretary to a cabinet minister in the Australian Federal Government.

Andrew Muir
MD, Vocus Europe
Before joining Vocus, a provider of on-demand software for PR, Muir set up and ran the international operations for Cyveillance Inc.
Donna Casey
Media relations manager, Heathrow Airport
Before joining BAA, she worked in the transport PR sector, including Network Rail and NATS.

Dominic Young
Director of group publishing services, News International
Represents NI on the board of the Newspaper Licensing Agency and is NLA chairman.
Binda Rai
Head of media and PR, University of London External System
A former BBC journalist with a 28-year career in media and PR, specialising in health, local government and education.

Neil Stinchcombe
PR director, Eskenzi
An expert in technology PR managing a portfolio of clients in IT and telecoms.
David Pugh
MD, NLA
Joined the NLA from the poster industry, where he was CEO of Titan Outdoor Advertising. Pugh used to be marketing director of the Telegraph Group, where he launched fantasy football and telegraph.co.uk.

David Mahoney
Director for content, Vocus Europe
Leads content development for Vocus International software, advancing in-house systems and creating alliances with global content providers. Before Vocus he was research and evaluation operations director at Cision.
Alison Parker
Content syndication director, Financial Times
Represents the FT on the NLA board and has been involved in the FT's digital side since 1987.