No-one wants to overdo the pessimism but sadly there is precious little positive news for businesses and consumers at the moment. The unwelcome effects of the credit crunch are being felt ever more widely, with consumer confidence wilting amid concerns over rising fuel bills and worries about job security.
The downturn in the housing market and corporate liquidity issues have struck banks, construction companies, building trade suppliers and estate agents. According to the British Bankers' Association, mortgage approvals hit a record low in June, with Office for National Statistics figures for the same month pointing to a widening of the downturn in the shape of a 3.9 per cent fall in high street sales - the sharpest monthly fall since records began more than 20 years ago.
Woeful stock market performance in recent months has compounded the gloom affecting pensions, investments and, crucially, employee morale. To this can be added the disturbing fact that many
employees simply do not trust the company for which they work (see survey, right). As a result, internal comms teams currently face significant challenges.
'The internal communications function is definitely at the forefront right now as we deal with the consequences of the economic downturn,' agrees Mark Fearon, director of corporate communications at building materials supplier Wolseley. 'Over the past two years we have needed to restructure our business in line with market conditions and reduce headcount by more than 10,000 people, which is over 10 per cent of our global work force.
'At all times we have sought to ensure that our employees understand the current market situation we face and the reasons behind the action we have taken. Ensuring we engage our employees in a direct, open and honest way has been a key objective.'

Up to speed
Particularly in the financial and construction sectors, which have so far borne the brunt of the credit crunch, communicators are reviewing how issues concerning corporate stability and future business prospects should be addressed with staff.
Royal Bank of Scotland head of group brand communications Allan Watt says his team is 'working overtime on a number of projects on which staff need to be kept up to speed'. The financial services group launched a blockbuster £12bn rights issue earlier this summer.
James Harkness, partner at internal comms specialist Harkness Kennett, says his agency is 'very busy' at the moment. In his view, organisations generally are seeing employee engagement and change communications as critical, and investing more rather than less during these challenging times.
There has, he notes, also been an upturn in clients asking for help in engaging staff to deliver their brand or service. The role of employees as brand ambassadors and advocates is clearly recognised as important in the current climate.
'A lot of the credit crunch/downturn communications are being embedded within businesses as normal internal communications,' says Harkness. 'Saying "we're secure because of our strength or global reach or cautious approach to lending, unlike Northern Rock etc" is something I've seen within the financial services sector recently.'
Such pronouncements are prudent but communicators must be wary of overstepping the mark. For example, Hill and Knowlton managing director of change and internal comms David Ferrabee
cautions his clients never to tell their staff they will be OK. Without a crystal ball, no-one can be sure what lies around the corner.
'I don't think anyone should be making promises,' he says. 'You could be the second biggest shoemaker in the world and then the biggest clothes company in the world shows up and buys you. Employees are aware of these kinds of possibilities.'

Be consistent
Comma Consulting partner Michael Croton, who led internal communications teams at BP, Boots and Barclays before moving into consultancy, says at the moment the main priority for many large companies is to 'get the story straight'. Working closely with the external comms team, IC practitioners need to make sure the company is not sending out contradictory messages.
There is, he feels, also the need to deliver a more balanced message than the often downbeat coverage seen in the media.
'One professional services firm has put out an all-employee memo from the chief executive, saying "here's how we see the credit crunch right now". The idea is to build trust,' says Croton. 'There's also a huge focus on sticking to the plan. All sorts of companies are saying: "We have a strategy. Times are changing but that doesn't mean we will throw out our strategy."'
Croton adds that most staff are aware that press releases and similar missives contain heavily processed language. When times are harder, staff tend to appreciate seeing their leaders getting out and about, talking about any issues face to face and being as candid as regulatory constraints allow.
Interestingly, credit crunch comms are not exclusive to the private sector. Transport for London, which runs the Surface2face comms programme to create awareness of strategic goals and objectives for its Surface Transport operations, has just produced a 'credit crunch toolkit' for staff.

Staff incentives
The document, says TfL comms manager Kesah Trowell, aims to stimulate discussion on whether the organisation is spending money on the right things and being as efficient as possible. The toolkit includes a competition - with a £50 voucher on offer to the team that comes up with the best cost-cutting idea.
Undoubtedly we are in an era of increasing cost-consciousness, for both consumers and large organisations. A spate of negative economic news has depressed confidence and increased employee
edginess. At this point in the economic cycle, workers are looking for purposeful direction and high visibility from their leaders.
'The golden rule for any internal communications is trust and transparency,' says Pleon consulting director Iain Halpin. 'You can't have one without the other.'
Employee trust survey 2008 Weber Shandwick

According to Weber Shandwick research among more than 1,500 employees in the UK and Republic of Ireland, one in three either mistrusts or has low trust in their employer. That level is more or less unchanged from research done in 2006.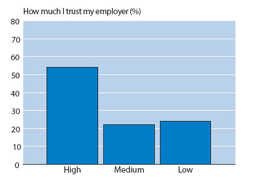 'The research is telling us fundamentally that the corporate communications central office function is the least trusted, which is worrying,' says Andrew Worlock, director of internal communications at Weber Shandwick sister company Inside Edge. 'What's needed is clear central leadership that tells it like it is and to empower people lower down the organisation.'
Research findings included: personalisation and engagement are very important to employees;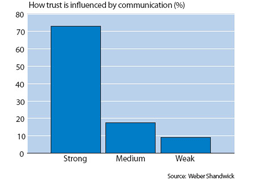 proximity and affinity matter – the closer and more intimate the communicator, the more trusted the communication; an environment in which everyone feels comfortable expressing an opinion and sharing ideas is highly valued; open, honest, straightforward communication is appreciated, even in the case of bad news.
Case study ITV

Television group ITV has been beset by repeated stories of tough times in the TV advertising market and a share price that has more than halved in the past year. Its corporate intranet is an important channel for spreading information to staff and this is updated two or three times a day to provide plenty of news and insight into what is going on at the company.
'Our job is to say, look at the facts,' says ITV director of internal comms Penny Lawson. 'We haven't seen these swingeing effects of advertising cuts that have been reported externally.'
Occasional podcasts are produced to tackle specific themes in greater depth, sometimes featuring interviews with eminent external figures to add credibility. Among those to have taken part is advertising guru Nigel Bogle, who gave his perspective on the outlook for advertising. Information is also cascaded down through monthly leadership breakfasts led by executive chairman Michael Grade and COO John Cresswell.
There is a deliberate 'celebration' of the fun side of working in television. For instance, the FA Cup was recently brought to ITV's London offices so staff could have their pictures taken with the famous trophy. However, Lawson is keen to emphasise that internal comms is not about adopting an unrealistically upbeat 'apple pie' tone.
'It's tempting to apply a general salve of good cheer,' she adds. 'But a company's job isn't to provide reassurance it can't actually give. It's to provide facts to staff so that they can make up their own minds. There has been a lot of talking down of the outlook but we can only tell staff about what we are seeing.'

Case study Abbey
In order to ensure communication is aligned across all areas of its business, retail bank Abbey created the Strategic Communications Forum, which brings internal communicators together with the press office, advertising, HR and the IT team running the intranet.
'This has proved very useful,' says head of corporate communications Anthony Frost. 'Not only does it ensure we are all on the same page for our corporate messages, but it helps us plan and co-ordinate activities, as well as explore what is next for our delivery channels.
As credit crunch issues came to the fore, the forum agreed that the strong backing of parent company Santander was a message that should be included immediately in advertising, external PR and across all internal communications channels. The bank has just embarked on an employee engagement strategy for the next 12 to 18 months. This uses its group internal brand 'Santander is you' and will underpin all of its employee comms.
Business updates are published on Abbey's intranet homepage every day; its quarterly staff magazine Ideas recently ran a two-page article from the CEO reassuring staff about Abbey and Santander's strength in the current financial crisis. Its annual convention for 2,500 line managers is used to cascade messages down to all its staff; and positive messages are included in Retail TV programming.
'Recent roadshows and branch visits have also presented an opportunity to deliver messages about Abbey's strength in the current financial crisis, which frontline staff can pass on to customers,' adds Frost. 'In the past year, 1,600 frontline staff have had the opportunity to meet the CEO.
'Ultimately, actions speak louder than words and you can get no stronger statement than Santander's announcement that it intends to acquire Alliance & Leicester. That clearly underscores why Abbey has benefited from being part of Santander.'
Picture: Getty Images