This September Ben Stewart will go on trial charged with trespass and £30,000 worth of criminal damage. If convicted, he could be the first climate change activist to be jailed in the UK.

He was arrested with five other Greenpeace activists for scaling the smokestack and shutting down Kingsnorth power station, the site of the country's first proposed new coal-fired power station, last October.

Although he is noticeably sobered by the prospect of spending time behind bars, he still believes it was 'absolutely the right thing to do'.

'It is imperative that we stop the Government building new coal-fired power stations in this country,' he says. 'We need to show this is so unacceptable that people are willing to risk their liberty to stop it.'

Greenpeace has practically written the rule book on using stunts to get an issue in the news, and the team takes great care to ensure it has the right equipment to get its message out 'underneath the noses of security and pol­ice'. In the Kingsnorth exa­mple, this inv­olved a nine-hour climb up a ladder with 50 kilos of broadcast gear.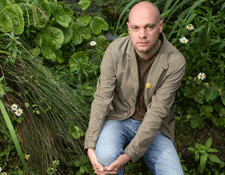 But does the organisation risk being dismissed as a bunch of childish rabble-rousers? Stewart, with refreshing honesty, admits that Greenpeace does have some difficult questions to ask itself, inc­luding from where it gets its mandate. He also concedes the org­anisation has come across as a bit hectoring, particularly to a post-9/11 media 'obs­essed with security'.

But Greenpeace finds itself in aCatch-22 situation. 'Dress in an orangutan costume and hang off a building and the media will run your story,' says Stewart. 'The result is that most people assume it's all we do.'

He says the NGO constantly talks to politicians, civil servants and businesses.
David Cameron, for example, launched the Tories' decentralised energy policy in Greenpeace's warehouse last year. But this sort of thing is rarely picked up.

Stewart, 34, is no stranger to conflict. He was once thrown out of the then home secretary Michael Howard's office after crossing swords with him during an interview about the new 'anti-rave' criminal justice bill. And when at the League Against Cruel Sports, he ran what he describes as 'knocking stories' on The Countryside Alliance, which he admits to finding 'hugely satisfying'.

Stewart's first action for Greenpeace was breaking into the Cabinet Office and rep­lacing the illegally logged wooden doors with a sustainable material. He was chased by the police and ended up on the roof.

A radio was switched on and he discovered the then PM Tony Blair was being asked about the illegal wood at Prime Minister's Questions. 'I was looking down at the gardens of Number 10, across to the Houses of Parliament and I thought, "this shit works - I'm definitely doing more of this".'

And he did. Quizzing Blair on his energy policy in 2006 from the top of Didcot power station was one of his highlights. Stopping the power station from emitting CO2 at source 'would have still been the right thing to do if I didn't send a press rel­ease or phone a single journalist', he says. 'But there I was, questioning Blair about his energy policy on ITV from the top of a power station with 120 cops beneath me.'

The actions themselves have a 'sexy A-team' feel. Each action has a code name, with those in the know forbidden from telling even their partners what they are up to, and staff work on the assumption that they are being bugged. 'That's not being overly conspiratorial, it's just the way it is.'

The actions still give him a buzz, but he says he has now learned to manage the adre­nalin for 'fear of saying the wrong thing'.

The hunger must still be keen, as Stewart is preparing to stand down from the director of comms post he took up at the end of last year, in a bid to get back to the coalface as head of the media team.

'The NGO and environment movement has suffered with bad managers for years,' he explains. 'At the moment Greenpeace has very good managers, but I have realised that I am not one of them.'

This self-deprecation is not wholly justified. The journalists who know him agree dealing with the media is where Stewart's talents lie, but the Daily Mirror's deputy ­political editor Jason Beattie is quick to praise Stewart for 'adding professionalism to a field that has sometimes been too laid back for its own good'.

Newsnight producer Merion Jones concurs. 'Ben rises above the sectarian divides in the sector,' he says.

These references may come in handy in two months' time when Stewart, who vowed never to go near the law again when he finished his law degree, faces his own day of judgement.

CV
2007 Becomes Greenpeace comms director
2006 Promoted to head of press
2001 Joins Greenpeace as press officer
2000 Press officer, IFAW
1997 Press officer, League Against Cruel Sports

STEWART'S TURNING POINTS
What was your biggest career break?
Winning the Guardian Student Journalist of the Year Award and two months at The Guardian. I got to make contacts, confirm my prejudices about liberal journalists and steal Clint Eastwood's phone number from the arts desk.

Who was your most notable mentor?
My current boss John Sauven, who runs Greenpeace. We treat him in a cult-like fashion that is deeply unedifying and unnerving to strangers.

What advice would you give someone climbing the PR career ladder?
Some things are interesting but not very important, other things are important but not very interesting. Make your output interesting and important and you're on to something.

What do you prize most in new recruits?
An intuitive understanding of how to interest people in what you're saying. When someone's rattling on about a strange thing that happened on the bus this morning, some will hold your attention, others will have you staring at your shoes.