The head of consumer PR is looking fresh-faced and bright-eyed, having just returned from a holiday in Mexico.

'It seems to happen when I'm relaxed; like when I'm in the shower and when I'm driving. I never switch off. When I was on the beach, I was still thinking, "Ooh, that's a good idea."'

The fertile imagination of this thirty-something Liverpudlian has conjured up everything from condomesque sleep suits and mobile hotel rooms, to pet beds and 'cuddillows', all in the name of promoting the 300-strong chain of UK budget hotels.
Thanks to Ahmed, barely a month goes by without a quirky customer survey making headlines.
Her attention-grabbing campaigns are a riposte to the widely held stereotype that all ­in-house PROs are good for is churning out dull announcements, and that if you want to get creative, you will need to draft in a trendy London agency.

Ahmed says she gets her flair for self-­expression from her mum: 'When I was growing up, she was creative, and she ins­tilled that in me. I always bring creativity to what I do, even wrapping a present.'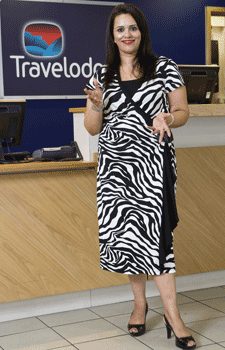 Ahmed has two roles - carrying out her official duties as head of consumer PR, and performing a role you will not find listed on her CV: head of strange new product development.

Take that pet bed. During March's Crufts dog show in Birmingham, Siberian Husky Saskia appeared in a number of newspaper reports relaxing in her own 'kingsize' hotel bed at the Fort Dunlop Travelodge. A number of hotels around the country now offer guests' pooches a range of different-sized beds - from terrier to husky.

Then there is the cuddillow - a pillow with arms, designed to be cuddled by lone guests who miss their partners.

Despite the amusing image of lonely businesspeople queuing up at reception in their pyjamas to order the special pillow, Ahmed is adamant that the item is much-requested. 'You'd be surprised how many people book it in advance,' she says.

Lisa Minot, The Sun's travel editor, has Ahmed to thank for a plethora of stories in recent years. 'Travelodges are big boxes at the side of motorways, and yet she's had more publicity than any other hotel chain,' she says. 'It comes from the fact she has a lot of great ideas - they come in constantly.'

Ahmed says the golden rule for ­developing quirky new product angles is to ensure they offer solutions to real problems. For such stories, Travelodge ­relies on ­research firm Onepoll and its
own panel of regular customers, who­ respond to emailed survey questions.

On one memorable occasion, when ­research ­revealed that customers often feel too hot or cold while in bed, Ahmed went away and brainstormed. The result was a sleeping suit that guaranteed a good night's rest at a comfortable ­temperature.

The other side of the Travelodge PR phenomenon is the survey-based ­story. Notable ­examples include a top ten of tunes to which people most like to nod off and a list of the strange items left behind in hotel rooms. The raw material for such stories is often found in replies to questionnaires Ahmed emails to hotel managers.

'They're a source of knowledge. They know what's going on in the hotels,' she says. 'It is a case of tapping into that resource and maximising what we can get from them. Also, they can tell us if we have famous people staying.'

Other tips: 'Don't refuse any idea. Hold regular brainstorms. Don't think you just have to work with PROs or marketing people - operational or admin people can have ideas too. Also, look at what other firms are doing - what works well for them might work for you, just personalise it to suit your own products and services.
Look at the news agenda - there are so many great ideas for you to piggyback on.' Ahmed's career started at a Barclaycard call centre. From there, she progressed into ­marketing, but preferred the creativity of PR, and after a number of jobs in the financial sector, was offered her 'dream job' at Travelodge.

I put it to her that the cuddillows and pet beds are surely just ideas to drum up business, not real products. After all, why else would they be coming out of the PR department? 'Well, someone's got to come up with the ideas,' she laughs. 'I have to get a buy-in from operations. It has to be approved by the business.'

Nick Davies, in his book Flat Earth News, argues that because the volume of stories has risen and the number of hacks has dwindled, the national newspapers ­depend on these pseudo-surveys and PR ideas to generate much of their content in lieu of 'real' news.

Ahmed flatly disputes this. 'All of our ­ideas stem from providing a solution to a problem. Anyway, journalists are cynical; they always look at a story from every ­angle, although they sometimes say "you guys keep on coming up with too many ideas".'

But even Davies would raise a smile at the Travelodge survey on the curious ­objects left behind in hotel rooms. The list includes a mayor's chain, an urn of ­ashes and a Buddha lucky charm necklace. The owner apparently returned from ­Dubai to collect it because he was experiencing bad luck.

And which book topped the most-discarded list? Alastair Campbell's diaries.

CV
2008 Head of consumer PR, Travelodge
2003 PR and comms manager, Travelodge
2001 Comms manager, Money Extra
2000 Comms manager, People's Bank
1998 Consumer PR manager, Barclaycard
1995 Marketing executive, Barclaycard

TURNING POINTS
What was your biggest career break?
Joining Travelodge in 2003, because of what I've learned and the opportunities I've been given. I was interviewed by the marketing manager and he believed in my potential. If he hadn't, I wouldn't have been able to get into consumer PR.

What advice would you give someone climbing the PR ladder?
You have to be selective about your brand and company and believe 100 per cent in your product to be able to promote it. If you do that, it's half of your job done for you. You've got to be passionate. People have a misconception about what PR is about. It is a labour of love. If you don't believe in the product, you can't promote it and sell it.

Who was your most notable mentor?
Greg Dawson, Travelodge's director of comms. In the past, I've always had to learn for myself, on the job, which means reporting to a marketing director or managing director. So, working with Greg since I've been at Travelodge has been fantastic. You feel inspired. He has faith in you to deliver.

What do you prize most in new recruits?
You've got to have that passion and be hard working. Live for coverage. Be able to explore all avenues. Coverage is our bread and butter. If you've got passion, it will take
you anywhere.