The waist-length plait might have been replaced by an edgy new haircut, but her inimitable sense of style and self-possession remains. In an industry that is often nervous about its reputation for craziness, Moxham is the nearest we have to a new Lynne Franks.
The parallels with Franks do not stop at personal style. Moxham's agency, 3 Monkeys, is currently one of the hottest consumer shops around. Clients' eagerness to tap into her team's magic means that turn­over has shot up by 114 per cent over the past year, making it one of the industry's fastest ­growing agencies.
Turnover is currently £6,865,572, but to Moxham it is all just numbers. 'I don't know how much we're on now. I'm crap with figures,' she says. 'You'll have to talk to my MD about that.'

And she isn't joking. When it comes to ­financial management Moxham freely ­concedes that, despite the agency's success, business just is not her strong point.

'What I learned when I was part of the Le Fevre management team was that I have some real strengths and some real weaknesses. My strengths are in creativity, client relationships, pitching and that sort of stuff. And my weaknesses are in all the gubbins surrounding business management.'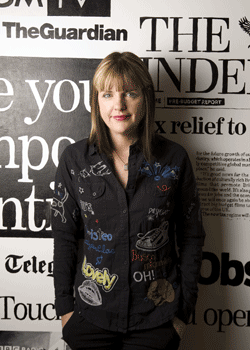 Moxham admits the key to her success has been surrounding herself with people who do excel at numbers. There are four board directors in addition to Moxham: chairman Laurence Rosen, MD Annabel Dunstan, head of consultancy Alison Gee and director Christine Jewell.

But shying away from the business 'gubbins' does free her up to get truly close to the more creative side of agency life. She is heavily involved with clients on a daily ­basis and enjoys fraternising with 'the dark side' at the agency's monthly journalist quiz nights. 'I make sure I'm available to still do the thing I'm good at - PR. I'm not a businesswoman. It doesn't float my boat. I like getting stuck in and rolling up my sleeves.'

Moxham credits her staff with the success of the business. She is picky about the people she employs and the clients with whom she works. She says she also puts substantial time and effort into making sure her staff are happy. 'I have an open-door policy. I chat to people regularly and take them out to lunch as often as I can.'

Although the agency has gone from strength to strength in its first five years, Moxham is conscious that it will be tricky to retain its uniqueness as it moves from a 'hot' small agency to a medium-sized one.
'Continuing good growth is always going to be a big challenge when you get to this level. And what I really don't want to do is lose the magic. Of course, the bigger you grow the harder it is to hold on to what it is that made you special in the first place.'

While she is 'larger than life' - everyone, she says, knows she is in the room when she arrives - she has tried hard to stop the age­ncy from being too personality-led. 'When I set it up I didn't want my name to be part of it, because then it becomes difficult to manage.
While it should be coloured by the founder's personality, that shouldn't be everything.' Determined to create a 'brand' agency, she very nearly named it Matador Communications - 'fighting the bull' - ­before deciding on 3 Monkeys, a reference to a childhood memory.

This year is set to be another of growth, with a series of planned acquisitions. And while she remains cagey on the det­ails, Moxham says the first purchase is imminent.

But how does her aversion to commercial matters allow for such an ambitious business plan?

Moxham credits Rosen, chairman and long-time friend, for giving her the courage to move the agency forward. They met when Moxham handled PR for Ros­en's company, Office Angels, while she was at Le Fevre.
Rosen, she says, keeps her grounded and focused on the business. 'I need someone who is breathing down my neck. He's my focal point and kicks me up the arse ­every week. He's very ballsy and he gets frustrated with me because I always have to weigh things up. But he's never wrong.'

For his part, Rosen admits that working with Moxham isn't easy. 'It's like running the wrong way up an escalator. It's constant confusion and occasional bedlam,' he says. 'She is very emotional. But she's also tremendously compassionate. She believes clients are friends - and they can see she gets emotional about her work, which is why they want to work with her.'

One such client, WRAP's head of press and PR Amanda Barry-Hirst, agrees. She says Moxham is 'one of those rare people who instantly inspires confidence - she's one of life's truly natural communicators'.

Former client and now friend BJ Cunningham describes her as the 'holistic doctor' of PR.
Moxham, mother to three children ­under the age of seven, is certainly turbo-charged. The longest period of maternity leave she ever took was six weeks and she was back on email four hours after baby Jude was born last year. 'I've got the biggest battery life of anyone I've ever come across,' she laughs.

As to the future, she does not rule out eventually being bought out. 'Nob­ody has phoned me yet,' she says. 'Ult­i­mately, there will come a point when it's on the table, I'm sure. But I'm not the retiring type. I have to have something to do. I'm dangerous if I'm not busy - I get into all sorts of trouble.'

CV
2003 Founded 3 Monkeys
1996 MD and joint owner, Le Fevre
1996 Head of comms, Superdrug
1993 Account manager, Le Fevre
1991 Press officer, Oxford Regional Health Authority

TURNING POINTS
What was your biggest career break?
Joining Le Fevre was my biggest career break. I had just come out of the NHS, where I'd been working as a press officer. I worked with some brilliant people and learned a hell of a lot.

What advice would you give someone climbing the PR career ladder?
I love it when people use their initiative. Don't stay in your box. I want to hire people who I think could be better than me. So show off, but not in a boastful way. Act the role that
you want and constantly think big.

Who was your most notable mentor?
Aside from Laurence [Rosen], I would say BJ Cunningham is also a mentor for me. I first met him when he founded a brand of cigarettes called Death and I rang him up to ask to do his PR. I can always phone him and pick his brains about anything.

What do you prize most in new recruits?
Younger people's grasp on their view of the world via the internet and social media is just fantastic. I really look for people who are hooked in to what is going on out there, such as Facebook and MySpace. I know that they are seeing the world in a way that I am not. They have grown up in a different way and the way they communicate is critical for PR consultancies to understand.