PRESS


Financial Times property correspondent Jim Pickard will replace Chris Adams as UK political correspondent at the paper's Westminster office. Adams is now a leader writer at the FT.

Sunday Telegraph financial correspondent Iain Dey is to join The Sunday Times as senior business reporter, covering financial services and ­energy. He starts in January.

Organic Life is to relaunch as Healthy & Organic Living in February. Kate Collyns, deputy editor at the Florida & Caribbean Magazine, ­replaces Helen Vintner Eaton as editor.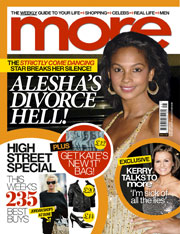 Laura Atkinson has moved to Heat magazine as deputy news editor, replacing Dan Fulvio. She joins from sister title More where she was ­celebrity and news ­editor
The editor of IPC women's weekly Now Helen Johnston will leave after Christmas to work on a secret start-up project. She has yet to be ­replaced.

Michael Barker has started as fresh foods editor at The Grocer. He was editor of Commercial Grower, and replaces Sam Fortescue,who is taking a PR role at Dairy UK.

The Daily Mirror has hired James Lyons, previously Westminster correspondent at the Scottish Daily Record, as political correspondent.

Tal Gottesman is now executive editorial manager at The Sunday Telegraph. She will also be acting as PA to editor Ian MacGregor.

Edd McCracken is now arts and education correspondent at Scotland's Sunday Herald. McCracken was previously the editor of Fresh, the paper's magazine for teens. David Christie, staff writer at The Big Issue in Scotland, has replaced him.

Laura Tennant has replaced Vincent Graff as editor of The London Magazine. Tennant was commissioning editor at thefirstpost.co.uk.

Benedict Moore-Bridger has joined the Evening Standard as a reporter. He was previously a reporter at INS News Agency.

John Ross Scott has left northern newspaper Orkney Today to chair the Orkney NHS. He starts in January.


BROADCAST
Guy Anker
has left the
Daily Mail's Money Mail
, where he was a reporter, to join Five. He will work on a new personal finance series starting in January called
It Pays to Watch.
Anker will be assistant producer.
BBC
Breakfast
newsreader Kate Silverton is to present the station's new 90-second nightly bulletins. She will ­also replace BBC One O'Clock News presenter
­Sophie Raworth
when she goes on maternity leave in 2008.
DIGITAL

Handbag.com deputy editor Kate Creasey has left to bec-ome launch editor for Cosmopolitan.co.uk, which relaunches in 2008.

Shiny Media writer Zara ­Rabinowicz has joined ­Shoewawa.com and theBaglady.tv as fashion writer. She will continue to write about celebrity news and gadgets for ShinyShiny.tv and StraTrip.tv.

T3.co.uk has changed its name and web address to T3.com. Deputy editor James Holland is leaving, former staff writer Joe Minihane is now news writer and Rhiain Morgan has joined as staff writer.

IPC's Whatsontv.co.uk has launched a dedicated Christmas section. Patrick McLennan is editor.