The news of James Murdoch's role at News Corp expanding to take control over the media group's European and Asian operations caused a big stir in the Blogosphere and a remarkably generous treatment. The number of blog posts he was mentioned in grew by 1,600% from the day before the announcement (Wednesday) to the day after (Friday).

Not surprisingly, the sentiment expressed by bloggers tended to be quite polaric, as befits media moguls with the last name 'Murdoch'. As with offline media, claims of nepotism were commonplace, some even venturing surprise that Murdoch senior hadn't gone further along this tract and promoted his Chinese wife to head News Corp in Asia.

Many felt the promotion cemented James' position to eventually take over his father's global media empire and discussions also deviated to include how hard his brother Lachlan was currently kicking himself.

In terms of the business, UK bloggers debated whether this would signal a period of "consolidation" for BSkyB ­ focusing less on strategic change and more on driving forward the business in its current structure.

There was also debate on whether James' promotion was good news for Prime Minister Gordon Brown. Bloggers claiming that Murdoch senior has been a fan of the PM for some time but this is not the case with young James.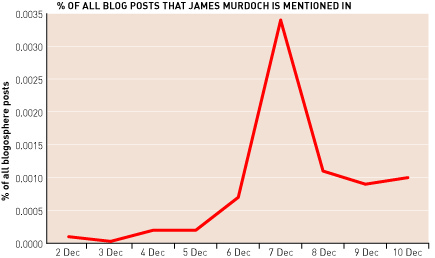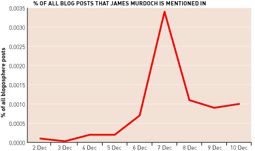 Sourced from 60 million blogs by Nielsen Online www.nielsen-online.com