What did 2007 mean for you? If you are an agency head, it probably meant a lucrative year, with organic growth and increased fees, but a nightmare when it came to recruitment.
If you are a senior in-house professional you may consider 2007 to be the year PR finally started to punch its weight in the boardroom. The ongoing education of marketing directors and CEOs seems to be working, and PR is spending less time fighting to be heard.
Have evaluation techniques imp­roved? Well yes, but they do every year. The tipping point this year seemed to be the way digital media channels started to spread word of mouth across audiences at terrifying speeds.
Although some people will regard the advent of web 2.0 as something of a mystery, the majority of communications professionals understand exactly where their company and clients' needs fit into the digital landscape and have adjusted their offerings. For those who doubt we have gone past the digital tipping point, think back to the end of 2006. People were calling it 'the year of the blog'. How dated that feels now.
Cartoonists used to depict the out-of-touch CEO by drawing him shaking his mouse at the computer screen. Now they have him asking his underlings whether he owns a vlog.
Trying to cram 12 months into a few pages is never easy, so here we have picked a few of the things that defined 2007. Some of the reputation gaffes, the media battles, the corporate tussles, and the high-profile movers.

JANUARY
As is usually the case, the beginning of the year saw some big job moves. Former British Airways comms boss Iain Burns joined UAE carrier Etihad, Ford's European V-P of comms and PA Stuart Dyble went to Simon Fuller's 19 Entertainment, and former Weber Shandwick UK CEO Philip Dewhurst left British Nuclear Fuels for Russian gas giant Gazprom.
Cohn & Wolfe director of operations Stephen Doherty also took over as comms director at the world's largest alcoholic drinks producer Diageo, and Freud Communications vice-chairman Kris Thykier announced his departure to the world of film production.
One of the UK's most coveted consumer tech accounts was finally snared in January, when Edelman and JCPR took over from six-year incumbent Manning Selvage & Lee on Microsoft's pan-European and UK Xbox accounts.
It was a topsy-turvy month for Talk PR. The agency resigned the London Fashion Week account it had held for 16 years, citing the demands the event placed on resources, but also struck an
innovative payment-by-results deal with low-cost business airline Silverjet.
FEBRUARY
February started with a recruitment drive for the Liberal Democrats. The party lured Bell Pottinger Public Affairs director Jonathan Oates to a director of policy and comms role, and charged him with building the reputation of then leader Sir Menzies Campbell. A tough ask, as it turned out.
On the agency side, MS&L ended a three-month hunt for a new chief exec when it hired Hill & Knowlton's UK corporate comms MD Stuart Wilson.
Talk PR's decision to resign the London Fashion Week account in January looked a shrewd move when the results of a PRWeek report revealed 90 per cent of the UK population saw a clear link between eating disorders and the fashion industry.
February saw the launch of Virgin Media – the first UK firm to provide TV, broadband, home and mobile phones under one monthly payment. To many, the attempt to rebrand the horror show previously known as NTL in order to take on an established media giant like BSkyB was madness. Luckily it was grist to the mill of Virgin's shy and retiring boss, who launched the service by riding around Covent Garden in a horse-drawn carriage with Burlesque dancer Dita von Teese in tow, followed by a huge party headlined by Al Gore and Blondie.
One of the biggest pitches of the year kicked off too, after Coca-Cola split from Weber Shandwick.
MARCH
PRWeek's ethics debate revealed PROs are willing to dispense with the truth if they deem it necessary to achieve clients' aims. Max Clifford's claim he had been 'telling lies on behalf of people, businessmen, politicians and countries for 40 years' was just enough to sway the 300-strong audience.
Merger fever had begun. Barclays had begun take­over negotiations with Dutch rival ABN Amro, and a month later ABN took on the freshly renamed FD to provide comms support.
There was further work for City firm Maitland and Germany-based Hering Schuppener Counsulting following the announcement of a vast £3bn merger between German travel group TUI and British rival First Choice. Private equity also hit the headlines, as Permira gave UK comms director Chris Davison a global remit. As the industry's most recognised private equity firm, Permira was concerned at unions' accusations of private equity houses' 'greed and asset stripping'.
APRIL
When 15 UK sailors were captured in March by the feared Iranian Republican Guard (pictured below), the Navy was criticised for failing to give combat personnel sufficient support. A month later it was the Ministry of Defence's turn to come under fire for allowing the 15 to sell their stories to the papers without setting conditions.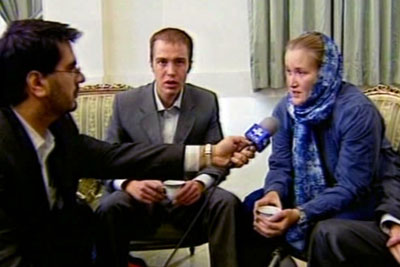 British Airways finally found a new comms boss in April. Julia Simpson, a key adviser to Tony Blair, was persuaded by chief Willie Walsh to take the role vacated by Iain Burns.
The big agency story was Stuart Smith's ousting from Edelman's top UK position. As legendary consumer shop JCPR moved closer to its parent, Edelman Europe CEO David Brain was 'left with two CEOs'. One had to go, and it was Smith, leaving JCPR co-founder Robert Phillips in the top UK slot.
MAY
Another good month for City PROs. First BP's embattled chief executive Lord Browne hired a team of Brunswick chairman Alan Parker, David Yelland and Susan Gilchrist after he was forced to quit over lying in court.
Then ITV brought in Tulchan to help rebuild its reputation in the City after splitting with 14-year incumbent Citigate Dewe Rogerson.
Verve Communications' Lorraine Langham quit to become director of public services at inspectorate Ofsted.
With a deadly H5N1 bird flu pandemic looming, the topical healthcare story was Ketchum's landing of Roche's Tamiflu brief. But it was Edelman's snaring of the £500,000 Viagra account that grabbed the headlines.
May was also the month telecoms outfit O2 decided to ditch four-year incumbent Cohn & Wolfe, and Clarence Mitchell moved from his job as director of the government's media monitoring unit to take over as spokesman for the family of newly missing toddler Madeleine McCann.
JUNE
After ten years in office, Tony Blair stepped down, handing power to Gordon Brown. As Blair left Downing Street, former Labour Party comms director Lance Price used PRWeek to launch a stinging attack on critics who had dismissed Blair's reign as nothing more than a 'decade of spin'.
The football season's summer break saw attention move away from the pitch and into the boardrooms. Relegated Sheffield United brought in Weber Shandwick as it set about challenging the Premier League over its decision not to dock points from rival West Ham United over the convoluted purchase of Argentina internationals Carlos Tevez and Javier Mascherano.
The biggest rebranding of the year took place in June as the Millennium Dome was reborn as the O2 Arena.
Two of the world's biggest charities saw changes at the top of their comms functions in June.
Oxfam's director of campaigns Adrian Lovett was persuaded to take Save the Children's comms and campaigns director role, and Save the Children also hired the Institute for Public Policy Research's David Mepham for a new director of policy role.
But the big lobbying story of the month was the announcement MPs were launching an investigation into the transparency of the lobbying industry following an early day motion by Labour backbencher John Grogan. Bell Pottinger came out fighting, refusing to join the Association of Professional Political Consultants and working on its own code.
JULY
The first Transfer of Undertakings (Protection of Employment) or TUPE case may now have been resolved, but it first hit the headlines in July. Storm Communications account manager Karis Hunt was told by an employment tribunal that TUPE gave her a legal right to follow the Brown Brothers Wines account, her main client, to new agency Wild Card.
While former Blair spin doctor Alastair Campbell published his long-awaited diaries, his former foe Piers Morgan told PRWeek he would 'rather die than work in PR'.
One of the country's biggest supermarkets became a bid target in July when the Qatari-backed private equity fund Delta Two put a £10.4bn bid together for Sainsbury's. FD was brought in by Qataris to win the City over.
July also saw the introduction of the smoking ban in England. The Central Office of Information waited with baited breath to see how effective its months of campaigning to win the public over to the idea had been.
AUGUST
As Sainsbury's was being stalked by Delta Two, rival Asda handed a £3m brief to Freud Communications in August.
But while August was relatively quiet for much of the industry, the battle between MPs and lobbyists hotted up.
First PPS group became the subject of investigations by the Evening Standard and Channel 4's Dispatches into planning permission campaigns it was involved in. Then PRWeek revealed a letter from London Mayor Ken Livingston to John Grogan MP in which Livingston expressed his desire to ensure all lobbying firms signed up to industry-wide codes.
One public affairs agency to get positive press was The Policy Partnership. The agency was signed up to lobby for US billionaire Donald Trump's proposed vast golf complex in Aberdeenshire. The bid is currently hanging by a thread after being rejected by local councillors.
SEPTEMBER
After much speculation, the story of Facebook's agency pitch was broken in September by PRWeek. The new darling of the internet had been intending to open a UK office in September, and had held off looking for an agency until it had a UK base.
The fallout from Tony Blair's departure from power continued, with his former comms director David Hill joining Bell Pottinger's cross-disciplinary team The Collective. Blair speechwriter David Bradshaw was also snapped up by Portland PR.
Sadly, one of the most recognised ethical business pioneers passed away in September. Anita Roddick's death at the age of 64 brought glowing tributes from all corners of the industry.
Roddick's former spokesperson Sara Tye described The Body Shop founder as being a 'communications pioneer'.
OCTOBER
Seemingly from nowhere, Aussie marcoms outfit the Photon Group snapped up two of the UK's best-performing independent PR agencies – Frank PR and Hotwire – in the space of a couple of weeks.
The multi-million pound deals are unlikely to be the last, according to Photon boss Tim Hughes.
One of the UK's biggest accounts, BSkyB's £500,000 UK PR brief, was put out to pitch in October, sparking an avalanche of interest from the industry. Almost immediately, Sky's bitter rival Virgin Media (see charts, below) announced the end of its contract with Henry's House, also putting its Virgin Mobile account up for grabs.
Three months later Cake picked up Sky's consumer work, with Virgin still on the hunt. Edelman UK CEO Stuart Smith re-emerged in October, announcing he would be Hill & Knowlton's UK head of corporate and healthcare.
But over at Consolidated Communications, MD Sarah Robinson was ousted in a boardroom coup as the agency sought to make itself a force in the consumer sector once more.
NOVEMBER
Having lost key staff, two of its founders and some big accounts, FD-LLM pulled off a major coup by poaching Sunday Times political editor David Cracknell to a new role of chairman. Reporting to FD group chief executive Charles Watson, Cracknell will also become MD of FD when he joins in January.
Another senior move saw Number 10's 'digital guru' Jimmy Leach being snapped up by Freud Communications to become the agency's first director of digital comms.
Sir Paul McCartney's estranged wife Heather Mills pulled off the PR disaster of the year with her now infamous rant against the media on daytime TV. It was the final straw for her long- suffering PR man Phil Hall, who parted company with her as soon as she announced her ill-fated plan.
November also saw the release of the Walker Report, which called for more transparency from private equity houses.
Agency bosses rubbed their hands together as conservative estimates predicted a 20 per cent rise in comms work from private equity outfits keen to come out of the shadows.
'PR guru' Lynne Franks turned up on the TV carwreck that is I'm a Celebrity, Get Me Out of Here. Even her staunchest supporters will concede it was not her finest hour.
DECEMBER
Cohn & Wolfe CEO Jonathan Shore began a period of gardening leave at the beginning of December after a five-year stint at the struggling WPP agency. Deputy MD Caroline Maddock and healthcare MD Jacinta Collins were left to put the agency back on track in 2008.
While many companies were starting to wind down for the year, US tech firm Hewlett Packard decided to drop long-standing incumbent Porter Novelli, sparking a scramble for a seven-figure PR brief.
Wild Card's TUPE tussle with Storm Communications looks set to become a precedent, and its first big test case may yet concern PN's HP team if any find themselves out of a job.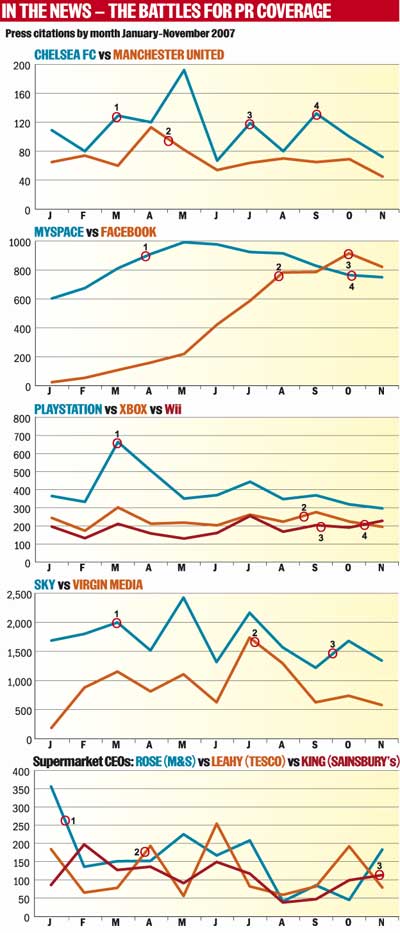 YOU COULDN'T MAKE IT UP...
Come sit with Diary by the fire, and let PRWeek tell you the stories of fun, frolics and custard-covered felines that have littered (no pun intended) the back page of PR's most exalted publication over the past year.
From Boris Johnson changing his mind more than his underpants about whether PR support was a good thing (and then eventually being told he definitely needs it by David Cameron), to a Kenyan dignitary nearly killing off a herd of Virgin Atlantic PROs with an errant helicopter, it has been an eventful year.
We have learned, for example, that Trimedia Harrison Cowley does not think shortening its name to THC is very dope, that AA Gill thinks all PROs are lousy, and that the Lord of PR is actually a Bangladeshi curry house proprietor.
But Diary's favourite story came in March as part of a desperate plea from Public Image founder Richard Morris, who had been unable to get hold of the latest copy of PRWeek.
Why? He couldn't get to the newsagent because he had broken his leg in his garden. Skiing accident? Fell of the bike? Nothing so mudane. Morris explained his plight thus: 'I found my neighbour, Mrs Rembrant, had thrown custard over my ginger cat, Meatball, thinking he was a fox.
'I managed to recover Meatball from the hedge only to find my neighbour's husband, Mr Rembrant, coming up the path to my house. I tried to hide but slipped on the custard dripping off Meatball, and ended up breaking my leg. 'My girlfriend doesn't believe me,' he added. Quite.
But let us start where we began. Did anyone notice the startling similarities between Diary's pictures of the Borises Johnson and dearly departed Yeltsin? Not that the philandering, wandering-handed, gaffe-prone politicians have anything else in common, of course.
WHAT 2007 MEANT FOR THE CIPR...
- In January, welcomes its 9,000th member, Julie McConnell, communications manager at Leeds City Council.

- In February, introduces best practice guidelines for members on 'social media'. Designed to demystify social blogs, wikis, podcasts and stamp out unethical practices.

- In April, launches the CIPR Online Diploma.

- In May, the World Public Relations Conference & Festival in Cape Town. CIPR director general Colin Farrington takes up chairmanship of the Global Alliance for Public Relations and Communication Management. Plans to host the next World PR Conference & Festival in London in June 2008 are unveiled. Also introduces the President's Panel to provide regular feedback on the PR profession, the institute's work, and topical issues.

- In September, submits written evidence to the PASC Inquiry into Lobbying and Self-Regulation. The CIPR's position regarding the inquiry is that lobbying plays an important role in the political process, that it is in the interests of the public affairs profession and of Parliament for self-regulation to work, and the current system of multiple self-regulation is broadly effective. However, should Parliament decide to formalise the current self-regulation system and charge one body with this responsibility, the CIPR is will offer to perform this function.

- In November, launches student award, 'The Pitch', offering PR students the chance to win an internship with one of five PR organisations. Run in association with FMCG and food agency Cirkle, the award involves students preparing a pitch and presenting it before a team of senior PR people in London on 25 and 26 February 2008.

- In December, holds first pitch for PR agency to work on 2008 membership recruitment campaign. Also puts out for consultation new sustainability best practice guidelines – a 'go to' document for all CIPR members for advice on how to manage sustainability communications.