After months of secrecy, including asserting its trial concept store in Los Angeles was part of a film set, the first 15 of up to 1,000 stores opened to a warm reception from analysts and consumers.
Many stores will be in so-called 'food deserts that food retailers have not touched for 20 years' (US chief executive Tim Mason in the Daily Mail, 4 December). Selling mostly own-brand items, the stores have also introduced the concept of 'self-service' to the US, 'where many stores still carry your groceries to your car' (The Daily Telegraph, 3 Dec­ember).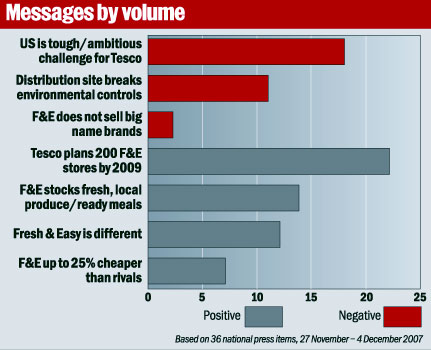 Despite assurances from Tesco that 'there is nothing we believe that will affect the operation or further rollout of the business' (The Times, 1 December), union-backed protest groups have forced a re-examination of environmental controls at its giant Riverside distribution centre in LA. In a country where both M&S and Sainsbury's failed to build a significant presence, Tesco is hoping the new concept of cheap, fresh produce and ready-meals will resonate with consumers.

Analysis conducted by Echo Research from data supplied to PRWeek from NewsNow