Andrew Grant's agency was boosted after advising UK private equity firm Candover on its £516m sale of Norwegian cable television operator GET to Goldman Sachs. The agency also advised United Utilities as it sold its electricity distribution business, formerly known as Norweb, to North West Electricity Networks for £1.78bn.
Tulchan sits just ahead of FD, which advised on a massive 30 deals. FD advised UK medical instruments firm Gyrus Group as it was acq­uired by Japanese firm Olympus for just over £1bn.
Finsbury managed third spot after advising on £5.2bn worth of deals through Nov­ember. The agency actually only advised on four deals, but large acquisitions, such as Italian firm Eni's purchase of independent oil and gas producer Burren Energy for £1.7bn, helped boost Finsbury's standing.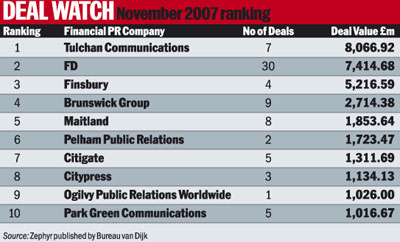 After the third placement, values fall away sharply, indicating another difficult month. Last month Deal Watch showed a sharp drop in deal values (PRWeek, 9 November). The top ten agencies in November this year advised on more than £15bn worth of deals – less than the same period in 2006.
November usually heralds the start of the end-of-year slowdown and Brunswick, in fourth, saw a £3bn drop-off through November, compared with last month.
From Maitland, in fifth, to Park Green Communications in tenth spot, all the agencies advised between £1bn and £1.8bn worth of deals. Remarkably, only FD broke into double figures in terms of number of deals advised.