Liverpool labours under more preconceptions than most cities, not all of them flattering. 2008 is the year that should all change – the year it becomes European Capital of Culture.
The parallels with Britain's last Capital of Culture, Glasgow in 1990, are obvious. Both cities are former powerhouses of the empire but in recent times more associated with social and economic woes. It is questionable how much a single initiative can alter a city's fortunes, but like its northern neighbour, Liverpool plans to make the most of its time in the cultural spotlight.
Already the iconic waterfront is being transformed. The Liverpool Echo Arena is nearing completion, and the retail-led regeneration project that will become Liverpool One gets set to welcome its first residents in the New Year.
Unfortunately work on the programme of cultural events has made more faltering progress.
Liverpool Culture Company, the body set up to oversee the celebrations, won unwelcome press with the departure of its Australian artistic director Robyn Archer last year. More recently the cancellation of part of the Mathew Street music festival in August was worrying evidence that next year's celebrations were not progressing smoothly.
Changing perceptions
Despite these setbacks, the Culture Company's comms director, Paul Newman, remains sanguine. He bel­ieves that the unveiling in September of the full programme marked a turning point: 'This is all about changing perceptions of the city. Now we've rel­eased the programme, the story should be the quality of culture on offer, rather than the personalities surrounding it.'
That programme has already begun. The Turner Prize relocated to Tate Liverpool in October. The city played host to The Royal Variety Show on the night the Turner Prize winner was ann­ounced, and will return to our screens on 16 December when the BBC airs a live performance of the Liverpool Nat­ivity played out on the city's streets.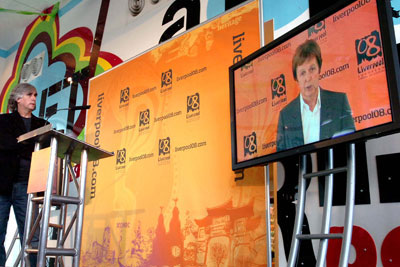 The curtain-raiser will be the first concert to be held at the Liverpool Echo Arena on 11 January with an appearance by Ringo Starr. Sir Paul McCartney will then headline the Liverpool Sound concert at Anfield Stadium on 1 June.
Newman is unrepentant at rolling out such obvious crowd-pleasers: 'Starr and McCartney act as magnets to people who will then see other aspects of Liverpool and realise that it is not all about football and The Beatles.'
The interests of Liverpool's wider cultural community are represented by a 15-strong PR group set up in 2006 to ensure a co-ordinated approach by the main cultural organisations.
The city's cultural champions are determined that 2008 will give them the recognition they deserve: 'We won't be banging our fists on a closed door anymore,' says Jayne Garrity, head of comms and corporate affairs at the Royal Liverpool Philharmonic Orchestra. For starters the Philharmonic has commissioned 30 new pieces and appointed its first PR agency, Albion Media.
Garrity is clear on her objectives for the year ahead: 'We want to build on our national and international reputation and become cultural ambassadors for the city.'
Over at the Tate, press officer Stacey Arnold is equally bullish: 'We've already benefited from an increase of 40,000 visitors since the Turner Prize exhibition opened in October. There has also been a marked increase in the regularity of critics coming from London.'
Along with art critics, the city has been successful in encouraging the notoriously London-centric media to make the pilgrimage north. The Times' Saturday magazine devoted its 10 November issue to the city with further coverage promised on rival broadsheets. Chris Moyles broadcast his morning radio show from Liverpool in November, and 2008 will see Time Team, The Antiques Roadshow and Songs of Praise all paying a visit.
Will all this attention be enough to secure the change that Newman is hoping for? Local PROs have mixed opinions and believe it still hangs on Liverpool Culture Company's performance.
'After the problems with Mathew Street people realised we can't allow that sort of thing to happen next year,' says Richard Clein, associate dir­ector at Bell Pottinger North. 'They have now slimmed down the Culture Company board and brought in television producer Phil Redmond, who has the advantage of being a Scouser with exp-erience of delivering cultural events.'
Open verdict
Others believe the 2008 organisers have yet to prove themselves: 'The jury is still out in terms of just how successful the year is going to be,' says Nick Mason, managing director of Mason Media. 'If they can deliver the entire programme then it will be a good year.
All observers agree that the city had built a momentum toward change well before the 'Capital of Culture' road show rolled into town. Just how important next year will be to continuing that momentum is open to debate. 'A lot of dynamic change was already under way,' says Mason. 'Any city that has to rely on its Capital of Culture status alone to change its fortunes is in trouble.'
It may be many years down the line before it is possible to gauge precisely how important next year is to Liverpool. Certainly the Glaswegian perspective is encouraging. '1990 forced people to take a second look at the city,' says Fergus Reid, senior account director at IAS Smarts, Glasgow. 'People really embraced this and woke up to what Glasgow had to offer.'

KEY FACTS AND FIGURES...
The city predicts receiving European Capital of Culture status will:

- Create 14,000 jobs

- Attract an extra 1.7 million tourists

- Encourage £2bn investmen
Liverpool's cultural assets include:

- The Pier Head waterfront, which received World Heritage status from Unesco in 2004

- The largest concentration of Grade I and II listed buildings and public sculptures outside London

- World-class galleries including Tate Liverpool, The Walker, the National Gallery of the North and the Lady Lever Gallery at Port Sunlight