Rey Mysterio looks huge. His inhumanly large muscles, shining after a good workout, are flexed, and his hand seems ready to take Claire Murphy's neck and squeeze it like Play-Doh.
'He's not that big,' asserts Murphy, the first UK comms director at World Wrestling Entertainment (WWE). 'They make the cardboard cut-outs bigger. He's tiny really.'
Murphy, aged just 29, speaks in her native Australian accent and her attractiveness is as striking as her pink shoes. 'I've got a reputation for my shoes here,' she laughs.
But simple references to wrestling and a glamorous PRO do not tell the whole story. The 25-year-old WWE company has floated on the New York Stock Exchange with a market capitalisation of more than £500m. To the nine months ending 30 September this year, it turned over in excess of £176m in revenue. This year UK-based events have sold out venues in Nottingham, Manchester and Wembley Arena.
For her part, Murphy has enjoyed stints at Hallmark, Clear Channel and Visit London's brand strategy arm London Unlimited. At the latter she gained recognition for ten local and international campaigns and eight stakeholder campaigns that res­ulted in, according to Murphy, 'publicity return on investment of over £32m'. She floated a model of the Taj Mahal down the Thames and set up a huge ice chess match between London and Moscow. So she is hardly new to the PR game.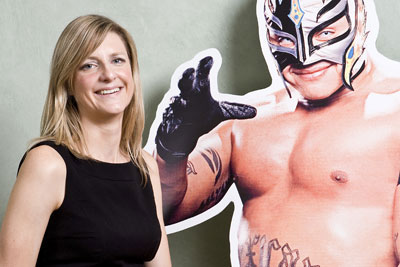 But for such a large company, WWE's Hammersmith offices are small and hardly represent a major presence in the UK. Murphy's task is to build on the company's already magnificent brand recognition (just ask any ten-year-old boy if he has heard of John Cena) to assert itself within its 'international markets'.
'Despite the fact our core markets know about the brand, there is less recognition here than in the US (where the vast majority of WWE events are held),' she admits. 'But there are huge opportunities for brand recognition. This is actually theatre, soap opera, sports entertainment – a lot of different demographics will be interested in it.'
The shows are popular enough in the US and Mexico to suggest she might be right. Over here, former Chelsea manager Jose Mourinho is among many celebrity fans.
Murphy's background is not conventionally PR. Her CV is full of the sort of growth figures and budgets that litter adv­ertising or marketing careers. In Australia she worked for tyre maker Goodyear in brand and marketing before moving to the UK in 2005 to join outdoor advertising giant Clear Channel in a further marketing role. It was only when she became London Unlimited's head of emerging markets and had to promote the capital's attractions globally that PR became central to her role.
The Hallmark Channel's marketing dir­ector Maya Bhose, who has worked with Murphy in the past, reckons her marketing background will help her in a communications role. 'Her attention to detail and bud­get management is second to none,' says Bhose. 'She has a good grasp of business.'
Murphy is also described as 'incredibly committed' by Sinead Cahill, senior co-ordinator for economic and business policy at the London Mayor's Office. Murphy says she wants to establish partnerships with relevant brands. She points to an already implemented scheme in conjunction with the National Literacy Trust, where wrestlers are depicted reading books alongside the slogan 'there is nothing weedy about reading'.
The slogan is probably quite cheesy, but that is something wrestling has never shied away from. Murphy confesses she has been drawn in by the bizarre storylines eked out each week from the WWE writers. 'The storylines are incredible, they're self-aware and often changed at the last minute to keep them relevant,' says Murphy. As an example, this week has seen the return of a formerly popular and mouthy wrestler called Chris Jericho. He is keen on attacking the current champion Randy Orton, who he and some watchers have described as 'uninteresting'.
'Wrestling is witty on a level that can appeal to older viewers and help with re-engagement,' says Murphy. She adds she wants to tap in to the hordes of lapsed viewers who watched avidly in the 1980s.

Murphy is also re-establishing WWE's relationships with national newspapers, and is keen on getting featured more prominently in the Mirror (where it used to feature heavily) and in the business pages. 'There's a compelling business story to WWE,' she says. 'A lot of businesses could learn from its marketing machine.'
It is likely Murphy will also be involved in firefighting, for WWE is not without its crises. Earlier this year media-friendly wrestler Chris Benoit committed a bizarre murder and suicide that some commentators linked to drugs. Drugs and violence remain a big issue for the firm.
'The WWE Talent Wellness Programme is a genuine attempt at eradicating drugs from the business,' says Murphy, who confesses that a British wrestler, Staffordshire-born William Regal, who has his own chequered past, is her current favourite. 'There's still some work to do on that front, but being able to say you are doing all you can is a definite start,' she adds.
And Murphy has a lot to do generally. From her base in her EMEA office, she is charged with promoting the brand in non-English speaking regions, some of which she claims find WWE 'puzzling'. She will work hand-in-hand with retained agency Outside in the UK, and says she is ready for the challenge.
'The world is my oyster here,' says Murphy. 'I never thought I'd be able to say that.'
TURNING POINTS...
What was your biggest career break? While Goodyear provided excellent grounding, it was London Unlimited where I really had the opportunity to deliver high-profile media campaigns. Floating a replica Taj Mahal down the Thames (for the launch of India Now) with Ken Livingstone greeting it at its dock – exciting and surreal to say the least.
What advice would you give to someone climbing the career ladder? Make every role that you take on your own and deliver tangible business benefits – the key to being indispensable.
Who was your most notable mentor? I am not sure I have had a mentor in a traditional sense, but I have learned a huge amount from different colleagues: Maya Bhose, now global marketing director of Hallmark TV; John Ross and Judith Woodward, both senior advisers to the Mayor of London. In my new role marketing director Toby Feldman, vice president Dominic Hayes, and president Andrew Whitaker all offer excellent insight into the unique world of sports entertainment.
What do you prize most in new recruits? Aside from the obvious qualities in diligence, intelligence, enthusiasm and so on? The ability to establish strong relationships and a sense of entrepreneurialism.










2007
Director, communications, sponsorship and promotions, World Wrestling Entertainment
2005
Head of emerging markets, London Unlimited
2005
Marketing manager, Clear Channel UK
2004
Marketing manager, Goodyear (Australia)
2001 Group brand manager, Goodyear (Australia)