Handling PR for tourist destinations is not for the faint-hearted. Talk to any seasoned PRO in this field and they will reel off countless examples of being woken at 4am on the weekend by news of a crisis hitting the area they are res­ponsible for promoting. What is more, these phone calls are getting ever more frequent as catastrophic natural disasters and horrific terrorist attacks bec­ome part of the fabric of modern life.
The good news, as Tourism Intelligence International revealed at last month's World Travel Market, is that the UK is one of the most crisis and terror resistant travel markets in the world. In fact, British travellers are predicted to number 75 million by 2010.
Nevertheless, with today's rolling news culture, when a disaster does strike, the images are quickly beamed around the world and embedded in the public consciousness. It is the destination PR specialist's job to rebuild tarnished reputations as rapidly as possible.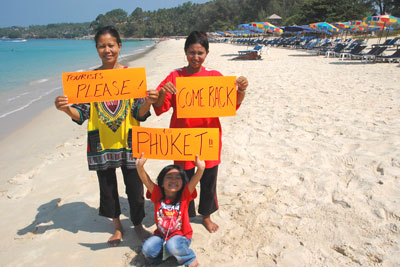 Dr David Beirman, author of Restoring Tourism Destinations in Crisis and director of Struan & Associates, believes that in the past year there has been a 'quantum leap in consciousness about the importance of effective crisis communications'. He applauds the handling of California's recent fires, for example. 'This was proof that good contingency planning and a tourism industry that works in sync with government can deal with a crisis situation exceedingly well,' he says. 'Tourism California was open, honest and on the ball, and tourists knew what they could and could not do.'
However, while some PROs are sharpening up their act, others are failing miserably. 'Greek tourism's mismanagement of its bush fire crisis in August was appalling. The tourist office refused to even issue a statement about the fires until they were extinguished and gave no guidance to any stakeholders during the fires,' says Beirman.
Sticking your head in the sand is simply not an option in this age of citizen journalism, where consumers on the ground are often the first to report on an incident. As Jonathan Sloan, PR dir­ector at Hills Balfour Synergy, says; 'In the old days a reporter had to get down there and send out the story on the wires, which would buy us that golden hour. Now the media get sensationalised reports from wannabe rep­orters breaking news.'
This happened to Sloan while representing the Seychelles during the 2004 tsunami. Reports said that the Seychelles had been hit badly and all contact had been lost. In fact, Sloan was in constant contact with his client and only one life, a fisherman's, had been lost in the tragedy.
'We had to change perceptions of what was happening in the Seychelles. Because it was Boxing Day, not many journalists were at work and the BBC and CNN were leading on the story with everyone else feeding off them. So we went to them and told them what was really happening. They were really grateful and changed the story within five minutes,' says Sloan.
Jo Johnson, deputy managing director of BGB, was working with the Banyan Tree Hotel and Resort in the Maldives and Phuket at the time. The tsunami coverage meant that tourists had a catastrophic image in their heads, rather than the idyllic beach photo in the promotional literature.
The first step in the immediate aftermath was to reassure tourists the hotels were still open for business and damage had been repaired. Then the focus was on generating coverage, such as an interview on BBC Radio 4's Excess Baggage about what the hotel chain was doing to help the local community recover.
About three months later, BGB flew as many journalists as it could out to the affected areas to report on how the recovery was going. 'These reports, like GMTV's video diary, were so imp­ortant in getting positive images across. Although houses had been devastated, the nature and beaches were as beautiful as they'd always been,' says Johnson.
After this, coverage inevitably drops off as the crisis passes and PR professionals must keep momentum going. 'The most difficult time was nine months after the tsunami when so much had been written. That's when we had to be creative and go back to promotions and prizes. Before that it would have been too early to run promotions to win a dream holiday,' she says.
While PROs cannot plan for natural disasters or terrorist attacks, there are other, smaller events that can plague a destination by being ever-present in the background. Jamaica is a well-known holiday destination but is also associated with violent crime. McCluskey International handles the account. According to agency principal Judy McCluskey, perceptions of the extent of violent crime are wildly inaccurate and it only occurs in small pockets of Kingston. To overcome these misconceptions, McCluskey's strategy is to att­ract tourists by promoting the diversity of its food, music and culture. An example is the agency's campaign to 'reclaim Bob Marley for Jamaica', where journalists could record music with his son Stephen Marley. 'It's crucial for us to peel back the layers of a complex country like Jamaica with a massively rich heritage,' says McCluskey.
The agency is not avoiding Kingston either. For the first time, fashion journalists were invited to Kingston rec­ently to report on the vibrant modelling scene.
As all destination PR professionals attest, there is no 'right' way to tackle a crisis. You could read every textbook available on crisis management and still not have the answer when disaster hits your area. As James Brooke, associate director at Fleishman-Hillard Travel & Tourism says: 'You can do all the training in the world but, at the end of the day, each situation is individual and needs to be handled on an individual basis. That is where a specialist agency can help; we've dealt with lots of crises and the travel PRO's ability to adapt quickly is well honed after years of experience.'
THE SCOURGE OF TOURISM
Client: The Egyptian Tourist Authority
PR Team: Fleishman-Hillard
Campaign: Crisis management after the Dahab terrorist attacks of April 2006

Fleishman-Hillard London was appointed as the global PR agency for the Egyptian Tourist Authority in November 2005. Just five months later, the Red Sea resort of Dahab fell victim to a series of terrorist bombings, resulting in the death and injury of many tourists.
Fortunately, from a PR perspective, crisis planning was a key part of the agency's brief and a plan was ready to be swung into action. Important spokespeople such as the Minister of Tourism already had media training and the team had drafted media statements in anticipation of a crisis. 'Preparation is essential. If you appoint an agency just after a crisis, the agency will always be on the back foot,' says James Brooke, associate director at F-H Travel & Tourism.
The agency's objectives were to provide an immediate response to the media on behalf of the tourist board, to minimise negative coverage as much as possible and protect the reputation of Egypt as a safe destination.
Within 30 minutes, the team had briefed its client about the key messages to get across. Within an hour, a holding statement updating the media was issued. This was updated as events unfolded.
'The worst thing you can do is not answer the phones,' says Brooke. Having said that, he warns that while information dissemination has to be quick it also has to be accurate: 'In the modern day minute-by-minute media environment, if something incorrect is released, it is repeated over and over.'
Throughout the crisis, the agency co-ordinated and monitored UK and global media coverage. Information was quickly collated into summaries for the client, so they could see how the story was developing and identify any areas that needed addressing. Monitoring is also crucial, so post-event the client and agency can look back and assess how the process could be improved in future.
Fleishman also organised a one-minute silence the following week in remem-brance. This resulted in local and international media coverage across more than 20 countries and highlighted Egypt's position as the victim of a random act of terrorism.
Immediately following the bombings there was a downturn in tourism. However, Fleishman claims that figures stabilised within three months and that, today, Egypt attracts record numbers of tourists.
The number of UK tourists visiting Egypt in 2006 rose by 23.3 per cent compared with 2005. Nevertheless, since the bombings, the Dahab area has not been promoted specifically, with the agency focusing on a general message about the rich culture and diverse activities available in Egypt.
THE NEXT BEST CHALLENGE...
Can Zimbabwe's tourism industry ever be rebuilt?

PROs agree that when a country reaches the state that Zimbabwe is currently in, with its economy in tatters and its politics volatile and dangerous, no amount of PR magic will ever present it as a serious tourism destination.
The fact that the last foreign long haul airline, British Airways, stopped flying to Harare at the end of October confirms that, for now, Zimbabwe is not open for business. On leaving, the airline said that passenger numbers had been plum-meting since 2000, when President Mugabe started his violent campaign to turf white farmers from their homes. 'If a government can't deliver the basics, then it is an unsatisfactory environment for tourism,' says Struan & Associates director, Dr David Beirman.
At some stage in the future Dr Beirman is confident that Zimbabwe will be able to deliver these basics again, and when that happens it can start the process of recovery and re-establishing itself as a tourist spot: 'I believe that if some kind of vaguely legitimate government arises in Zimbabwe, it will experience the mother of all tourism recoveries. Its potential is vast and the attractions are tremendous.'
According to Hills Balfour Synergy PR director Jonathan Sloan, one of the crucial steps in its recovery will be persuading airlines to resume flights into the country. He experienced this while representing the Kenya Tourist Board during the FCO travel warning in 2003: 'This hurt tourism more than the original bombings and we had to lobby hard to get the airlines back in. In the end it took three years.'
WHAT TO DO IN A CRISIS...

- Respond quickly. The first hour after an event is the most critical. You need to show to the media and key stakeholders that your operation is aware of events and is managing the situation

- The perception of a crisis situation is frequently more influential than the facts, so make sure you have teams set up to liaise with the people tourists listen to: the news media, the lifestyle and travel media, trade press, airlines and so on

- Try to contain the problem and put it in perspective so the crisis is isolated, if possible, to a specific area

- Convey a consistent message, ideally using one single spokesperson

- Brief key stakeholders and staff

- Avoid discussing blame

- Ensure your primary concern is for the welfare of victims

- Assess the damage and loss and be honest about it, tell the truth but stress the positives

- Maintain regular communication

- Ensure your website is up to date and publicised as a source of information and consider setting up phone hotlines

- Plan a timetable for recovery

- Make crisis restoration newsworthy

- When the immediate crisis has passed, weigh up how you handled it and identify any areas for improvement

Source: Dr David Beirman, author of Restoring Tourism Destinations in Crisis and director of Struan & Associates