LOW BUDGET
Gold Award: Wales Rally GB Art Car 'The Children Are Our Future', by Prova PR

Wales Rally GB 2006, the British round of the FIA World Rally Championship, was held in South Wales in December 2006. Organisers recognised that to keep interest in the sport alive, a new generation of rally fan had to be encouraged. 'Art Car 2006' was inspired by the work of artists David Hockney and Roy Lichtenstein, who created iconic designs on race cars. Children from across Britain were invited to design the livery of a competing car, with the backing of leading figures including education secretary Alan Johnson, Sir Christopher Frayling, rector of the Royal College of Art, and former World Rally Champion Colin McRae. The competition captured the imagination of schools across the country, and attracted national, sporting and broadcast media coverage.
CONSUMER RELATIONS
Gold Award: Travel Tales, by IAS Smarts

National Express marked the 75th anniversary of its first coach journey from Victoria to Brighton with a campaign celebrating the stories of its travellers over the years. As it was the first PR undertaken since an accident involving a National Express coach in January 2007, any activity had to be carefully chosen. 'Travel Tales' invited people to tell their stories involving National Express coaches via a web page and email address. The campaign attracted almost 100 stories from people who had met loved ones, been reunited with family members or been inspired down a career path while travelling with the company. It secured 95 pieces of coverage, with the website attracting 4,000 hits in the week following the launch, and helping the company break its six-month target.
BEST USE OF PHTOGRAPHY
Gold Award: New Balance, by S&X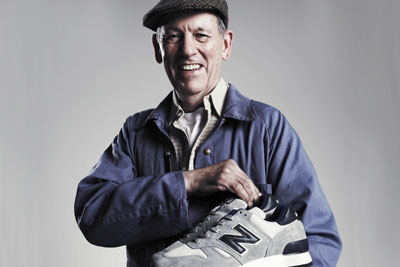 To celebrate 100 years of New Balance running shoes, the company produced three limited edition pairs of trainers, each honouring one of its longest-serving employees. The footwear and packaging reflecting each personality were distributed to fewer than 150 outlets worldwide.
The three 'Flimby heroes' had among them a total of 70 years crafting footwork for New Balance at the brand's UK factory near the Lake District. S&X commissioned Dean Chalkley, portrait photographer of the year, to capture images reinforcing the three as brand heroes. The collaboration highlighted New Balance's 'endorsed by no-one' approach, targeting both mainstream media and specialist publications. Images were unveiled at the brand's 100th birthday party in London in September. Creative Review featured the portraits in its 'First Sight' section, which showcases new work from creative agencies. The judges were impressed that over 350 international media attended the launch, resulting in 100 pieces of coverage.
OUTSTANDNG PUBLIC RELATIONS CONSULTANCY
Gold Award: Bright Consultancy

Bright has won nine new clients in 2007 and boasts a new business conversion rate of 75 per cent. The judges said: 'A clear winner. With steady growth, client acquisition and retention and providing a desirable working environment, Bright is operating at the top of its game.'
OUTSTANDING IN-HOUSE PUBLIC RELATIONS TEAM
Gold Award: Derbyshire PR Division
'Derbyshire County Council goes the extra mile in communicating with its key stakeholders,' said the judges. 'The agency's services, and in particular key campaigns, have produced excellent results. A truly excellent submission, from a talented and committed team.'