PRESS
Mark Thomas
has stepped down as editor of The People. Daily Mirror assistant editor Lloyd Embley will be acting editor.
The Daily Mirror's
head of news
Gary Jones
and deputy editor
Ben Procter
will assist Embley.
The Times
retail correspondent
Sarah Butler
has left and been replaced by online industry reporter
Steve Hawkes
.
Robin Pagnamenta
has been appointed energy and environment editor.
Daily Mirror
deputy business editor
James Coney
is returning to the
Daily Mail
after leaving earlier this year. He will be assistant editor on
Money Mail
.
Chris Bascombe
has been hired as a sports reporter at the
News of the World
, moving from the
Liverpool Echo
.
Financial Times
UK political correspondent
Chris Adams
has been appointed a leader writer. He has yet to be replaced.
Homa Khaleeli
will join
The Guardian
as junior commissioning editor on its G2 supplement. Khaleeli moves from the
Liverpool Echo
, and fills the position of
Amy Fleming
, now G2's health & wellbeing editor.
BBC Paris producer
Matthew Warren
has joined Haymarket advertising title
Campaign
as a reporter. Warren previously worked in advertising.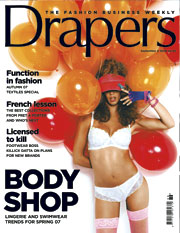 Fashion industry title Drapers has hired
Laura Lovett
as features writer. She joins from Wilmington Media where she was a reporter on
European Cosmetics Markets.
Broadcast business magazine
Televisual
has hired Zoe Mutter as a reporter.
Poz Watson
, analysis editor, and art director
Charlotte Cripps
have both left to go on maternity leave.
Bobbie Sidhu
will cover Cripps' role.
Haymarket planning title
Regeneration & Renewal
news editor Ben Walker is now deputy editor.
Jamie Carpenter
, community renewal editor, will replace Walker. Online editor
Tamar Wilner
is now physical regeneration editor.
The
Western Daily Press
deputy business editor
John Fox-Clinch
is leaving journalism. Magazine editor
Sarah Pritchard-Williams
is now internet editor, with
Rachel Sugden
replacing her.
BROADCAST
The BBC has named
Caroline Wyatt
as defence correspondent, working across its TV, radio and online channels. Wyatt was Paris correspondent at the BBC for more than four years.
BBC Radio 5
Live
commissioning editor
Moz Dee
joins UTV Radio as director of programmes in January.
Setanta Sports News will launch on both satellite and Virgin Media this week, covering all major UK and international sports stories. The editor-in-chief is
Geoff Hill
.
Alternative music radio station XFM South Wales launches this week.
Emma Newman
is music scheduler and
Jamie Taylor i
s news editor.
DIGITAL

CNET Networks UK has appointed silicon.com editor Tony Hallett as editorial director of business media. News editor Steve Ranger replaces Hallett.

Yorkshire Post business editor David Parkin has left to launch business news website thebusinessdesk.com.

Please send any contributions to clare.o'connor@haymarket.com

Sponsored by PR Newswire