Fans of payment by results (PBR) used to be considered an eccentric minority in the PR industry. But no more. An increasing amount of City and public ­affairs work is now billed this way, with consumer agencies also now experimenting with the idea. So PRWeek, ­together with technology and new ­media specialist Buffalo Communications, convened a group to discuss how, and when, PBR should be used.
The potential offered by PBR is ­attractive. If agencies are confident enough to offer flexible costs based on the results their work achieve, it can only help reinforce the value of comms to a business's overall strategy. Instead of agencies feeling frustrated by seeing outstanding work go ­unrewarded, a killer campaign would net an extra chunk of hard cash.
Clients also know their agency has an extra incentive to stay focused on their account rather than simply claiming the monthly retainer.
But PBR relationships have to be planned very carefully from day one, to ensure that the two parties' definitions of 'results' are the same.
Over the following pages, our panel (see below) reveals how the PBR formula can enhance PR relationships.

On scenarios in which PBR can work…
Kerry Hallard: The most extreme PBR scenario we have engineered is agreeing to receive a percentage of profits from a trade organisation that made its revenues through membership fees.
A more usual way is to agree a base retainer and a kicker of around 20 per cent if the agency hits targets.
The final model is to tie fees to something like AVE, with a small retainer to cover basic costs. This is purely focused on getting quality coverage. A positive opinion piece in an A-list publication results in a decent fee.

On clients' enthusiasm for PBR…
Jim Horsley: Agency heads often view PBR as a threat, and ask: 'How much will I lose from this?' Companies need to understand how agencies work.
If you asked 100 agency bosses whether they would prefer £100,000 in ret-ained fees or somewhere between £80,000 and £120,000 based on performance, 99 of them would take the £100,000.
Jeremy Baldwin: I see this changing, though. Take the digital sector; this lends itself to PBR because of the way things can be measured. As well as hits and page impressions, you can look at brand uptake, uplift in purchaser int-ent, uplift in consumer brand knowledge – all sorts of different metrics.
Piers Marlow-Thomas: Remember this is still relatively new, and although a company might feel it is the right thing to do, an agency might not be used to working like that.
The financial and City PR sectors are the most used to using PBR, and these agencies often have a large proportion of fee income tied to business results. Interestingly, this aligns them much closer to management consultancies than other advisers such as lawyers and accountants.
The difference is that management consultancies tend to charge a lot more per head for their services.
KH: Pitching is a competitive process, but agencies don't realise that asking for a PBR programme is a good way to shows potential clients that you are focusing on their business rather than just getting a monthly fee out of them.
PM-T: Agency size is a factor too. A big agency may well prefer to be on a monthly retainer, but a smaller agency would probably be more prepared to take a risk if it meant bigger profits.

On motivation…
Victoria Henry: I understand that PBR motivates the senior agency members, but I can't see it doing so for the more junior members of staff.
JH: Account staff are motivated by ­doing good work, not by bigger profits. But if you start talking about performance bonuses and recognising achievement that way, then it becomes more of a motivational tool.

On the scenarios where PBR doesn't work…
Kirsten Doddy: Doesn't PBR affect your relationship with an agency? My retained agency is a trusted partner working towards common goals. If it was PBR, I might feel that would be compromised.
KH: We won't work on a PBR basis ­until we have worked with a company for at least three months. You need that time to assess whether the company's needs suit a PBR account.
KD: Surely PBR slows things down? If I get something from our threat guys and I need to get a release out quickly, I don't want to waste time negotiating over the fees. Can PBR work for a crisis comms account?
PM-T: It can be difficult, but a discretionary system of reward where the client pays a bonus based on whether they feel the company has done a good job could work in that scenario.
KH: I can recall two examples where PBR didn't work. One was where the client was, for want of a better description, anally retentive and wanted to make microscopic adjustments to every release. The other occasion came after a disagreement about coverage. We agreed to target A-list titles and got a half page in the Daily Mirror. The client refused to pay because he was a Daily Mail reader.
I would say that if issues cannot be resolved after two quarterly meetings then it is time to think about resigning an account.
KD: What happens when clients ask for something that you know won't work?
KH: We will challenge clients if we think their ideas are not the right way to go. We have to protect our reputation too.

On who pays for what…
JB: Even if we are on a PBR model, we sometimes charge for producing, say, a viral or a widget for Facebook.
KD: Hang on though – if you came up with the idea of doing a viral because you were convinced it would produce great results, shouldn't you be the one paying for it?
JB: If there was no budget yet, but we knew the campaign would work, we would take a risk and pay for it ourselves. I, and all the other agency people here, take this kind of risk every week though – it's called pitching.

On the practicalities of setting up a PBR account…
PM-T: The typical proportion of PBR in an account is 20 to 25 per cent, which means that the core account is still worthwhile for the agency. The extra payment should be the icing on the cake rather than the cake itself.
KH: Have a caveat that if the company spokesman does not fulfil his or her ­obligations, or if the company tinkers with a release or report for so long that you miss your coverage window, you still get a fee. The same should apply in the event of your story getting spiked by an unforeseeable event such as the calling of an election or a disaster. This is where the trust element comes in. Agree quarterly payments too.
Will Arnold: It is also important to establish a framework at the beginning of the ­relationship, otherwise results could suddenly be defined as any coverage, be it positive or negative. But you also need a balance between a rigid and transparent framework and a relationship that follows the spirit, rather than the letter, of what you are trying to achieve.
We have seen examples of poorly set up PBR and the agency is just hammering out any old coverage – be it positive or negative.
VH: Using PBR on a project basis is an interesting concept. There are ­scenarios where I have a clear idea of what ­titles I want my story to appear in, the way I want it to appear, and the types of pieces that will give me the best results. Decent media analysis should be able to show me all of these things, so based on what I've heard, I would like to try using PBR on a risk-and-reward basis.
JH: It seems we have a convert! ?
THE PANELLISTS...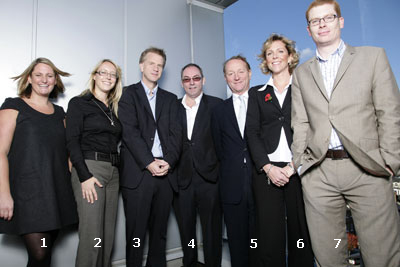 Kerry Hallard (6), MD, Buffalo Communications: Hallard wrote her MBA thesis on the business value of PR and is a keen advocate of PBR. So much so that she is planning to stop using timesheets to help clients focus on campaign impact.

Victoria Henry (1), Corporate comms manager EMEA, VeriSign: VeriSign runs much of the infrastructure for the internet, including housing the domain name registry for the '.com' and '.net' URL suffixes. Henry handles corporate comms for Europe and is 'interested' in PBR, but needs convincing.

Jim Horsley (4), Managing partner, PR business performance consultancy What Next? Horsley headed up Ketchum and Nexus Communications before founding business performance consultancy What Next? at the start of the year. The firm's team includes former Chime Communications group financial controller Mark Seabright and former Hill & Knowlton deputy CEO Karen Moyse.

Will Arnold (3), Director, Apollo Surveys: Apollo Surveys analyses coverage in the tech industry, particularly in the US, and is used by firms to assess effectiveness of their PR campaigns. A former journalist and EMAP Media director, Arnold set up PR Audit in 1999 before co-founding Apollo Surveys in 2004.

Jeremy Baldwin (7), New business development director, Bright Blue Day: Bright Blue Day is an integrated marcoms agency that offers a range of services from design to direct marketing. Baldwin says an increasing number of the agency's integrated accounts are run on a PBR basis, particularly in the digital sector.

Piers Marlow-Thomas (5), Chief executive, h2glenfern: Consultancy h2glenfern supports marketing companies, and strategic comms and business adviser Marlow-Thomas estimates he advises on around 20 PR agency reviews a year. He is a former marketing director at Hill & Knowlton and Shandwick, and was director of strategy and development for law firm Richards Butler.

Kirsten Doddy (2), EMEA PR manager, MessageLabs: US firm MessageLabs specialises in providing security, encryption and archiving communications across email, the web and Instant Messaging. After ten years working in-house and in agencies, Doddy is sceptical that PBR could work for her.