Unless you have a heart of stone, you cannot fail to experience a warm fuzzy feeling when you give up your time to help a good cause.
And because PROs increasingly recommend that their clients have CSR ­programmes, pro bono work is coming to the fore for agencies.
The prominence of the issue was highlighted by the recent launch of a partnership between the CIPR and Media Trust – an organisation that matches charities with media professionals – that aims to ­encourage PROs to work with charities on a pro bono ­basis.
Taking on pro bono accounts can help with networking and aid staff-­retention and skills-building, while many fledgling agencies find it a good way to build reputation.
Shortly after it was set up in 2005, Unity worked with Scope for free.
The agency still has pro bono accounts and recently helped set up a high-­profile gig with bands The Enemy and Dirty ­Pretty Things at a prison to raise money for suicide-prevention charity Wasted Youth (PRWeek, 23 November).
The charity covered filming and ­signage costs through £4,000-worth of ­donations – including one for £2,000 from an online broadcaster – in return for exclusive broadcast rights, but the agency's time was offered for free.
'Bands and celebrities are much more likely to get involved with a campaign if it is for a charity,' says ­Unity ­co-founder Nik Done. 'The ­campaign exceeded all of its targets for coverage and we've been ­approached for paid-for accounts on the back of it.'
Golley Slater Birmingham devotes one day each month to youth homelessness charity St Basils.
Account manager Rebecca Maund heads the brief, which involves promoting the charity's main fundraising event, the annual St Basils Sleep Out. She says the account has enabled her to expand her knowledge of marketing, 'and get involved with event management, ­celebrity endorsement and media partnering'.
London Communications Agency MD Robert Gordon Clark combined a personal interest in theatre with a professional expertise in planning when he took on the Young Vic account (see case study, below).
Gordon Clark recorded the agency's contribution on a pro bono timesheet. This way, he argues, the agency was able to check that it could afford to do the work. 'If we had billed them, the ­account would have cost five figures over three years. That is a tiny fraction of our turnover and can easily be fitted in without affecting other ­clients,' he says. Being clear about an agency's time can help a charity win funding, ­according to Media Trust head of communications services Helen Beckett. The value of pro bono work can, in some cases, count as funds that the charity has raised itself – which can help it bid for cash from certain funders.
But with 164,000 UK charities to choose from, which one should you support?
As well as online media matching services, Media Trust hosts 'speed matching' events, which match up ­media professionals with charities ­using the speed-dating formula.
The trust's 2,000 registered advisers all have a minimum of two years' ­media experience, and many are PROs.
Yet all is not simple where pro bono PR is concerned. Expectations must be firmly defined at the beginning of the ­account, and charities will only benefit if they know what they need. John F Gray, who headed the comms team at the British Red Cross for 16 years and is now CEO at University College London Hospital, says it is ­important that PROs have an affinity with the pro bono projects they work on.
'Involve the PR person in the charity in some way – maybe ask them to be on the board,' he says.
John Stonborough & Co's eponymous founder works for young people's charity The Diana Award, in which he has a personal interest, having known Princess Diana. Stonborough insists that his pro bono clients must be genuinely strapped for cash, and must not be ­politically motivated.
There are risks with pro bono work, says Gray. 'Sometimes you don't feel you have the control you would if you were paying, sometimes agencies want the kudos and future business opportunities of involvement with a charity, so you need to make sure it's a genuine offer of help,' he says.
These potential drawbacks do not mean that agencies should avoid working for charities. Quite the opposite – the benefits are immense. But, as with any client, expectations and ­objectives should be set out from the word go.
AGENCY PERSPECTIVE
Sara Render, CEO, Kinross+Render

Every two years, Kinross + Render gives a charity £50,000-worth of pro bono work, and £5,000 to cover expenses. Its current pro bono client is Help the Hospices; it previously worked with the Alzheimer's Society.

'We advise our clients to have a meaningful CSR programme, and we like to practise what we preach. Pro bono accounts allow staff to work on campaigning issues and marketing communications, which develops their strategic thinking and broadens their perspectives.
'It is a bonus that we pick the type of programmes where even relatively inexperienced staff are likely to have the chance to see the outcome of their labours in national and broadcast media.
'We select charities that are relevant to issues we are dealing with for paying clients. These tend to be causes without much "aah" factor and a need to achieve a goal where public opinion is an important issue.
'The board draws up a shortlist of charities and staff vote for their favourite. We then work in exactly the way we would for a paying client: identifying objectives with the charity and creating and delivering a programme. Hours and related costs are reported on a monthly basis. Once we have delivered all the goals on the pre-agreed programme and used up the fee budget we
cease work.
'The account team will be made up of people with complementary skills, personalities and relevant experience.
'Sometimes pro bono clients encounter unforeseen challenges and the programme is sacrificed to project or crisis work.
'Our programme for the Alzheimer's Society, for example, was hijacked by the need to fight NICE's plans to stop NHS funding for dementia drugs. In such cases, we work ad hoc until our hours have reached the budget. Inevitably, you end up over-servicing but, as with all our clients, we try to ensure the extra hours do not go beyond ten per cent.'
CLIENT PERSPECTIVE
David Lan, artistic director, The Young Vic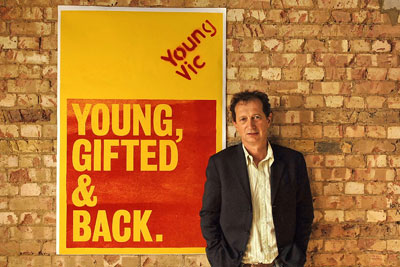 The Young Vic hired The London Communications Agency (LCA) on a pro bono basis from 2003 until 2005.
At the start of the relationship, the theatre was applying for planning permission to refurbish its building and needed to raise its profile with London policymakers.

'Sometimes pro bono accounts can be a little unclear, so if you need something important done with a degree of vigilance, you might not take the risk of using a pro bono supplier. But we knew exactly what we were getting with this account, so there were no such problems.
'We handled the account in a very simple way – by behaving as if we were a paying client. At the outset, LCA MD Robert Gordon Clark told us he would donate to us the equivalent of a certain amount of paid time, which worked out to be a certain number of hours over the two years.
'Being allocated a set number of hours also means you do not ever waste the PRO's time – if you call them in for an hour for no reason, that's an hour less for you to have when you really need them.
'Robert's knowledge of the politics and power structure of London is unsurpassed, particularly in the area of regeneration, and the relationship was hugely beneficial for us. As well as four free tickets for every Young Vic performance, we hope that the LCA also gained something from working with a theatre.'