Avid readers of the marketing trade press will have spotted The Sun's ­recent advertising campaign. At the heart of this News Group Media (NGM) communications drive is the message that the brand has become so much more than simply a redtop print product.
In addition to the daily tabloid newspaper, Rupert Murdoch's NGM has of late been investing heavily in developing the online and mobile platforms for delivery of The Sun's content. The Sun Online website has recently been renamed thesun.co.uk, to unify print and digital under a single brand.
The media owner has also been keen to trumpet The Sun as the only national newspaper to have launched a mobile site, which achieves more than one ­million impressions a month. As well as standard content, the mobile offering has been extended to include Football 24-7 – delivering Premier League goals when they happen.
However, it is the scale of success on the web that is making competitors sit up and take note.
The online network currently has 4.3 million unique users in the UK every month, a 66 per cent year-on-year rise. Over the same period, the number of teams in the paper's Dream Team, the world's biggest fantasy football game, rose by 200,000 to 765,000.
At last month's UK Association of Online Publishers (AOP) awards, thesun.co.uk scooped two prizes, for ­Design and Usability and Use of Video. Only The Guardian, with three awards, fared better, illustrating that the site is garnering respect as well as readers.
'Online eats content,' says thesun.co.uk's online editor Pete Picton. 'We put up 300 to 350 stories a day and we're looking for more material all the time. And if there is a video element to it then it works so much better.'
The AOP video award is certainly well-merited, for since a site revamp last year, video has been central to the online proposition. Last month, a piece on rock star Pete Doherty's drug problems centred on mobile phone video footage of the singer injecting heroin.
Clicking on the 'video' button to the left of the homepage takes you through to the Sun TV section of the site where there is now a choice of 59 free video channels, ranging from clips from sister TV channel Sky News to a wide selection of categories including fashion, film trailers gaming news and entertainment news.
Picton heads up an online team of 35 that works across the main site and its sub-brands Dream Team and Page Three. The latter has its own www.page3.com URL as well as being accessible via its parent brand's homepage. According to Picton, around 70 per cent of thesun.co.uk's content is original, with the rest coming from the newspaper.
'There is a very clear and transparent commitment from the top of the company, from Rupert Murdoch downwards, to multimedia and digital media,' says News Group Newspapers deputy managing director Mike Gordon, who oversees digital strategy at The Sun. 'We have invested heavily – for example, we recently bought an ­Escenic content management system and we have a much better player and service experience for Sun TV. More than half of our revenues are transactional – we are the UK's biggest online bingo company.'
From a business standpoint, thesun.co.uk appears to be on a sound footing, but how do PROs feel about the editorial opportunities it offers?
'We really rate The Sun's website,' says Taylor Herring PR managing partner James Herring. 'Compared to ­others it is much more user-friendly, ­updates more regularly and has much more of its own content. Rather than simply rolling stuff over from the ­paper, it provides constant fresh ­opportunities for our clients throughout the day. It is one of our first targets for nearly all campaigns – we have a clear sense of what it is looking for.'
Enthusiastic though he is, Herring thinks content could be further ­improved by the inclusion of 'blogs and inside track' pieces from leading Sun figures, such as Victoria Newton for Showbiz and Sara Nathan for TV. ­Interestingly, vituperative former Sun editor Kelvin MacKenzie is shortly to begin writing an online column.
Frank PR account director David Fraser says that in terms of generating click-throughs to clients' websites, The Sun's online platform is 'immense'. One big advantage it has, he argues, is the breadth and additional space it can give to a story.
For npower, Frank achieved extensive print coverage of a Comic Relief video featuring Lenny Henry telling jokes about the energy company. The icing on the cake was that thesun.co.uk was able to stream this video, achieving more than 18,000 hits in a matter of days.
The agency also invited Sun journalist Lup Fun Yau to the All You Can Eat Breakfast Eating Championship (below) it ­arranged for client Premier Inn. Given that he is regularly sent out by the newspaper for similar types of challenges, it was perhaps not surprising that he won the event – and thus video footage of the well-branded eating marathon now features among the site's videos.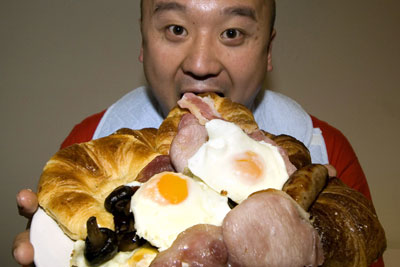 'It is breaking stories now and its use of video in all forms is fantastic because it really appeals to a younger audience,' says Phil Hall Associates' eponymous chairman, a former editor of The Sun's Sunday incarnation News of the World.
Nelson Bostock associate director Bruce McLachlan says thesun.co.uk delivered excellent messaging for his client Bacardi in its coverage of its DJ awards, although he thinks the homepage design suffers from ­being over-cluttered. He adds that use of ­videos such as the aforementioned ­Pete Doherty clip is raising its profile, as many forums link to the site.
'The Sun is using multimedia to ­replicate its traditional scandal/scoop ­offline approach in the online world,' says McLachlan. 'Just as the public would buy The Sun for the latest shocking pictures of politician X or foot-baller Y, thesun.co.uk is now the ­destination for much talked about "secret" videos of reality TV stars shaming themselves – a very successful strategy in building its online brand.'
Under communities editor Danny Dagan, the MySun discussion area has also grown enormously. The ­subject of missing child Madeleine McCann, for instance, has alone generated 116,000 messages and around three million page views.
CONTACTS...
Editor: Pete Picton

Assistant editor, news/video: Marc Webber

Promotions and competitions: Danny Rogers

Features: Louise Compton

TV: Jen Blackburn

Showbiz: Simon Rothstein
Call the switchboard: T 020 7782 4100.
The standard format for email is: firstname.lastname@the-sun.co.uk