The number of health stories fell from 14,960 in July/August to 4,642 over the past two months.
While all top ten health issues achieved more than 500 mentions in the last survey, only cancer topped the 500 mark this time.
Cancer retained the top position with 2,677 articles, down from 3,098 over the previous two months. Breast cancer was still the most featured, with nine times more coverage than bowel cancer.
But the announcement in the press that girls would be given a vaccine against cervical cancer contributed to the number of cancer articles. This topic was widely picked up by the nationals.
Respiratory has replaced mental health as second in the table. There was a rise in respiratory health articles, with 413 articles about asthma. They included a study which found a link between asthma and the menopause (The Daily Telegraph) and another study linking pesticides with asthma (Daily Mail).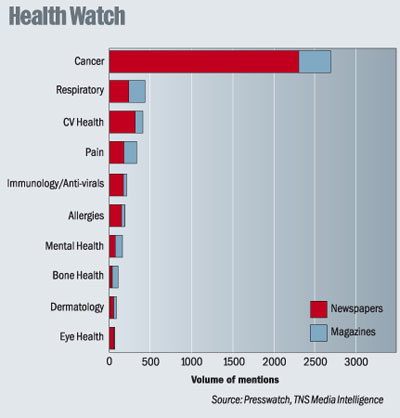 Cardiovascular health ranked third for the second time running, but saw a drop from almost 2,500 mentions to 392. Stories referred to risks, such as a lack of sleep doubling the risk of heart disease (The Daily Telegraph).
Pain jumped up the list to fourth, but coverage dropped from more than 600 articles to 276. Bone health is a new entry in the list at number eight, while eye health also joined the top ten for the first time with 65 mentions.
Sexual and reproductive health articles dropped out of the top ten, with only two mentions, down from more than 1,000 in the last survey. Diabetes, previously sixth in the table, also dropped out.