The troubles of Northern Ireland have dominated headlines and governed column inches in the region for decades. But the media landscape started to change following an historic agreement ­between DUP and Sinn Fein leaders at Stormont Castle (below) in March that led to power-sharing beginning on 8 May.
The agreement was clearly good news, but it raised an important question: with politics no longer grabbing the headlines, would there be new opp­ortunities for non-political coverage in the media as newspaper editors began looking for fresh content?
Darwin Templeton, editor of Northern Ireland's News Letter, admits there has been a shift. 'During the conflict, the business of news desks up and down the country was dominated by the violence, which meant there was less time to devote to other things. This is a massive cultural shift and the bottom line is that there is less news around. That should be good news for the PR industry.'
Paul McErlean, managing director of Belfast-based MCE PR, agrees. 'There was a challenge post-conflict for all media organisations to find content,' he says. 'We see this as a great opportunity for our clients to get more coverage.'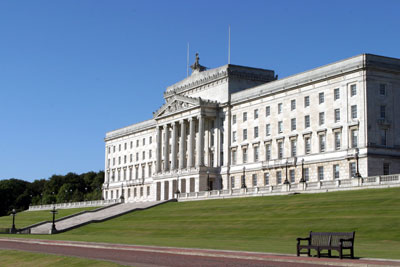 Slow but sure shift
However, some believe the changes have not been far-reaching enough. Darlene McCormick, managing dir­ector of consumer PR shop Life Communications, says: 'The media still dedicate most space in news to politics and business. Add to this a Northern Ireland PR industry that is very much driven by public sector work and corporate and financial PR – and the space available for consumer news is very limited.'
But Kieran Donnelly, director of Belfast-based Morrow Communications, is more optimistic. He says that the while the shift from politics to consumer news has been slow, it is happening. 'So much of the media was built on politics in the past; it is what journalists know best,' he says. 'But there is a recognition now of the need to make the shift and to do so fairly quickly.'
However, for Donnelly, a bigger problem is an anti-enterprise sentiment. While Northern Ireland continues to support new industry and entrepreneurialism following the troubles, some areas of the media are fostering a negative image of business, he says. 'There is a tendency to dumb down business stories or seek a negative slant. But many media are constructive and supportive of local enterprise and inward investment efforts. The big question now is: what role are the media going to play in supporting the drive to build Northern Ireland?'
Newspapers still dominate the media in Northern Ireland, the three main ­titles being the News Letter, The Irish News and The Belfast Telegraph. Some PROs argue that the Daily Mirror's Northern Ireland section makes it the region's fourth paper and should also be considered as an outlet for PR coverage. Like the English press, Northern Ireland's newspapers are divided by political bias. The Irish News is a nationalist paper, while the News Letter is aimed at unionists. The Belfast Telegraph is targeted at liberal unionists but is bought across the spectrum. PROs must target the correct ­paper with the appropriate slant to reach their intended audience.
As in Britain, growing pressure on journalists also means fewer are avail­able to attend press briefings. Donnelly says clients often ask why journalists do not come to meetings, but job cuts mean overworked hacks are often not able to leave the news room, relying on press releases instead.
However, the News Letter's Templeton does not believe editorial standards have been affected: 'There are certainly fewer staff journalists now than in the halcyon days of newspapers. But in terms of design, layout, content and relevance, today's papers compare favourably with anything that went before.'
Money-making options
While there may be fewer journalists on the papers, Northern Ireland is not exp­eriencing a decrease in the number of ­media outlets. The media industry in the region is densely concentrated, with more than 60 local weekly newspapers in addition to the national dailies.
There are also trade titles, including business magazines and catering publications. As a result, there is competition by newspapers and magazines to make money through more advertising. And the region has seen an increase in supplements as money-making options.
Templeton admits there has been an emphasis on features, given the decline in news: 'The News Letter has brought in a number of columnists in the hope of attracting new readers and challenging existing ones.' But, he says, the paper has produced supplements that are editorially driven and he believes PR agencies will find editors receptive to ideas.
However, Conall McDevitt, managing director of Weber Shandwick's Belfast office, believes editorial in some publications is increasingly becoming advertising-reliant. In some cases, stories will only make it into print if the client pays for accompanying advertising. He says: 'Consequently, good stories are being missed because a client may not want to pay for placement.'
While McDevitt admits the media landscape in Northern Ireland is complex, he believes PROs should embrace the challenges. 'They need to see the ­potential of a story and should look outside the region for best practice,' he says.
Contacts at three main papers...
Martin Lindsay
Editor, The Belfast Telegraph T 02890 264 000

Noel Doran
Editor, The Irish News T 02890 322 226

Darwin Templeton
Editor, News Letter T 02838 393 939