Last month's revelation that one of Gap's Indian suppliers had used child labour was not the first accusation of unethical practices aimed at the retailer.
It was perhaps inevitable, then, that news of its latest transgression would receive a global hearing, particularly online. Edelman Digital's analysis of blog activity found 2,735 posts on US sites mentioning Gap and child labour in the four days after the story broke, plus another 874 on non-US sites. Tonal analysis found that 68 per cent of these messages were negative.
But research by TNS Media Intelligence has found that Gap's previous PR efforts have not been wasted. Twenty of the 34 press and broadcast items included in its study mentioned Gap's ethical stance. Even The Observer, which broke the child-labour story, noted that Gap had severed contracts with 136 suppliers over the previous 12 months because of alleged abuse in the workplace. Thirteen of the articles or broadcast spots analysed quoted a Gap spokesman.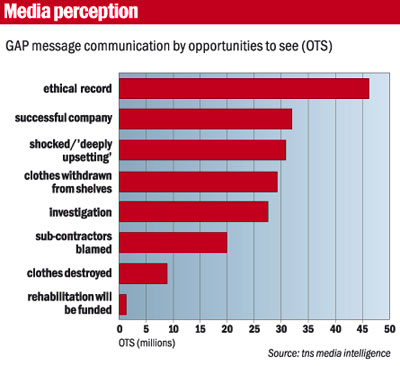 But the question remains of how consumers will react. Research commissioned by PRWeek paints a rather bleak picture. Seventy-two per cent of the 1,093 people questioned between 1 and 6 November said they would not buy from a retailer proven to have unethical practices in its supply chain; 50 per cent were aware of the Gap story.
More specifically, 41 per cent would not trust a retailer to audit its own supply chain. This is significant because Gap is only introducing independent auditing on embroidery and other speciality work. It could be argued that many consumers will be prepared to ignore ethical concerns in order to shop at a favourite store. But 50 per cent of consumers believe Gap is 'less fashionable' than it was five years ago.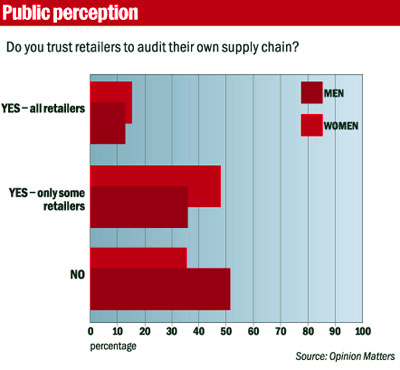 PRWeek asked Observer foreign editor Tracy McVeigh and Resonate MD Michael Frohlich, who has worked with retailers Timberland and Habitat, for their views on Gap's reputation.


Michael Frohlich (l), managing director, Resonate: The child-labour story will, no doubt, affect Gap in the UK, but not necessarily to the extent the survey may suggest. Although consumers may talk in an opinionated way about a brand's stance, the fact is that if they like the product and its values, they will continue to buy it.
If there is a continued onslaught on Gap's supply chain then customer loyalty will eventually erode, but it will take time. Loyal customers are very forgiving and, although a 'self-auditing' supply chain may not have the legitimacy of an independently audited one, it will help smooth over the cracks in the short term. Meeting responsible manufacturing standards is becoming a hygiene factor rather than a proactive selling point.
If the current corporate social responsibility trend continues, which I believe it will, then brands will have no choice but to evolve to meet the demand for transparency and legitimate business practices. For Gap, this will mean, at some stage, having to defend its self-auditing system. So, would it not be simpler to use an independent system from day one?


Tracy McVeigh (l), foreign editor, The Observer: The impact of The Observer's story was extraordinary. On 28 October we ran an article and a two-page spread that exposed a direct link between Gap and a sweatshop in India.
The story was picked up around the world, from Australia to China, South Africa to Italy. In the US, the scandal was the lead breakfast and evening news item on ABC, CBS and CNN, and it was the most Googled news story for most of the week.
Gap acted swiftly, which ensured it had a decisive reaction in the paper when the articles first appeared, instead of trying to play catch-up with damage limitation. That said, no matter how hard Gap works on the 'Sweatshop Free' labels it is now thinking of introducing, the taint of the sweatshop will forever linger over the brand. I don't know if it will have any impact on sales, and that was certainly not the purpose of our story – we weren't campaigning against Gap, we were exposing child abuse.
That British consumers are starting to care more about the conditions in the developing world is incredibly encouraging.