What does a successful online campaign really entail? And how can PROs – rather than digital marketing agencies or advertisers – ride the crest of the wave where online brand building is concerned?
Although PROs often sub-contract the production of online content to digital or broadcast specialists, F-H Digital account director Paul Borge argues clients should actually use PR agencies to spearhead digital strategies as part of a wider communications campaign. PROs are 'not just making something for the web, but also thinking about the job it's going to do,' he says.
So what should PROs be doing? Acc­ording to Spannerworks' Anthony Mayfield, all online content creation should start with one simple question. 'Asking 'how can I be useful?', rather than 'shall I have a blog?', is the key,' says Mayfield.
He also stresses the importance of understanding the networks likely to be interested in the content, and if in doubt to 'pull rather than push' instead of wading into debates.
As well as producing brilliant content, this content must be portable, so that it can be easily shared and distributed, and should be designed in such a way that it is easy to find for search engines.
Copyright is a big issue where the movement of content is concerned, and Mayfield recommends using a Creative Commons Licence when producing content. This is an alternative form of copyright that allows the creator to stipulate the terms of use. Content creators can give web users the right to access, copy and edit copy in whatever way makes it useful, but they must credit the author.
Indeed, online brand building means relinquishing control, as was the case when the craze for creating fizzy-pop fountains with Coca-Cola and Mentoes swept the site YouTube.
'Their executives were probably up in arms when it happened, but you can track the increase in sales. If the two companies had tried to suppress it – or had tried to create the craze themselves – it would not have worked,' says Text 100 EMEA sales and marketing director Peter Jacob.
But there are ways to claw back some control. Consolidated Communications board director Anthony Moore is promoting Nesta's (the National End­owment for Science, Technology and the Arts) Big Green Challenge competition in which not-for-profit groups can win £1m for ideas to tackle climate change.
Campaign ambassadors such as broadcaster Sarah Beeny and green expert Dick Strawbridge are being offered for vodcasts, podcasts and online interviews, as well as the usual print interviews.
These have been made available on YouTube and green IP channel green.tv, and Moore has set the dedicated YouTube channel so that comments can be vetted before they are posted. Creating content for the web means putting it in the public domain, so PROs should be prepared for potential crises.
But as Agency.com managing partner Jez Jowett exp­lains, the genuine excitement and brand enthusiasm good online content can create more than makes up for the risk.
The expert's view...



Below, digital expert and Agency.com managing partner Jez Jowett (l) gives his verdict on four recent high-profile online campaigns, including which elements worked, and where the campaigns fell down.
CASE STUDY 1: SIMPLE CITY
PR team: Kaizo

Kaizo launched a site for Skincare brand, Simple, in April – www.simplycity.me.uk. CEO Crispin Manners spent two years developing the model with clickadvisor.com director Paul Marsden and Enterprise LSE consultant Alain Samson.
The site aimed to build a community of members, all of whom would complete monthly surveys on advertising campaigns, packaging, and the face of the brand. They were rewarded with
heavy discounts in the online store.
The first 2,500 members were invited because they were deemed most likely to recommend the product to a friend by business metric Net Promoter.
Traditional PR and viral elements, as well as Google click-through ads, recruited further members.
The site now has 4,000 people signed up. Manners estimates 40 per cent complete the 'brand insider' survey every month. Given that Simple targets all women, it was important that this sample was representative of the UK population in terms of age and geographic location, which Manners claims was achieved within six weeks of launch.
Says Manners: 'We have found that the hints and tips sections of the site, as well as the customer reviews in the online boutique, have been particularly well-used. This has inspired us to produce co-created pieces of content with site members.'
The first of these, a Simple summer recipe book, was created after asking members for their favourite summer recipe in one of the monthly surveys. Kaizo then chose the best 16 for the book, which was emailed out to members as a pdf.
'The site's initial design was for the blog to go at the front, but that may change,' explains Manners. 'Rather than us producing an online magazine about simplifying life, what seems to be really popular is prompting site users to share tips and advice with others. We are looking at changing the emphasis of the site accordingly.'
Kaizo also uses the site to pose a question to its users each week, the results of which can be used for small PR stories.
Because the only reward for involvement is the ability to buy discounted products, Manners believes that people use the site because they want to. These enthusiasts are also likely to use their insider knowledge in their offline conversations too, he believes.
'Some of the brands that have wasted a stack of cash hiring full-time teams of editors and writers seem to have realised that brands as publishers is not a tactic that works. Customer content is king.'

Jez Jowett's verdict…
'My favourite of the four by a long way. Not necessarily ground-breaking innovation, but the right approach and tone for a brand to engage in a dialogue with the target audience. It feels like the panel will be honest, and they'll be engaged and responsive. They've used Net Promoter really well for targeting.
'These advocates are getting closer to the brand and taking these insights into public conversations.
'I really like this and it's got loads of potential – I just hope they'll invest more budget to deliver richer content.
'I'd suggest changing the page fold though. The images are so large you miss a lot of the navigable content on the right.'
CASE STUDY 2: ATAG
PR team: Fleishman-Hillard

Air industry body ATAG (The Air Transport Action Group) used F-H to create www.enviro.aero, a combined industry voice on climate change.
The website was designed to help ATAG highlight the aviation industry's efforts to reduce its carbon footprint.
F-H Digital account director Paul Borge says the site is intentionally very simple and user-friendly, focusing on content.
As for traditional media relations campaigns, Borge says the agency segmented the audience into categories, including travel websites and environmental bloggers. The team then used sites such as Alexa.com and IceRocket.com to judge how active and influential bloggers were before engaging with them.
Because most bloggers are not journalists, Borge and his team sent the bloggers simple, transparent emails, offering content or interviews.
Borge also recommends reading blogs carefully before engaging with them.
'It is labour intensive, but very valuable. Many of them have become brand ambassadors, sending lots of traffic to the site,' he explains.
Traffic was also generated by partners and members of ATAG – such as Air France and Al Italia.
Given the potentially inflammatory subject matter, the brand will not use the site to host forums or other user-generated content just yet. Borge remembers the Chevy Tahoe campaign, where Chevrolet gave web users the tools to create their own adverts. The car became the subject of parody adverts highlighting the issue of global warming.

Jez Jowett's verdict…
'A nice, safe site (if a bit Blue Peter in its design), but it's not motivating me or engaging me much because I can't interact with it.
'The smart bit is the approach to reaching clusters and audience segmentations online. They've clearly understood the rules of engagement with bloggers and appreciate they aren't journalists. Bloggers write what they want, and you can't control it. Good work on using the control elements, but the overall effect is a bit too safe for a proper discussion and engagement.'
CASE STUDY 3: IBM
PR team: Text 100

Text 100 EMEA sales and marketing director Peter Jacob says IBM encourages the rank and file, rather than its CEO, to blog.
The information technology multinational also has a presence on Second Life, the online virtual world. Projects over the past 18 months have included creating a virtual Forbidden City when IBM CEO Sam Palmisano visited China, and a virtual Wimbledon Tennis Centre to highlight IBM's sponsorship of the tournament.
'A lot of traditional media covered our Second Life presence – including a feature on Newsnight,' says Jacob.
Jacob accepts that there is currently a good deal of cynicism about Second Life (which he describes as the natural 'hangover' after the 'honeymoon'), but argues that IBM's decision to build a virtual Wimbledon was so newsworthy that people did not react as cynically as they would have done if the company had, say, opened an office there.
'You need to be clear of your client's expectations,' says Jacob, arguing that the 'new world order' of online communication has rewritten what success means.
While technical limitations meant only 50 people could go on the Second Life tour of Wimbledon at any one time, those 50 were chosen carefully, were 'fully immersed' in the brand, and therefore much more likely to blog about the experience.

Jez Jowett's verdict…
'I wasn't convinced about this. The cost is restrictive, the reach isn't huge and it's not scaleable. 'To me, this is another brand investing resources into a virtual environment with few attendees. Of course it did generate column inches, but it does seem a hard way to achieve that.'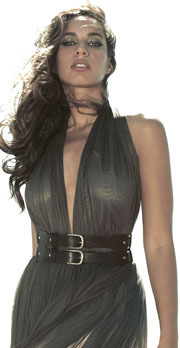 CASE STUDY 4: LEONA LEWIS
PR team: Taylor Herring

Taylor Herring's digital arm, Force10, runs digital communications for the musicians signed to Simon Cowell's Syco label.
One of those is last year's X-Factor winner Leona Lewis. Using the web to 'microtarget' niche audiences, such as fan sites, can work well alongside the 'big, noisy' TV and print promotions, says MD James Herring.
When Lewis went on BBC Radio 1's Live Lounge earlier this month to sing a version of Snow Patrol's Run, Force10 laid the audio clip over the top of a video montage of Lewis, which went straight on YouTube. The link went straight to influential celeb blogger Perez Hilton, a Lewis fan. The clip has been viewed 250,000 times with very little else in the way of PR.
The agency also encourages musicians to blog while promoting singles, says Force10's head of online Matt Park.
Blogs can 'mobilise' regional fan bases. One star recently wrote a blog for BBC Manchester, which was linked to the star's website, Bebo and MySpace.
The agency also organises webchats for fans. Herring argues PROs have more control over live webchats than they would with a print journalist: 'You can talk about what you want to talk about, without needing to worry about the write-up or the agenda of a journalist or their editor.'

Jez Jowett's verdict…
'This is my second favourite – clever use of an opportunity to build volume and interest with branded content.
'Can you imagine any brand being able to move this fast and approve the content to be uploaded? No, me neither.
'They've understood the multiplier effect by reaching out to Perez Hilton and used the world's favourite video filing cabinet – YouTube – to do the job.
'Word of warning though: no-one can control what spurts out of Perez's fingertips.'