(see bottom for FULL LIST of finalists and winners)

CORPORATE RESPONSIBILITY
Gold Award: SuperValu gets Action Cancer Big Bus Moving, by Joe Braden-Astbury

In 2005, Retail group Musgrave SuperValu-Centra NI became the main sponsor of Action Cancer's Big Bus. The 18-metre articulated lorry was the first of its kind in Europe, housing a digital breast-screening suite, health promotion, men's health checks and complementary therapies for patients.
Gloria Hunniford, whose daughter Caron Keating died from breast cancer, agreed to launch the Big Bus at Hillsborough Castle. A 3D virtual tour of the Big Bus was posted on Action Cancer's website, and cancer patients and survivors were used as case studies.
The Big Bus visited 44 locations between October and January, screening 638 women for breast cancer. The campaign secured 152 press articles and 14 broadcast pieces in national and local media, and SuperValu research found 100 per cent of retailers and staff agreed the positive publicity positioned it as a caring business.
The judges said: 'A campaign that clearly underlined Action/SuperValu as innovate and impactful. Successful leverage of existing resources and development of a campaign produced exceptional coverage.'
CONSUMER RELATIONS
Gold Award: George Best £5 Note, by JPR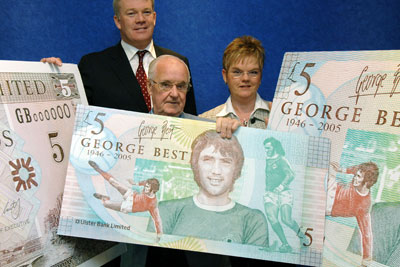 In August 2006 Ulster Bank printed one million £5 notes to commemorate the football career of the late George Best. JPR focused on Best's role as a great Northern Irish sportsman, taking care not to be seen as exploiting his memory, or celebrating what could be perceived as a questionable lifestyle.
Best's family agreed to endorse the campaign, using it as a platform to promote the George Best Foundation. Blanket coverage resulted, from The Daily Telegraph to Hello! magazine, and the story dominated the Irish press. An AP interview was broadcast across five continents.
INTEGRATED COMMUNICATIONS
Gold Award: Down Royal Racecourse, by Weber Shandwick

After the November Festival 2005 was abandoned due to terrorist threats, Down Royal Racecourse faced a challenge to maintain visitor numbers. The 2006 November Festival was positioned as the premier sporting event in Northern Ireland, and the place to 'see and be seen' for fashion and racing.
The campaign achieved 60 positive hits in national and regional media. A reinvigorated 'best dressed' competition helped ensure that women made up almost half of all visitors, while turnstile receipts grew by 2.5 per cent.
OUTSTANDING IN-HOUSE PUBLIC RELATIONS TEAM
Gold Award: NICCY (Northern Ireland Commissioner for Children and Young people)

Stories generated by NICCY's team of three have appeared in every newspaper and broadcast station in Northern Ireland. The team ensures the voice of children is heard at the highest levels.
OUTSTANDING PUBLIC RELATIONS CONSULTANCY
Gold Award: IAS Smarts
Despite undergoing local acquisitions and changes of ownership, IAS Smarts boasts 36 new client wins over the past three years. CSR and digital divisions were launched with combined revenues in excess of £430,000, and income from existing clients increased 24 per cent.

- Click here for the FULL LIST of finalists and winners from the Northern Ireland awards