This summer, Paramount Pictures unveiled robot movie Transformers to film buffs in the UK.
Targeted at a mainstream male audience, news of the blockbuster's release featured across TV, radio and print.
Keen followers of the project had already had their appetites whetted. Months earlier, news, photos and video footage from the Steven Spielberg film's set were posted on official website transformersthemovie.com and fan forums.
Interviews with actors Shia LaBoeuf and Megan Fox appeared on Empire.com, BBC Movies and FHM.com, while footage of the film's premiere in Los Angeles was made available on the Total Film portal, Lycos, Cinemas.com and Cinemas-Online.
This represents a big shift in the way films are promoted. Traditionally, print and broadcast campaigns focused on the eight-week run-up to a cinematic release. But digital media have opened the door to long-term campaigns, enabling studios and distributors to build relationships with fans even before production has begun. 'There has been an influx of opportunities online,' confirms Paramount UK marketing director Deborah Sheppard.
In PR terms, it is hard to think of a better fit between product and channel than film and the web, especially when one considers movie buffs' voracious appetite for news and previews.
'Studio content, such as trailers, images and interviews with actors, fits really well in an online environment,' says Adam Rubins, director at digital entertainment PR specialist.
Online is also cheap compared with other media, such as TV and outdoor advertising, and it
enables you to be really targeted.'
However, early online film campaigns do rely on content being made available. Mainstream Hollywood studios often provide only one trailer for PR purposes, and it can be hard to secure exclusive filmed interviews for online journalists.
UK-centric films tend to offer more opportunities though. Dan Noy, acc­ount director at online entertainment specialist JAM, worked on promotion for Universal's Elizabeth: The Golden Age earlier this month. 'Because production company Working Title is British, we were close to source, so got five exclusive trailers,' says Noy.
While the priority for online media is exclusive content and promotions, film devotees want to get involved. This is particularly evident when fans feel they have a stake in a movie through their loyal purchase of franchises such as comics and books. Witness the frantic blogging before each Harry Potter instalment and the stir when Daniel Craig became the new James Bond.
Film specialist DDA PR is currently promoting The Golden Compass, the first adaptation of Philip Pullman's His Dark Materials trilogy, for New Line Cinema. The agency is posting news, clips and stills on mainstream and specialist entertainment sites, such as Rotten Tomatoes, in advance of the film's London premiere next month.
DDA executive vice-president Lawrence Atkinson says it is vital to reassure fans that the adaptation will stay true to its literary roots. Alongside the usual footage of the film's director, producer and actors, the team has placed online interviews with production and costume designers.
Fox Searchlight went further with last year's space adventure Sunshine, for which it hired new-media consultant Gia Milinovich to write a blog on the making of the film. With almost
unlimited access to the set, Milinovich launched sunshinedna.com in 2005, providing a mix of production facts, solar science, mythology and history. 'People want a one-to-one relationship with other people on the internet,' explains Milinovich.

The power of online film PR was demonstrated by last year's low-budget blockbuster Snakes On A Plane. This unlikely hit became the talk of cyberspace in the run-up to its release as movie buffs shared ironic poems, paintings and photo montages.
Producer New Line tapped in to the buzz by launching an online competition, the winner of which would have their Snakes On A Plane-inspired song included on the film's soundtrack. What is more, a spoof line posted by a member of the public on the internet – 'I want these motherfucking snakes off this motherfucking plane!' – was added to Samuel L Jackson's
dialogue.
With the absurd Snakes... making £1m at the UK box office on its opening weekend, it is clear that online-savvy PROs can boost any film's fortunes.
SPIDER-MAN: THE POWER OF THE WEB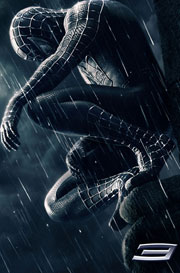 On 4 May, Peter Parker and his super-hero alter ego returned to the UK's big screens in Spider-Man 3 (r). To position the film as the movie event of the year, Sony Pictures briefed digital entertainment specialist Way To Blue to convey the film's production values.
The agency used all available assets, including press releases, images, video clips, competitions, promotions, blogs, the official film site and lead actors Tobey Maguire and Kirsten Dunst. This involved negotiating the use of trailer coverage with more than 70 websites, and targeting social networking and user-generated content sites such as YouTube.
To secure prominent positioning on Yahoo!, Virgin Media, Orange and Tiscali, Way To Blue asked each to champion one of the film's main characters in return for exclusive material. This resulted in Virgin, for example, running an interview with Maguire on its homepage.
Keen to give fans a multimedia experience, seven clips and five cast interviews were encoded to DVD quality and offered to lifestyle websites, such as Handbag.com, before being distributed more widely.
Competitions, including the opportunity to win tickets to the UK premiere, also ran on sites from MSN to Popworld and Holy Moly.
In the final two weeks before the film's release, the agency worked to secure as much coverage online as possible.
On the day of the release, 74 UK websites ran negotiated Spider-Man 3 features, with 41 – including MSN, Virgin Media, Yahoo!, BBC Film, Film Four, Nuts.co.uk, FHM.com, Empireonline.com, Blissmag.co.uk, mykindaplace.com and telegraph.co.uk – promoting the movie on their homepage.
The film dominated all 12 sites included in a competitor analysis.
Spider-Man 3 took almost £12m at the UK box office in its first weekend.
DO...
Co-ordinate embargoes for clips and trailers between offline and online versions of sister media, such as GMTV and GMTV.com, to avoid treading on toes

Work with other marketing disciplines to prevent duplication online

Cater for the different home, entertainment and film sections of sites, all of which need to be approached individually

Give audiences what they want. Teenage girls tend to like activities and the ability to indulge their crushes on male actors... as do older women

Get interactive. Viewing clips, stills, interviews and trailers is a passive activity – diehard film buffs want feedback and to share their views with others
DON'T...
Assume that certain types of film are a lost cause. Even period adaptations draw enthusiasts to portals such as the popular Jane Austen destination The Republic of Pemberley

Ignore negative reaction. It is amazing how a few officially endorsed invites to events or special screenings can improve relations with detractors

Treat the online world as a global village. Differences in culture and cinema-going habits count

Forget that the profile of online media users is getting older – word of mouth is not the preserve of teens and the so-called 'generation X'

Post material without full and clear client approval