It also boasts the second-highest profit margins.
In addition, the study by marketing and media acc­ountancy firm Willott Kingston Smith (WKS) found independent firms are doing better than group-owned consultancies at translating income into profit.
According to the survey, which looked at the finances of the top 30 PR consultancies, the sector is thriving.
Operating profits increased 17.5 per cent and more than 75 per cent of firms ­enjoyed an increase in gross income. PR firms achieved average gross income per head of £95,651, compared with £76,155 for the top 50 mark­eting services companies.
Profit margins were 15.2 per cent, just behind media buying, where profit margins were 19.1 per cent.
WKS partner Esther Carder attri­buted this partly to PR comprising a large amount of ­retained business compared with other sectors.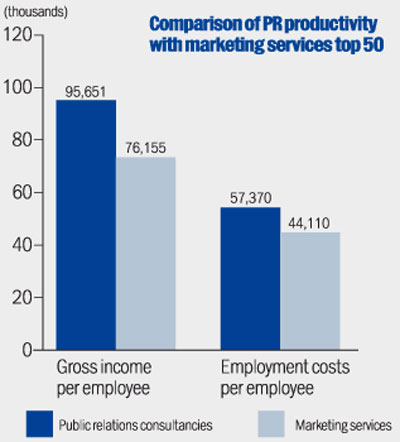 For the second year running, independently owned consultancies outperformed group-owned consultancies in translating increased ­income into profits.
Independents increased operating profits across the sample by 51.5 per cent, compared with 9.4 per cent for group-owned consultancies. According to WKS, this ­implies independents are able to complete work more efficiently than groups.
Carder said: 'Among other reasons, it could be that the smaller agencies are able to react a bit quicker to the market – for example, in being able to hire people with digi­tal expertise.'
The increase in PR firms' gross income was matched by an increase in staff numbers of 11.6 per cent and a corresponding increase in employment costs of 14.8 per cent – higher than the average for marketing services.
For the year ahead, Carder predic­ted: 'Staff will remain expensive, especially those with digital communications experience.'