It secured 274 mentions after criticising government proposals for a widespread slaughter of badgers to fight bovine tuberculosis, which the nocturnal creatures are believed to carry.
RSPCA head of wildlife science Rob Atkinson said the policy 'would mean senseless slaughter, enormous suffering and be scientifically bankrupt'.
The Royal British Legion shot to second place with its annual poppy appeal, which included a virtual poppy on Facebook that users could download or send to friends.

'The traditionally high level of media attention paid to the legion's poppy appeal was augmented by its high-profile online strategy,' said Infonic spokesman Lawrence Ampofo. 'Using Facebook attracted widespread approval by the media and suggested that the use of social networking sites will result in a successful appeal.'
Cancer Research UK climbed to third place after responding to a report on obesity by the World Cancer Research Fund. The report, which The Daily Telegraph called 'the most comprehensive review of the evidence linking obesity to cancer', concluded that a reduction in red meat and alcohol consumption lowered the chance of getting the disease.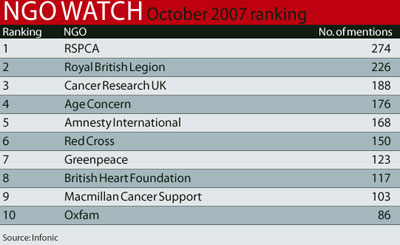 Cancer Research UK argued that the Government should do more to help people make healthy lifestyle choices.
Amnesty International, in fifth, gained extensive media coverage of its criticism of the Saudi royal family's visit to the UK.
The charity condemned the PM's refusal to debate human rights issues in Saudi Arabia and alleged 'executions, floggings, prolonged detention of peaceful critics and discrimination' were widespread in the kingdom.