Nik Fletcher from Petersfield, at the front of one of the queues, was liberally quoted about getting his hands on the 'must-have gadget'. But he seemed to be heeding police advice that iPhones could 'trigger a mugging wave' (The Sun, 9 November) by 'getting the hell out of this city' (The Guardian and others, 10 November).
The gadget was dismissed by Keith Waterhouse in the Mail on Sunday as 'the electronic equivalent of the Swiss Army knife', but hailed by Stephen Fry in The Guardian as an 'instant icon' (10 November).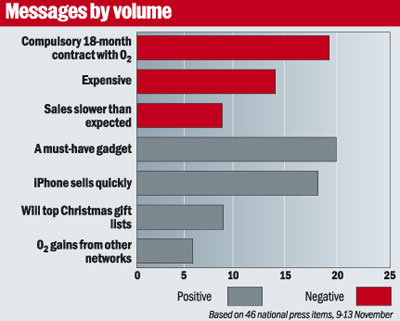 Apple devotees were delighted, but some visitors to Carphone Warehouse, on what Charles Dunstone described as 'an important day for the phone industry' (The Sun, 13 November), were concerned about signing an 18-month contract with O2.
The losers of the launch appeared to be Carphone Warehouse staff, who will reportedly miss out on their Christmas party to pay for the firm's £10m marketing agreement with Apple (The Register, 12 November).

Analysis conducted by Echo Research from data supplied to PRWeek from NewsNow