When Heather Mills sought to make a splash recently with her campaign against tabloid newspapers, she offered GMTV her first interview – and she certainly got the attention of the nation, finding herself on the front page of most newspapers for the rest of that week.
Mills' outburst was just one of many headline-grabbing stories for the show this year. Indeed, GMTV itself has been no stranger to controversy, particularly in April, when the programme's phone-in competitions were suspected of cheating callers.
GMTV estimates that half of its viewers are male during its earliest broadcast – the more serious News Hour – but that its audience becomes more female-oriented as the morning unfolds.
GMTV Today blends news, human interest, celebrity and lifestyle issues, while LK Today caters mostly for housewives and children with almost entirely lifestyle-oriented content (see bottom).
But while it may appear fluffy, director of programmes Peter McHugh argues that it would be a huge mistake to dismiss the programme when planning any serious PR campaign.
'The first interview with a new Prime Minister is always given to us,' he says, pointing out that this was the case with both Tony Blair and Gordon Brown, who was actually on the programme on the day of the Heather Mills interview (below).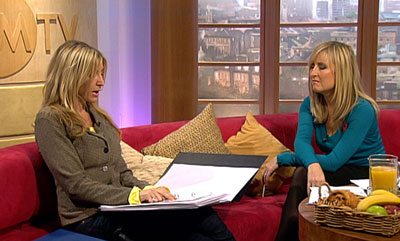 Open minds
McHugh argues that GMTV should be PROs' priority over other breakfast programmes: 'Politicians want to go on GMTV because they know they are talking to people who may be swing voters, whereas appearing on the Today programme means talking to those that have already made up their minds.'
McHugh thinks part of the appeal for politicians is that its interviewers 'don't fool them or try to trick them. We ask all the questions Today would but we don't start the interviews with the assumption they are all crooks,' he asserts.
As well as politicians, the show features many celebrities, and is an important port of call for publicists such as The Corporation chairman Gary Farrow – who represents Elton John and Gordon Ramsay. Farrow says: 'If you want to reach a mass audience in one easy hit, GMTV is perfect – it's a captive audience, interested in showbusiness, and you don't get a rough ride.'
Former GMTV producer Catherine Bayfield – now a director at Shout! Communications – points out GMTV really wants A-listers. Kylie or Robbie Williams would be ideal, although less high-calibre celebrities with relevant stories would also work for them, 'esp­ecially if you have footage of them out doing something amazing'.
Many interviews and clips of musicians performing end up being posted on YouTube and linked to showbiz blogs such as Holy Moly. This means the show can have great resonance in the showbiz world, even bey­ond the 5-6 million daily, 11 million weekly and staggering 23 million people it reaches every month.
GMTV has a very particular way of covering news, says McHugh, using 'ind­ividuals to illustrate complex stories'. So, for a story about electricity prices, GMTV's priority would be to get an interview with someone that couldn't afford their bills. After that they might talk to the company's CEO, asking him or her to explain that particular case. So PROs who can provide interesting case studies will be worth their weight in gold.
These cannot be just any case studies, says Bayfield. They need to be extreme examples – people who are seriously suffering because of the issues being discussed, not people who have only missed a couple of payments.
That said, PROs agree that GMTV does not tend to sensationalise as much as many other media outlets. McHugh describes the show as being 'like a popular newspaper, although thankfully the constraints of television mean we carry stories without opinion and bias'. So careful targeting can mean campaigns get a fairer and more det­ailed airing than they would elsewhere.
Fishburn Hedges consultant Amy Gooden, for example, was running a government campaign to raise awareness of new car seat regulations, and says GMTV 'was a natural place to reach large numbers of C2DE mums – one of our key target groups for the campaign'. The agency knew the issue was one that really interested GMTV, and got in touch with a planner early on. Working closely together meant that the station devoted three days of feature items to the regulations, recalls Gooden.
News and weather
GMTV is also worth targeting with news stories. As an independent broadcaster (the station is 25 per cent owned by Disney, 75 per cent by ITV), it gathers its own news (some assume its news comes through ITN), using reporters across the country and newswires such as Reuters and AP.
Even weather reports can provide opportunities. Bayfield says that, bec­ause the broadcaster often films weather on location, you can offer places to shoot it that tie in with your campaign.
The programme does feature plenty of products but many who are familiar with the programme believe the recent controversies over the phone-in competition scandal have caused the programmer, like most broadcasters, to become even more careful than usual about plugging products.
There are other warnings. Bayfield says the show is notorious for failing to credit research, and – like any news programme – clients should be warned their stories could be dropped at the last minute, and often are.
Also, if your campaign is not relevant to a mainstream mums and kids audience it will be less likely to win airtime, although many say that of all the slots LK Today is the most likely to feature the most aspirational products.
But, as McHugh says: 'Some people seem to forget that we exist. There is a huge market they could tap into and they don't.'
QUICK GUIDE...
Format
GMTV is split up into three segments during the week – the News Hour, from 6am to 7am, GMTV Today from 7am to 8.30am and from Monday to Thursday Lorraine Kelly's LK Today between 8.30am and 9.25am. On Fridays this section is filled by Entertainment Today. GMTV also runs children's programming and the Sunday Programme from 7am to 8am at the weekend. Contact the forward planning desk first, as it will forward stories to the right programme.

Deadlines
GMTV has planners and producers working 24 hours a day, and will take calls at any time for breaking news. For pre-prepared segments, early information is always appreciated, and weekly planning meetings take place every Wednesday at 10am.

Contact

Head of forward planning , Terry O'Sullivan: terry.o'sullivan@gm.tv