On the evening of 17 October, city councils up and down the country huddled before their TV sets for a night of nail-biting suspense. Most were rel­ieved once the ordeal was over, but an unfortunate few were left screaming obscenities at the screen.
This year it was Middlesbrough's turn to do the swearing, when it was named as the worst place to live in the UK on Channel 4's Location Location Location's 'Best and Worst' special.
But Middlesbrough Council was not prepared to take this lightly – especi-ally as the North Eastern city had also achieved top-ten status in the latest edition of the book Crap Towns.
The press office hastily convened a press conference, at which mayor Ray Mellon (nicknamed 'Robocop' locally) demanded an apology from Channel 4 for its 'catalogue of errors and inaccuracies'. A 21-page letter of complaint outlined the council's ­objections, mostly centred around the programme's all­eged use of outdated information.
But the council does not refute the assertion that more than a quarter of Middlesbrough inhabitants admit to 'regular binge drinking', nor the fact that the incidence of burglary, violent crime and car theft in the city is twice the UK national average.
Full-time job
Middlesbrough head of comms Mike Clark takes a philosophical view of the bad publicity, insisting that 'the job of promoting Middlesbrough goes on seven days a week, 365 days a year, ­irrespective of what Location Location, Location might do or say'.

Middlesbrough will continue to promote positive stories, such as the recent £1m Art Fund investment into the Middlesbrough Institute of Modern Art.
Clark says: 'We have to work at changing people's perceptions. We are talking about what is being done to make things better in the area. It doesn't happen overnight; it is an area that has had its fair share of hard knocks.'
So what can a comms department do to heal the bruised reputation of its city after being named and shamed in this fashion? Hackney's comms team was shortlisted for a 'PR on a shoestring' CIPR award this year for its efforts in the wake of being branded the worst London borough by Location, Location, Location's 2005 Best and Worst programme (below).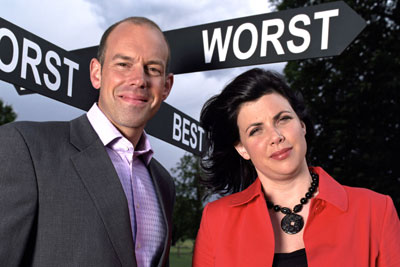 Hackney Council media manager Mary Anna Wright recalls: 'We got a tip-off the weekend before it was ­broadcast. So we composed a really robust press release and sent it out locally. It was the same week we were opening our new lido, so we used it as an opportunity to promote a great new council-funded facility. We went out quite strong.'
Hackney distributed 20,000 'I Love Hackney' badges in 48 hours, displayed 30 20ft by 5ft banners on public buildings on the day of broadcast and created an e-card, for people to write in to Channel 4 and say why they love Hackney. Around 2,000 were dispatched to Channel 4 in less than 48 hours. The ­entire campaign cost a mere £1,300.
Wright added: 'The thing about Hackney is the people who live there love it. Residents weren't having it. We tapped into that feistiness.'
The comms team also tapped into the wealth of journalists who live in Hackney, and got them to write articles about how great the area is. Wright does not think the show was damaging to the area. 'I think Channel 4 came off worst – the programme made it look like it was run by snobs. In Hackney, it prompted a lot of civic pride,' she says.
Brand consultancy Wolff Olins works with beleaguered regions and cities looking for a boost to their credibility, such as Hull. So how can the methods of branding be used to improve the image of a Middlesbrough or Hackney?
'Brands have to be relevant to people and be distinctive,' says Wolff Olins senior consultant Nigel Markwick. 'If you don't have both of these then you have a weak campaign. The trick is in how you engage people.'
Markwick recently worked on re-branding the South West of England: 'People there are very proud of their natural environment, but you can't create a brand around the environment – there is nothing different about that. But there is a distinctive attitude,' he says.
So, Wolff Olins came up with the 'our nature' concept, which was designed to combine the unique attitude and creative spirit of the people with the beauty of the countryside.
Fight back
Markwick suggests a number of opt­ions that Middlesbrough might find useful in countering the fallout from Location Location Location. These inc­lude talking to Channel 4 about screening another documentary about the development work going on in the city. He also advises Middlesbrough to avoid appearing defensive.
'Most people are not going to be bothered to go out and find out the truth for themselves. A lot of it comes down to engaging your audience. Get people to speak up for you. People tend to trust key figures in society,' he says.
Alternatively, he suggests, Middlesbrough could set up a campaign on YouTube, encouraging people to send in films about why they love the city. 'You are never going to get everybody saying it is great, but the manner in which people relate to these places says more about a place than some people presenting a TV show,' he says.
Media relations, he says, should be key to all activities, because people will always trust a third party far more than Middlesbrough Council saying how great the place is. He adds: 'Most importantly, you don't want something bland. You have to be courageous and aware that some people won't like it. They could use the show to their advantage.'

REGIONAL SLURS
Hackney
Was named the worst place to live in Location Location Location's 2005 show. Since the 'I love Hackney' PR campaign, its rating is up to 12th best

Hull
The city was largely ignored by the media during this year's floods, until ING Media came up with the 'Forgotten City' campaign and brought the city's plight to everyone's attention

South West England
Research conducted in 2001 found that there were numerous misconceptions about the region, including a lack of recognition of the region's strong entrepreneurial spirit. Agency Wolff Olins hit back with the 'Our nature' campaign