'Seriously,' he says, sitting up straight, 'people don't believe me when I say that, but I go to the gym every morning.'
Just back from a family holiday in Spain, he is tanned, relaxed and professes to be ­excited about the prospect of wading through the 3,000 emails in his inbox.
This enthusiasm to see his messages may not be unconnected with the fact that he has just pocketed the lion's share of a £8m cash payout from Australian communications company the Photon Group for his agency. The deal, which could eventually be worth £17m, has caused ripples within the ind­ustry, with most observers' first reaction being: 'How much?
Goodkind is affecting a remarkably und­erstated attitude to the sale, referring to it only as 'a good thing'. But as Frank's majority shareholder and at only 41 years old, he certainly has a lot to smile about. Goodkind still runs the 50-strong agency he foun­ded in 2000, after poaching former colleagues Andrew Bloch and Nadia Gabbie from Ketchum. Bloch is still a director at the agency; Goodkind professes, with a smile, to be 'very bored with him now'.
Frank remains one of the top ten largest consumer agencies and is renowned for its innovative campaigns, which include getting snooker legend Jimmy White to change his name to Brown, raising awareness of client HP Sauce.
It all began with Arsenal, Goodkind's ­favourite team and an unavoidable topic of conversation. When his car broke down at an away match in Nottingham, he managed to blag a lift back to London. ­Inside the car was a girl who worked for the 'absolutely fabulous' Lynne Franks PR. She later phoned him when a two-week work experience placement came up.
'I donned my smartest-ever suit and went in,' laughs Goodkind. 'I stood out like a massively sore thumb.' When the agency won the Lloyds Bank pitch he was working on, he was offered a permanent job to work on the account. It was here that Goodkind cut his teeth, making his way up the ranks to become MD when he was just 28 years old. He worked on 'all the accounts that were not fashion', which explains why he appears to be the polar opposite of a luvvie.
When Omnicom merged the agency into Ketchum, Goodkind left, calling the move 'an error'. Bound by contractual restrictions, he jumped into the burgeoning dotcom industry and set up funmail, which later became another.com. The company sold domain names ('the bit after the sign,' he explains) and became hugely successful in the dotcom boom. In six months, the business was valued at £31m – dwarfing the ­value of Lynne Franks PR.
'There was no rhyme or reason for the value of any of those companies,' he says. 'It was all pure hype.' Goodkind sold his stake in the company a year before it folded.
He credits another.com with providing him with valuable business experience, including an episode when he speedily negotiated a stake in the dotcom to a private inv­estment firm that approached him two days before the business was due to be listed on AIM. He also relies on his 'City-whizz kid' wife, who, despite having just left her financial director role at Frank, was brought back to advise on the Photon deal.
Goodkind is excited about constantly pushing creative boundaries and coming up with new ideas. He wants Frank to be seen as 'the young, creative hotshots – a fresher alternative'.
Asked how Lynne Franks would rem­ember him, he quips: 'As the little boy who staunchly refused to take part in Buddhist chanting.' Then he adds: 'I've always been quite contrary. I'm industrial strength. To be ­creative, you need to push the limits.'
Seventy Seven PR director Alan Twigg says Goodkind is genuinely creative, with 'youthful naughtiness'. He adds: 'The biggest thing is his hunger. The whole agency lives off it.'
It is this hunger that is leading Frank to pitch at an alarming rate – currently averaging two a week. Goodkind says he gets a real adrenalin buzz when he wins.
He certainly does not seem to miss a trick. At a PRWeek Awards event in the 1990s, he was sitting next to Richard Branson's then right-hand man Will Whitehorn. Branson was about to appear in an episode of Baywatch, waterskiing behind a Virgin Cola blimp. A few glasses of wine later, Goodkind asked Whitehorn if he wanted to get the ­waterskiing officially endorsed by his client, The Guinness Book of Records (now Guinness World Records), making Branson's appearance a world record attempt. The deal was done; Goodkind even managed to land himself a cameo appearance on Baywatch, dancing fully clothed on the beach to Good Golly Miss Molly.
Ogilvy Europe creative director Jim Dowling, who worked with Goodkind at Lynne Franks, says: 'He is a child in a grown man's body. His humour and enthusiasm is infectious and he does a good job of ­hiding how intelligent he is. He doesn't use long words or write lengthy think-tank pieces.'
Indeed, Goodkind is a tabloid aficionado, reading The Sun religiously. He has sold in stories that have ended up on its front and back pages (the former about Hula Hoops, the latter about his beloved Arsenal).
Former employees praise him for his ­vis­ion of creating a breeding ground for ­talent, giving Frank an average employee age of around 24. One former employee says: 'He was great at getting the whole company involved in new business pitches and brainstorms. I found him open-minded and always willing to break the mould.'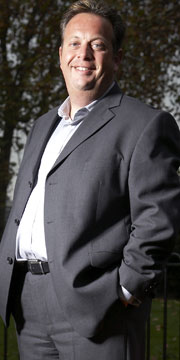 TURNING POINTS...
PRWeek: What was your biggest career break?
Graham Goodkind: Being in the right place at the right time as Lynne Franks PR changed from being a fashion PR to a consumer PR agency. I worked on all the accounts that weren't fashion, which in a relatively short time ended up representing the majority of its income. It fast-tracked my career.
PRWeek: What advice would you give someone climbing the career ladder?
GG: Show initiative. Think around corners. Don't just go to your boss with something you can't deal with and expect him or her to come up with the answer. Come up with suggestions of your own to bounce around.
PRWeek: Who was your most notable mentor?
GG: There are two. Lynne Franks was an amazing person to work with. Her presence was incredible within an agency environment. It also seemed she had an ability to know what the future held and in which direction clients should be steering their communication. The other notable mentor is my dad. He is honest as the day is long, conservative, considered, good, kind and patient. I need to take something from him to balance me out a bit.
PRWeek: What do you prize most in new recruits?
GG: Energy, enthusiasm, passion. A love of the media and an inquisitive mind. The hunger to go above and beyond the call of duty to get the job done. A liking for Arsenal also helps.



2000
Chairman and founder, Frank PR
1998
Founder and MD, another.com
1996
MD, Lynne Franks
1989
Trainee account executive, Lynne Franks