COMMUNITY RELATIONS
Gold Award: Heart of Walker by Karol Marketing Group

Walker Riverside is a 15-year regeneration project in Newcastle's East End. After four years of consultations, residents and businesses were largely indifferent to the scheme and media coverage was mainly negative. Karol's campaign aimed to build community spirit and help people understand why their feedback was important. More than 1,200 people attended the launch event with almost 1,700 people attending events as a whole. Regional dailies ran positive coverage with lead articles pre- and post -event. The judges said: 'The creativity delivered bespoke messages to target audiences.'
CORPORATE COMMUNICATIONS
Gold Award: Moving on Up by University of Sunderland

Sunderland has one of the lowest university participation rates in the UK. A campaign with the catchphrase 'Moving on up' was run in partnership with the Sunderland Echo in a bid to reverse this trend. The campaign included an interview with former secretary of state for education Estelle Morris, now pro vice-chancellor of the university. Case studies of Sunderland people describing the impact of higher education on their lives supported the campaign, as did endorsements by then Prime Minister Tony Blair, higher education minister Bill Rammell and Conservative leader David Cameron.
LOW BUDGET
Gold Award: Newcastle Gateshead Winter Festival '06 by Newcastle Gateshead Initiative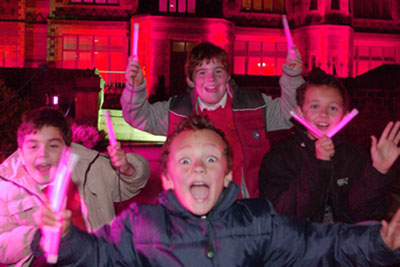 Newcastle Gateshead staged its first international Festival of Light in December 2006, encouraging local communities to 'Get Newcastle Glowing!'. Highlights included a light-themed workshop for local children on the birthday of Joseph Swan, the locally born inventor of the electric light bulb, and a search for the region's oldest and youngest DJs. Transport operator Metro was persuaded to change its yellow logo to the festival colour of pink. More than 70 bars and restaurants lit their buildings in pink, selling GLOW cocktails and serving their own GLOW suppers. The launch event was featured in The Times, The Sunday Times, The Guardian and BBC regional news programmes. Regional daily The Evening Chronicle produced a 12-page GLOW supplement.
OUTSTANDING IN-HOUSE PUBLIC RELATIONS TEAM
Gold Award: Darlington Borough Council, The Communications Unit

Darlington's five-strong team has won 21 industry awards since July 2004. A 2006 community survey put public satisfaction with the council at 63.6 per cent.
OUTSTANDING PUBLIC RELATION CONSULTANCY
Gold Award: Gardiner Richardson

Now in its tenth year, Gardiner Richardson's fee income is set to increase by 144 per cent this year. Judges said: 'This outstanding company has got it all – it is strategic, experienced, creative and growing soundly.'


- Click here for the FULL LIST from the North east awards