Citigate Dewe Rogerson climbs to the top of this month's Deal Watch chart, having secured the highest 'deal value' through October.
But the figures show a slow October in the City in the wake of the global credit crunch. The overall top ten is 50 per cent down compared with the same month last year.
The figures are in stark comparison to the start of 2007 when a buoyant mergers and acquisitions market handed City agencies a flood of business and broke Deal Watch records.
Citigate holds the top spot thanks to its work advising Impala Holdings, part of ins­urance company Pearl, as it looks to fully acquire rival insurer Resolution for £4.5bn or more. Impala alr­eady holds a large stake in the firm.
Maitland slipped from first to second, but still had a good month considering market conditions. The age­ncy advised Standard Life, which also wants to acquire Resolution, offering £4.9bn at the time Deal Watch figures were compiled.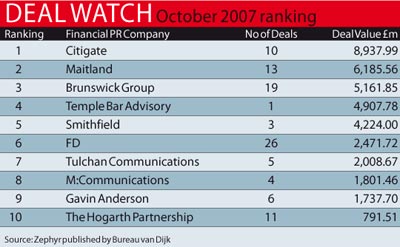 Brunswick also slipped one spot, falling to third with £5.1bn worth of deals. Brunswick, alongside Citigate, worked on the most headline-grabbing deal of October – sports firm Nike's
acquisition of England football team kitmaker Umbro. Brunswick advised the US sports giant.
Temple Bar Advisory and Smithfield claim fourth and fifth respectively, but the five agencies making up the rest of the top ten manage no more than £8.5bn between them. The 256 total submitted deals for this month's chart mustered a total value of £42bn, tens of billions down on the highs seen earlier this year.