In a move guaranteed to dampen this week's UK launch of the iPhone, Google went 'head to head with Apple' (The Daily Telegraph, 5 November). Operators that choose to join the Open Handset Alliance will use Android, an open-source software platform, to 'bring the internet into cell phones in a very cool way', according to Andy Rubin, Google's director of mobile platforms (Daily Mail, 5 November).
Rubin's comment was a welcome relief from the ­jargon overload that accompanied the announcement, together with 'a press release that has a bullshit score near the top of the scale' (Guardian Unlimited, 5 ­November). It put to bed 'months of breathless speculation' about the imminent arrival of the so-called Gphone (Hemscott.com, 6 November).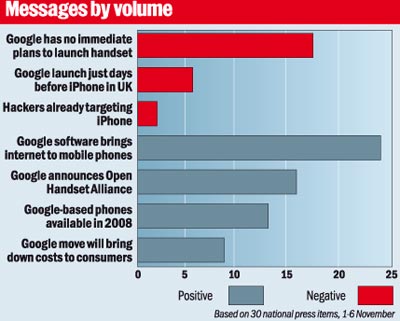 For billions of mobile users 'the move looks set to drive down both the cost of handsets and accessing the web on the go (The Sun, 6 November). This pleased most commentators, but rival Symbian's strategy chief John Forsyth snapped: 'If Google was not involved, the industry would have just yawned and rolled over' (Reuters, 5 November).

Analysis conducted by Echo Research from data supplied to PRWeek from NewsNow