As big companies adapt to take ­advantage of global markets, so the role of the international comms ­director changes too.
PRWeek teamed up with headhunter Watson Helsby to pick the brains of some senior PROs with in-house experience.
Are their roles changing? To what extent do their CEOs understand the importance of communications? How do they tackle emerging markets? And does the concept of 'EMEA' (Europe, Middle East and Africa) still hold any ­relevance?
Over lunch, our panellists (see below) looked at how global trends were aff­ecting the ways major firms approach comms strategy.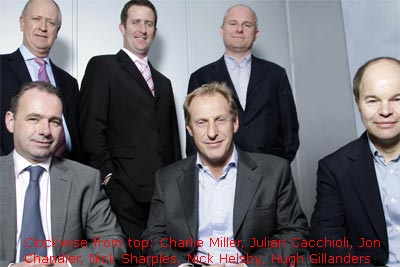 THE PANELLISTS...
Julian Cacchioli
- Global head of communications, Galileo International
Hugh Gillanders
- VP communications leader EMEA, GE Money
Charlie Miller -
Communications director EU/EMEA, Boeing
Jon Chandler
- Regional director of corporate communications EMEA, APCO Worldwide, and former regional communications and public affairs director, Coca-Cola Europe
Nick Sharples -
Director of corporate communications, Sony Computer Entertainment Europe
Nick Helsby -
MD, Watson Helsby

On entering new or emerging markets and resourcing the PR function…
Charlie Miller
: Emerging markets can be problematic because they are often big geographically, but are not big enough in sales terms to justify staff on the ground. This puts pressure on the rest of the team and is therefore a ­resources issue.

Nick Sharples
: India is a good example. Clients often need about four or five agencies ­because there isn't one that can cover the entire country. But you also need a person in-house who is from that country. This person can feed back an overall view based on what those agencies are reporting.
Hugh Gillanders
: Agencies add value when clients enter a new market. They ­deliver intelligence and also educate us about the best way to communicate within different cultures. When we've been there a while, we try to ­ensure we have people on the ground who understand the sensitivities of the market and the needs of a global, listed company.
Julian Cacchioli
: There comes a point when you have to decide whether to give that region more resources. If you feel exposed and lie awake thinking about it, then you must allocate more resources towards it. You also need to decide whether you want the agency to be a ­radar for the business, or a distributor of good news.
NS
: Agencies must be properly briefed, too. Getting feedback from an agency that does not understand your needs can be difficult because they often don't want to give you the bad news that you really need to know about.

On the concept of 'EMEA'…
Nick Helsby: My impression of EMEA roles is that 90 per cent of the effort goes on the 'E' and ten per cent goes on the 'MEA'. Will we see Europe being split into smaller homogenised units, with the EMEA role being replaced by two or three senior people across the region? Or will we see it going the other way, with the EMEA role getting bigger and ­another tier of comms directors being installed in three or four different ­regions?
HG: Two years ago, we decided to ­divide our business up into five European ­regions. That has since been reduced to four regional structures. One of the reasons we did this was to allow our ­resources to push the business closer to the customers. This means you have ­resources on the ground, where it has an impact. In terms of the role of EMEA, does that go away, or does it evolve? I think it evolves under the ­regional CEO of one the four regions, and that role can then focus on how it can add value to the business and drive business objectives.

JC: You sit down with your list of countries, you look at where they are in their life cycle, where they fit into your strategy, and then you draw up a list of priorities. That is why you have to group countries together. No longer can you say: 'Here is southern Europe and there is Northern Europe.' These days it is about looking at, say, four countries dotted around Europe that are at a similar stage in their life cycle and working out whether you can risk ­homogenising a message for them because they are similar markets. You can't do that if you split Southern and Northern Europe.

NS: There used to be a focus on Western Europe; now it is more on Eastern Europe and the accession states. These are no longer all emerging markets. If you go to Russia now, it looks like Hamburg or Frankfurt.


On the importance placed on comms by CEOs of international firms…
HG: Comms directors have often been neglected – most of the budget has gone into marketing rather than PR. Comms has evolved within business over the past five years and the time has come for it to take a key role.
That makes a huge difference ­because comms directors can step back from their traditional role of just looking after the company's profile and making sure press releases are going out, and say, 'What are the business ­objectives and what can I do to increase the ­longer-term health of the business?'

JC: That assumes a fairly enlightened CEO and senior management. From my experience, the CEOs that place the most importance on comms are the ones who have faced a reputation issue or crisis. These guys want a bodyguard next to them. I know of a CEO of a big bank who has his comms guy in his closest circle of three people.

Jon Chandler (JCh): Companies that have been through hell and back certainly 'get it'. This is often where you'll see the seniority and ­responsibility given to the comms guys in roles that go beyond comms to ­become more of an upstream strategy adviser.
To some extent, 'communications' implies downstream and output, which is not very helpful in terms of explaining the importance of the role. The ­upstream adviser position is where we, as comms professionals, get the most leverage, because we can advise on everything from reputation in the ­media to managing regulatory pressures.

On the increased profile of CEOs and the value of internal comms…
JC: Personal comms for CEOs is part of our remit today. There is definitely a feeling now that CEOs have to get a much more integrated message across rather than not giving a ­monkey's what their employees think. Employees don't always trust their CEO any more – instead they trust their line manager. A CEO videocast is not likely to inspire sceptical ­employees.

NH: CEOs are engaging more with ­employees but they often don't know what tone they should be taking. ­Employees are also more ­empowered these days, which is another reason why CEOs should pay more attention to the way they ­interact with staff.

CM: Chief executives know they need to step up the quality of internal comms, and ­resources have been increased over the past couple of years to reflect this. There is also a recognition that internal comms for a US audience does not ­necessarily work with an international audience.
JCh: CEOs need to be 'elected' as a ­leader by employees as well as the board, so appealing to staff directly is an important part of their role.

JC: Internal comms has been neglected over the years, but as companies go through acquisitions or change their management processes, there is a ­general belief that all the integration you do and all the synergies you bring to the market won't count for much if your employees start leaving in droves.


On the role of the modern EMEA comms director…
NS: Being an EMEA comms director requires you to have an overview of the other functions within senior ­management so that you know what their concerns and issues are. You can then ­marry and reflect those issues among different roles and come up with an overall view, which you can then feed up to the CEO.
That is where we add the most value, but you need to be ­fortunate enough to work for a company with a structure that allows you to do that.

JCh: There are three fundamental things to concentrate on. The first is the market – what can we do to increase growth? The second is reputation – how much do people like us? – and the third is regulation.
The point of the comms role is to participate in a way that makes sense for business. I can offer advice on future market shifts and the likely regulatory picture, and certainly on reputation.