LOW BUDGET...
Gold award: CheddarVision.tv by Bray Leino

Bray Leino was appointed in 2005 to help West Country Farmhouse Cheesemakers (WCFC) drive sales for its West Country Farmhouse Cheddar brand, which unlike generic cheddar cheese has been give Protected Designation of Origin Status by the European Union.
The agency sought to emphasise this protected status in its strategy and created an image of local cheesemakers taking far greater care of the product than those making it elsewhere.
Crucial to the cheese's manufacture is the time it takes to mature. Bray Leino used this theme to create a micro site, www.cheddarvision.tv, with a 24/7 web cam showing the cheese maturing over a year to drive traffic to WCFC's website.
A press release was issued emphasising the time it takes for 'real' cheddar to mature, which also included a fictional story about the web cam being set up in a barn by local cheese makers in honour of their product. The campaign was launched in time for Christmas 2006, when cheese sales traditionally pick up.
The campaign, which had a budget of £7,800, has been covered 172 times and WCFC gave around 30 interviews to local, national and foreign radio stations, including BBC Radio 2, where it was mentioned on Wake Up to Wogan and Steve Wright's show. An offshoot page on Myspace.com was also created.Other coverage included articles in the Telegraph, Independent, Times, Sunday Times, Daily Star, Daily Sport and Daily Express. It was also featured in The Guardian's G2 section as the cover story and a double page spread.
Figures from WCFC from December 2006 to March 2007 showed that year on year sales of the brand were up by 25 per cent, which is 10 per cent higher than the group's prediction prior to the creation of cheddarvision.tv.
Last month this campaign scooped a PRWeek Award in the Marketing Communications: Consumer (annual fee less than 100K) category.
PUBLIC SECTOR...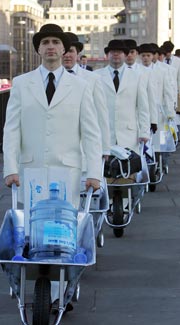 Gold award: Envirowise Regional Media Campaign 2007 by Trimedia Harrison Cowley (r)

Envirowise is a government-funded programme providing free advice and information on efficient use of resources to companies across the UK.
It wanted to reinforce the message across nine English regions that efficiency can help increase profits.
A rolling news schedule was developed using hooks such as changes to legislation and likely water shortages. Dedicated editorial support was also provided to regional managers. The campaign secured more than 1,100 pieces of regional coverage.
OUTSTANDING PR CONSULTANCY...
Gold Award: JBP Public Relations
Over the past three years JBP has increased fee income by 46 per cent and turnover is up 31 per cent. Staff increased from 14 to 24. Non-competitive wins in the past year reached 33 with a value in excess of half a million pounds.
OUTSTANDING IN-HOUSE PR TEAM...
Gold Award: Somerset County Council
In 2007 Somerset County Council achieved a 4-star Audit Commission rating for the first time, supported by the efforts of its PR team. A national image-building campaign saw AEV targets exceeded by 183 per cent, and the team helped secure £4.8m of Heritage Lottery Funding for the Museum of Somerset.

- Click here for the FULL LIST from the West of England Pride Awards
- Click here for the FULL LIST from the Wales Pride Awards
- Click here for the FULL LIST from the Yorkshire & Lincolnshire Pride Awards