For years, the BBC's flagship news programmes like Newsnight and entertainment output like Top Gear have been regarded as the pinnacle of trustworthy journalism. While the BBC's output continues to be trusted by many (Blue Peter phone-in and Queen documentary scandals aside), new research shows some websites are snapping at the heels of the BBC when it comes to being influential.
Research by Opinion Matters (conducted before the BBC scandals) shows websites like travel site TripAdvisor.com are scoring incredibly high levels of trust among their users almost on a par with the Beeb.
In the study of 1,235 UK adults, Opinion Matters found that if they were exposed to three pieces of coverage about a holiday destination, 39.1 per cent would trust a positive feature on a TV holiday programme. While TV came out on top, 'a feature on TripAdvisor.com' came out a close second, with 38.8 per cent saying this would have the biggest influence on their going there.
User takes all
So what is the key to TripAdvisor.com's high trust ratings? In a phrase, it's user-generated content.
One of the most important opportunities created by the web has been the ability of one person anywhere in the world to share their personal, independent opinion on a subject, service, product or event with anyone who will read or listen to it. The result has been that consumers no longer invest their trust in one single source, such as the BBC. The views of like-minded citizens and brands are equally valid.
And broadcast content online is becoming ever more crucial in building trust and credibility. Lonely Planet, for example, recently launched Lonely Planet TV, in which travellers can post video of their latest adventures. And consumers who increasingly book hotels online now expect to see video "walk-throughs" on travel websites before they make their decision. Any hotel that doesn't provide an online viewing facility these days is therefore missing an opportunity.
User-generated content is therefore here to stay. And for communicators, the challenge is to reach users and tap into those high trust levels.
The key for brands, according to broadcast PR specialists, is to realise that they too can become the "user" and broadcast their content online.
Mattel
There are few better recent examples of this than Mattel. When the maker of Barbie and Pixar brand toys faced a product recall of more than 18 million toys worldwide after dangerous levels of lead paint were found in some of its product lines, Bob Eckert, Mattel's chairman and chief executive, made an apology to camera and the video was posted on the company's website.
A press conference with the global media was also made available online immediately in an effort to get the message out to parents.
But the choice of medium was about more than reaching parents. It appeared to be Mattel's strategy to use the web to broadcast an unedited version of Eckert's announcement so that parents could see for themselves just how apologetic the company was, rather than rely on editors to edit the apology sensitively.
Compare Mattel's crisis response to that of Northern Rock, in which TV images portrayed queues of customers withdrawing their deposits, and it is worth considering whether the bank would have benefitted from using the Mattel strategy.

Howard Kosky, managing director of markettiers4dc says: 'Mattel is a great example of how consumers will listen to brands.Video online is becoming a powerful channel'.
New platforms such as BTVision (below), which are opening the door for brands to create their own programming, are another opportunity for brands to engage with consumers, believes Kosky. BTVision offers Freeview channels and On Demand programming delivered by BT's broadband service (the BBC's iPlayer is also catering to a growing market for On Demand content).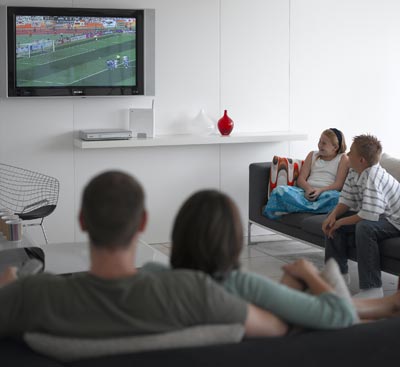 BTVision CEO Dan Marks says: 'There is an opening for branded programmes labelled carefully for our customers. This service is welcoming to brands, we are no different to Tesco and Sainsbury's in that, just like them, we want to work with big, quality brands.'
The advantage for brands is that such opportunities to create content are becoming prevalent. In the near future, platforms such as BTVision will be hoping to attract content that promotes products and which consumers will be able to buy immediately via a remote button.
This new approach to engaging with consumers, recommended by Kosky, is already being used by Procter & Gamble through www.vocalpoint.com. The site has a no-holds-barred policy even though it is owned by P&G and creates forums for consumers to talk about its brands. The advantage for P&G is that it can monitor and respond to debates and points of view while hosting the discussion in its own managed environment.
Brand dialogue
But the web allows so much more than just forums, says Kosky: 'You can also create your own TV chat shows,' he says. 'It's important to provide authoritative information to people when they need it. This is a great opportunity for brands to become media owners themselves. At present, brands often rely upon a third party to carry a story but with the web there's no reason why brands can't do it themselves.'
And so the wheel is slowly turning. Brands once stood impotent in the face of a hail of criticism in the online environment. Now, companies are beginning to see the light at the end of the tunnel.
TRUST RESEARCH: HOW THE WEB IS CATCHING UP...
When asked which of three pieces of coverage about a holiday destination would influence their decision to go there, 39 per cent said a positive feature on a TV holiday programme, 39 per cent said a feature on Tripadvisor.com and only 22 per cent indicated a newspaper travel review.

When asked if they trust independent, user-generated content, an overwhelming 86 per cent said they did the majority of the time. Only 12 per cent said they didn't trust such content and believed it was mostly placed there by brands, while 3 per cent trusted it 100 per cent.
When making a decision about a foreign holiday destination, 90 per cent said they would trust an independent review site with independent personal experience ratings. Only 10 per cent trust sites owned by commercial brands whose aim is to sell holidays.

The most trusted website from a choice of four was bbc.co.uk (62 per cent), followed by Google.com (30 per cent), Yahoo.co.uk (five per cent) and AOL.com (3 per cent).

Major broadcasters enjoying the highest trust levels were: BBC (71 per cent), ITV (11 per cent), Sky (9 per cent), Channel 4 (8 per cent) and Channel 5 (1 per cent).

When offered the opportunity to put forward their own views on a selection of areas, 76 per cent of respondents wanted to offer their views on travel. Retail followed with 56 per cent, while music and entertainment trailed in third with 43 per cent. Almost a quarter wanted to express views on motoring while personal finance was of interest to 18 per cent with property at 17 per cent.
Source: Opinion Matters


THE KEY ONLINE INFLUENCERS ON TRUST, USER-GENERATED CONTENT AND THEIR AGENDAS...

Ian Rumgay (l), European comms manager - TripAdvisor.com
Why do you think Trip Advisor is influential? 'Trust is the reason why we are so successful. User-generated content attracts greater trust per se, but with Trip Advisor you've got the scale too, in that it's the second largest travel website in the world with over 10 million reviews and opinions to source and over 20m visitors a month.
What is your editorial agenda? 'It's driven by the user but we scrutinise content for offensive language and to detect systematic abuse – those users trying to boost popularity of an attraction or to do down competitors, for example. If that fell apart, we'd lose trust and so totally fail.
How do you create content? 'People can post reviews, create social networks because they can contact reviewers, develop travel plans with us, and post pictures and videos of places they've stayed. Our own editorial team also creates content, such as the Top 10 European Resort Destinations, based on their judgment and those of reviewers.
Did the site's original objectives include becoming so influential? 'Our mission was to provide the best reference for travel information. Our CEO, Stephen Kaufer went online for holiday information in 2000 and could only find commercial sources. He wanted the "back of house" low down and thought there was a gap.'


Chris Wood (l), managing director - TopTable.co.uk
Why do you think Top Table is influential? 'It's the sheer volume of people who visit the site and leave reviews. We have over 250,000 reviews so far and they are up-to-the-minute reviews by normal people who have just eaten at the restaurant. To write a review, you have to book your table through TopTable.
What is your editorial agenda? 'We have gossip and a hybrid of "foodie" and celebrity news. We don't want to be too earnest. Our aim is to put fantastic restaurants in front of people – what's hot, what's good value – and to keep people in-the-know using any of these methods.
How do you create content? 'We have over 30 restaurants that use video content made by third parties who film and edit for the site. We're adding video to more restaurants all the time, but every restaurant has a photo and we also create a 360° image. This gives users a flavour of what they're going to get.
Did the site's original objectives include becoming so influential? 'It was founded in 2000 by our chief executive Karen Hanton. I think Karen has always had big ambitions for TopTable and although things are going very well and it was always a great idea, what has surprised us is the level of respect we've achieved among restauranteurs. We're now being involved in lots of industry activities by invitation.'


Richard Kanareck, head of PR and community - eBay.co.uk

Why do you think eBay is influential? 'eBay provides a global platform for anyone to buy or sell – whether you want a global shopfront from your front room or want to search the marketplace for that unique item or just a great deal.
Will any new content/features be added soon? 'We're always looking at ways to enhance the buying and selling experience. The latest is enabling use of video in listings, creating even more engaging, informative and entertaining showcases for the items.
What role does user-generated content play on eBay? 'eBay is a user-generated economy. It's the community that makes the eBay marketplace so vibrant, fun and engaging. Community content is geared towards buying and selling, and around that, incredibly passionate communities of interest and expertise have built up. Alongside that, the feedback system means you have a simple and accurate measure of someone's online reputation, as determined by the community.
How can the PR industry work with you? 'eBay is a fantastic channel to create demand and buzz around exclusive or "soon to be launched" items. Working with us and the eBay for Charity platform, it's simple to set up an auction for a good cause, get exposure in front of a community five times bigger than The Sun's readership and deliver some great media coverage as well.'