PRESS

Observer editor Roger Alton will step down at the end of the year, to be replaced by deputy editor John Mulholland.

Historian and Harvard professor Niall Ferguson has been appointed contributing editor at the Financial Times. Ferguson will blog on international finance at FT.com and write essays and reviews for FT Weekend. Sylvia Pfeifer will join the FT as defence industries correspondent.
Pfeifer was deputy business editor at The Sunday Telegraph. Wall Street Journal senior special writer Henny Sender has also joined the FT, as international financial correspondent.

Sunday Telegraph Whitehall correspondent Robert Watts is to join The Sunday Times as social affairs correspondent. Independent on Sunday political editor Marie Woolf will also join The Sunday Times, as assistant Whitehall editor. Woolf replaces Robert Winnett, who moved to The Daily Telegraph as deputy political editor.

James Brown, deputy sports editor at the Irish Sun, has moved to The People, where he is sports editor.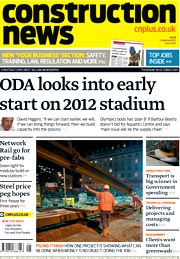 Tim Sharp has joined The Herald as city reporter following the departure of Paul Rogerson, who has moved to the Law Society Gazette as editor in chief. Sharp joins from Citywire where he was assistant news editor.

Construction News has appointed Andrea Klettner as a reporter. Klettner moves from fellow Emap title AM, where she was staff writer.

Haymarket's MediaWeek has hired TV International editor Tristan O'Carroll as news editor. Emma Barnett has been promoted from editorial assistant to reporter.

Good Housekeeping has appointed freelancer Elisabeth Knowles as acting features editor to cover for Lucy Moore, who is on maternity leave.

Redwood Publishing's fashion and property title Fabric has named Kate Whitfield as its new managing editor. Whitfield joins from Boots Health & Beauty magazine, where she was chief sub-editor and advertorials editor.


DIGITAL
The Guardian
has launched its US website,
Guardianamerica.com
. Editor
Michael Tomasky
will head up its editorial team.
Incisive Media has launched
BusinessGreen.com
, a business site offering news and advice to firms on becoming environmentally responsible.
IT Week
management editor
James Murray
is the editor.
BROADCAST

BBC Radio 4's The World This Weekend and World at One editor Colin Hancock has left. Radio 4 PM editor Peter Rippon has taken over.

Mark Freeland has been named head of comedy at the BBC. Freeland will also be responsible for overseeing new original content division BBC Visions in addition to all comedy content on BBC radio.

Former Press Gazette editor Philippa Kennedy will present a series on BBC Radio 4 entitled Read All About It, focusing on regional newspapers' use of technology.

Liverpool Daily Post city editor Larry Neild is leaving to join Emap's new talk radio station City Talk.

Please send any contributions to clare.o'connor@haymarket.com

Sponsored by PR Newswire