Famously the grandson of a former slave, O'Neal had fought his way up to become the first black man to lead on Wall Street.
But many former executives, shed in O'Neal's post-9/11 reorganisation, argue 'O'Neal took the company too far down the road of risk-taking' (FT, 29 October).
Commentators suggested that there are more casualties to come – 'the thin end of the wedge', according to The Daily Telegraph (27 October) – with CEOs at Citibank, Bear Stearns and Bank of America all apparently living on borrowed time.
Merrill Lynch itself could become a takeover target. O'Neal was reported to have lost the support of executives he had appointed as he sought to shed the bank's conservative image.
The final straw for the board came late last week when it emerged he had made a secret and unauthorised approach about a merger with smaller rival Wachovia, and 'his enemies rather than his errors brought Mr O'Neal down' (Abigail Hofman, FT, 29 October).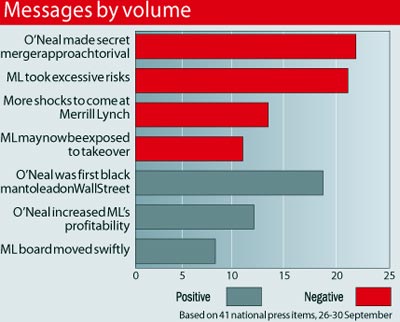 Analysis conducted by Echo Research from data supplied to PRWeek from NewsNow